It was a bunched up finish at Rawiga Golf Club, as three player teams competed in the NOHIO.GOLF Series All-American 3-Am Scramble in Seville on Saturday.
Setting the pace for the leaders, out in the second group of the day, was the team of Mike Simpson, Vaughn Snyder and Phil Bojc. They were the first team to post what would be the winning score of 14-under par 58. But they had a 10-foot putt at the 18th that could have pushed their final score one deeper for a solo victory, and they failed to convert.
Regardless, the bar was set, and with Sean Croell deploying the NOGA Live Scoring system at the event with mobile leaderboards for all to see, every team — and the clubhouse gallery that sat to watch the finish — knew what was needed from every challenger.
The team of Tom Skidmore, Aaron Crewse and Brian Vincelette were the first to try to match the 14-under par score. Vincelette stuck his wedge to 12 inches at their final hole to seal a share of the win. Skidmore tapped in the putt and took a victory lap for the crowd on behalf of the team.
Next up, two teams that played together each had a shot at the final hole to tie the tournament leading score.
The team of Fred Miller, Larry Lahnan and Corey Hines didn't hit the best of approach shots at the last, leaving themselves about 15-feet below the hole. But Hines promptly stepped up as the first putter for the team and drained the tournament tying stroke, earning a roar from the crowd.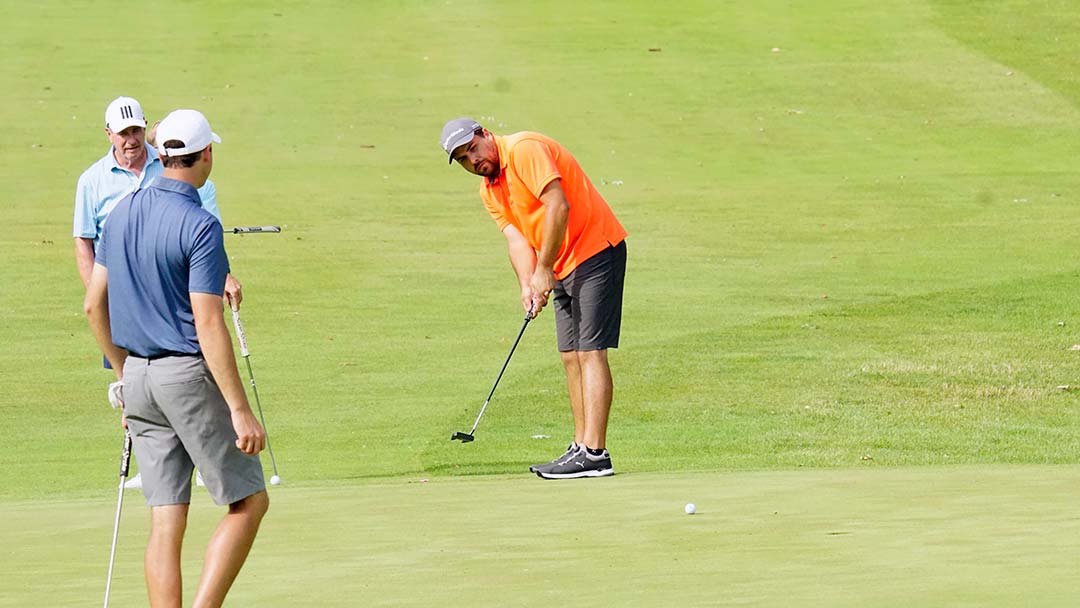 Then it was the turn of Kevin Miller, Mike Weaver and Mitch Levengood to make birdie to tie. That team hit a better approach than their fellow competitors, but none of the three could coax in their 12-footer, coming up one shot shy.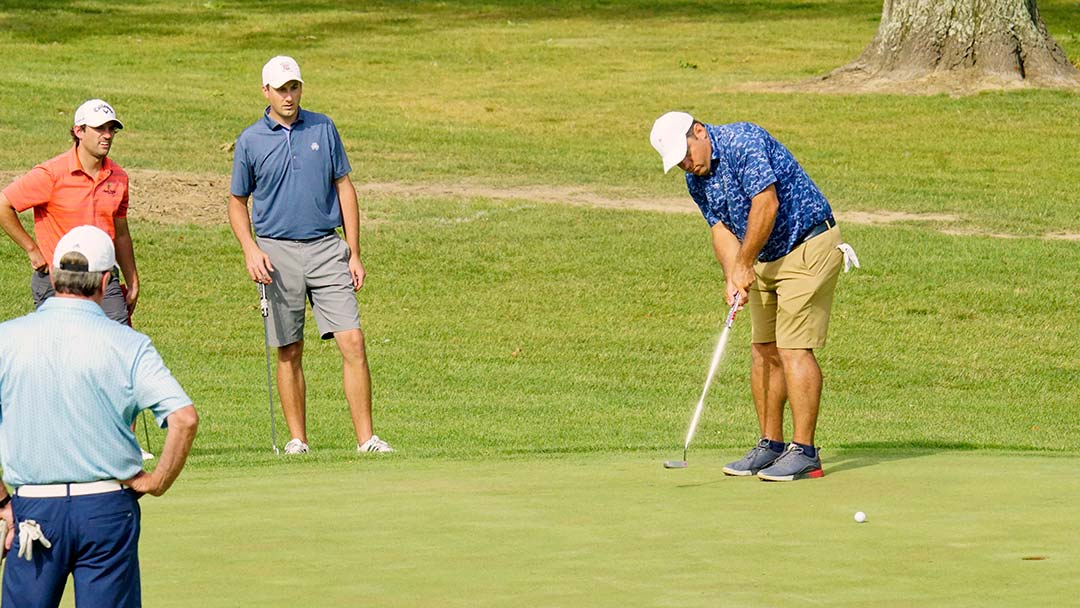 Finally near the end of the field, the record-setting (18-under par) past champions team of Brian Smith, Ryan Stefanski and Jimmy Wild also had their chance to birdie to tie at 18. From the right rough, they all hit fairly pedestrian shots, leaving their best effort as an 18-footer past the hole. All three made good runs at the putt, but none connected.
But do not weep for the two teams who missed their birdie putts at the last to fall one shot short of a share of victory. For each of those teams made an eagle during their round that held up for a skin, the only two skins won on the day. So the two "losing" teams each ended up winning more money than the champions. Go figure…
FINAL RESULTS: NOHIO.GOLF Tournament Series
2022 All-American 3-Am Scramble
Rawiga Golf Club, Seville, Ohio
Saturday, July 2, 2022
HOLE-BY-HOLE LIVE SCORING >
T1 Phil Bojc + Mike Simpson + Vaughn Snyder | Dublin, Uniontown, Massillon 58 ( -14 ) $690.00
T1 Corey Hines + Fred Miller + Larry Lahnan | Leavittsburg, Aurora 58 ( -14 ) $690.00
T1 Aaron Crewse + Brian Vincelette + Tom Skidmore | Akron, Wadsworth 58 ( -14 ) $690.00
T4 Kevin Miller + Mike Weaver + Mitch Levengood | New Philadelphia, Dover, Sugar Creek 59 ( -13 ) $225.00
T4 Brian Smith + Jimmy Wild + Ryan Stefanski | Amherst, Sagamore Hills 59 ( -13 ) $225.00
T6 Brian Gasser + Matt Gasser + Tim Hepner | New Philadelphia, Sewickly PA, Dover 60 ( -12 )
T6 Matthew Frey + Max Decheco + Shaun Kloetzer | Stow, Broadview Heights, Fairlawn 60 ( -12 )
T6 Andrew Malkus + Bobby Wadsworth + Ryan Malkus | Maple Heights, North Canton 60 ( -12 )
9 Brandon Jatich + Kyle Buzaki + Max Crookston | Stow, North Canton 61 ( -11 )
T10 Bobby Harmon + Eric Coleman + Jonathan Barber | Medina, Cleveland 62 ( -10 )
T10 Bruce Dean + Doug Rockich + Jeff Dean | Manchester, Copley, Akron 62 ( -10 )
12 Brian Gecewich + John Blomstrom + Ryan P. Gutowski | Mentor, Chesterland, Painesville 63 ( -9 )
T13 Allen Freeman + Brian Gamble + Justin Trzebuckowski | Brecksville, Massillon, Broadview Heights 64 ( -8 )
T13 John Dunn + Shawn Mills + Tim Mills | Uhrichsville, Canton, Barnhill 64 ( -8 )
T15 Doug Seftas + John Kish + Ralf James | Freedom PA, Pittsburgh PA, Economy PA 65 ( -7 )
T15 John Svadba + Ron Skirpstas + Tegan Smith | Medina, Seven Hills 65 ( -7 )
17 AJ Perez + John Ciesielski + Zach Tanner | Pittsburgh PA, Dalton, Muncie IN 66 ( -6 )
18 Bradley Riddle + Mark Schuler + Scott Riddle | West Palm Beach FL, New Middletown 68 ( -4 )
19 Dale Roppel + Jeff Yannarell + Justin Roppel | Medina, Maple Heights, Cleveland 69 ( -3 )
20 David Mcaig + Drew Schmidt + Micah Albright | Wooster, Akron 71 ( -1 )
21 Steve Angus + Tom McHugh + Troy Hamilton | Aurora 72 ( E )

SKINS: $630 ea
Kevin Miller + Mike Weaver + Mitch Levengood – Eagle on 3
Brian Smith + Jimmy Wild + Ryan Stefanski – Eagle on 7