To enhance its event day operations, the NOHIO.GOLF Tournament Series has entered into an agreement with the administrative staff of the Northern Ohio Golf Association (NOGA) to begin providing its high-tech on-site live scoring services at all its events in 2021.
These services will be known as Live Scoring by NOGA.
NOGA's highly-experienced tournament administrators will bring the NOGA van on-site to each golf course at all NOHIO.GOLF Series tournaments this season. Using their mobile hotspot setup, they will provide live scoring via the Golf Genius USGA Tournament Management system.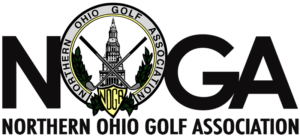 One player in each group will enter scores into the app hole-by-hole for the group during competition, just as done on a paper scorecard. This method of mobile score entry allows for real-time leaderboards to be viewed during the event: on a player's mobile device; through the event's online portal; and on-site through televisions at the clubhouse.
Since the app and scoring software are integrated, this system also allows for the quick compilation of final results, prize payouts and skins soon after the last group of the day holes out, too.
NOGA will set up its van, scoring tent and jumbo leaderboard TV near the 18th green at these events to complete this scoring administration. Other nearby televisions on-site (like on a patio or in the clubhouse grill) may also be enabled to show live leaderboard updates. Players (and fans!) can also view the constantly-updating scoreboards on their own mobile devices as well, from any location.
The sold-out NOHIO.GOLF Quarry 2-Player Scramble in Canton on Saturday, April 3 will be the first tournament in the region using Live Scoring by NOGA outside of its own events. This same setup is slated to be used at all Series events in 2021, including the NOHIO.GOLF Stableford + Skins at Turkeyfoot just two weeks later on April 17th.