In most regional amateur golf tournaments, if a player backs up a 66 with a 68, that player wins by a good margin.
That was the case on Sunday at the 2022 Stark County Amateur Golf Championship at Ohio Prestwick Country Club in Uniontown. Maxwell Moldovan, an Ohio State Buckeyes golfer who has been steadily building his championship resume, won his second Stark County Am title in three years, this time by a whopping 11 shots.
Not only did the guys who played with Maxwell for two days see a lot of solid ball striking and precision iron and wedge play, they also saw a lot of the old disappearing ball trick: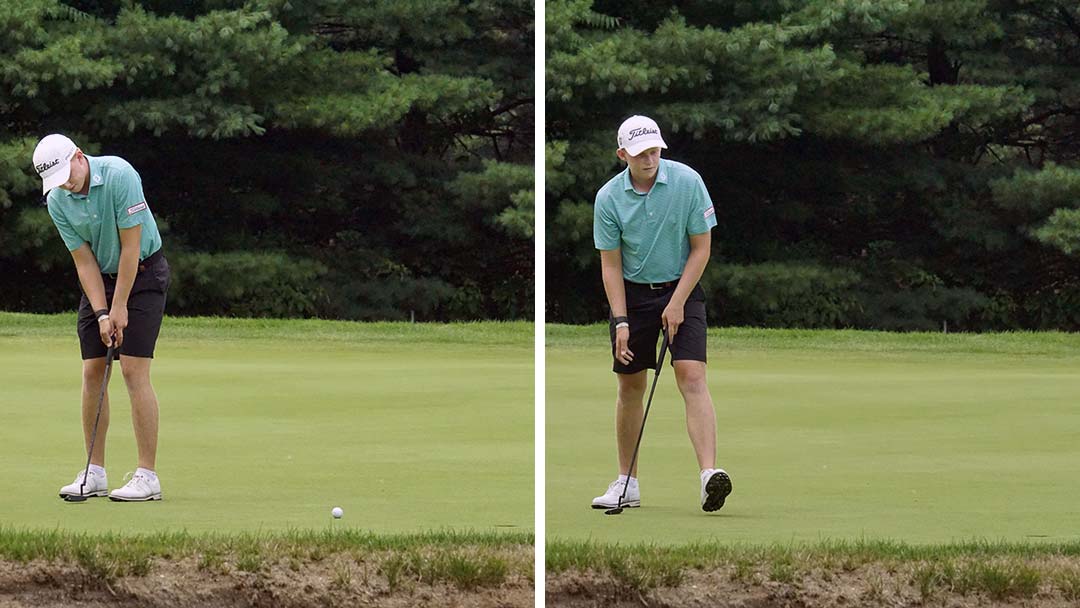 Moldovan finished at 10-under par 134, besting runner-up Kyle Smith who finished at 1-over par 145. With a solid Sunday 69, Broadview Heights' Justin Trzebuckowski finished in third place at 146.
Golf fans who didn't see this event first hand might think the setup was easy or the conditions were ideal for Moldovan's scores to be so low. Nothing could be further from the truth.
Canal Fulton PGA TOUR pro Justin Lower helped the Tournament Committee set the hole locations for both days, and every one of those pins was 3-5 paces from some corner or edge, often rolling away at a brisk pace from the fat part of the green.
Also on both days, the wind was 15 mph+ strong and swirling from multiple directions. Those two difficulties combined only emphasize how well Moldovan played for 36 holes of the Championship.
65 players competed in the Championship Division, with a whopping 25 of them earning a merchandise prize for their finish.
SENIOR DIVISIONS
Aurora's Tom Laubacher backed up his Saturday even par 72 with another one, good for a one shot victory in the Senior 50-59 Division over first round leader Nick Lambos of Canton. Another shot behind that was Columbus' Terry Wamack.
In the Senior 60-69 bracket, Canton's Bruno Chirumbolo also put together two rounds of even par 72 for victory, but his winning margin was by three shots over Jeff Semple. Akron's Rick Bryson finished third at 148.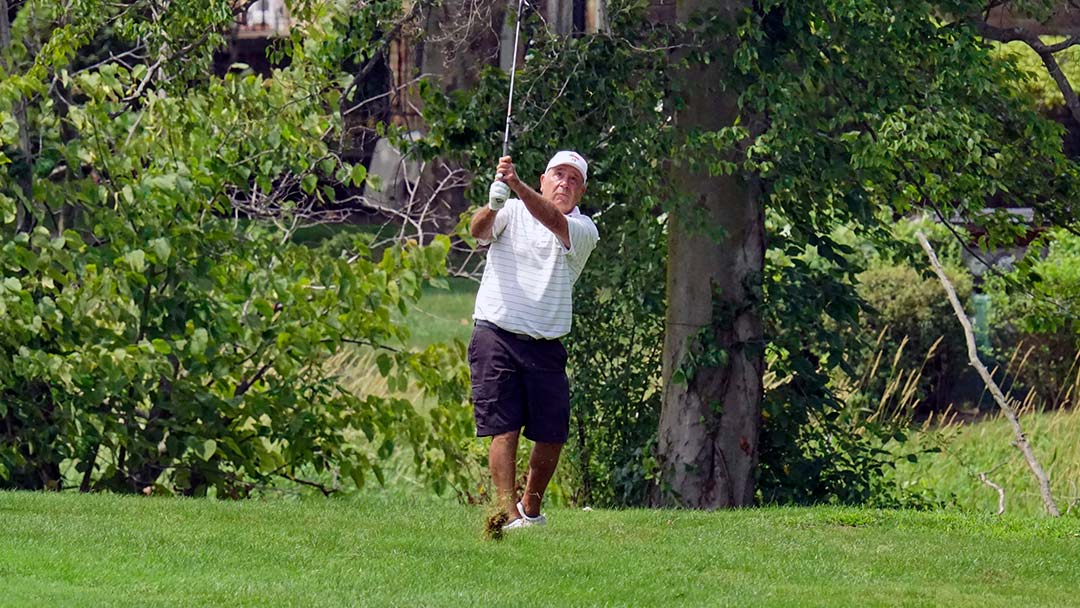 In the Senior 70+ Division, Mike Brady sailed to a 13 shot victory, shooting a solid 77-70 — the second round score of which beat Brady's age by two shots!

Kudos to the Stark County Amateur Golf Hall of Fame for the weekend's event, which is led by Randy Young and Doug Van Nostran and their crew. And a special thank you to title sponsor Foxy Golf with shops in Canton and Akron, where all of the players who won a merchandise prize will be able to redeem their payouts listed below any time after July 27.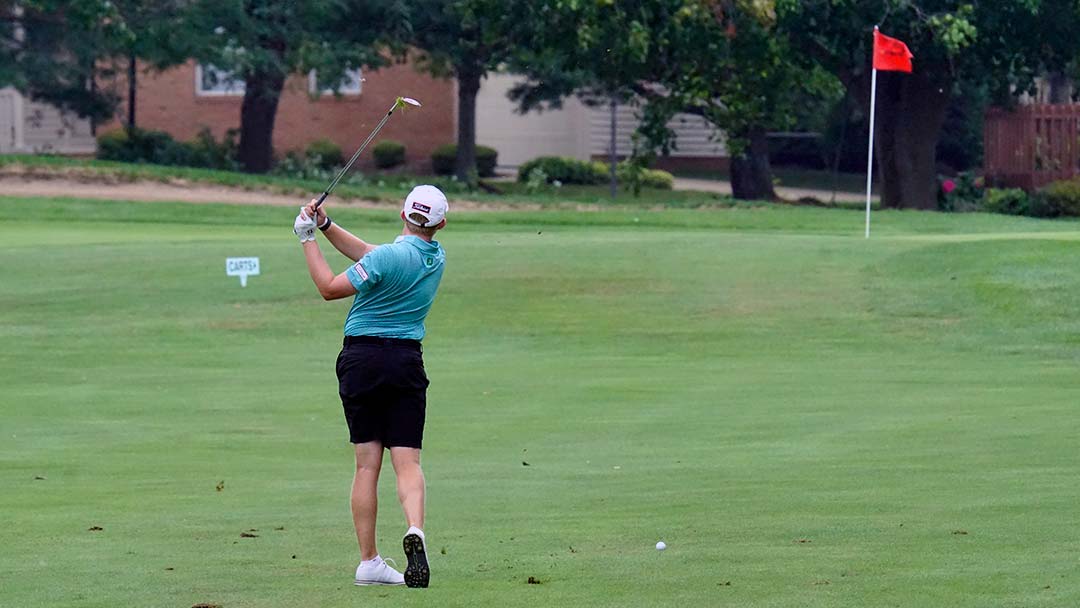 FINAL RESULTS:
2022 Stark County Amateur Championship
Ohio Prestwick Country Club, Uniontown – Par 72
Saturday, July 23 and Sunday, July 24, 2022
Championship Division
Moldovan, Max 66 – 68 = 134 $800.00
Smith, Kyle 78 – 67 = 145 $700.00
Trzebuckowski, Justin 77 – 69 = 146 $650.00
Knapp, Jonathan 74 – 73 = 147 $511.00
Snyder, Vaughn 73 – 74 = 147 $511.00
Montgomery, Brett 78 – 69 = 147 $511.00
Anderson, Alex 77 – 71 = 148 $387.00
Clay, Josh 76 – 72 = 148 $387.00
Crewse, Aaron 75 – 73 = 148 $387.00
Scarbrough, Caden 79 – 69 = 148 $387.00
Mastcko, Rich 76 – 73 = 149 $320.00
Conjerti, Jordan 76 – 76 = 152 $275.00
Grayson, Andrew 76 – 76 = 152 $275.00
McCollins, Gunnar 81 – 71 = 152 $275.00
Hepner, Tim 78 – 75 = 153 $212.00
Oates, David 73 – 80 = 153 $212.00
Jones, Kyle 76 – 78 = 154 $150.00
Lieser, Jonathan 75 – 79 = 154 $150.00
Terlesky, Brian 76 – 78 = 154 $150.00
Freudeman, Kyle 83 – 72 = 155 $90.00
Frey, Matt 78 – 77 = 155 $90.00
Simpson, Mike 74 – 81 = 155 $90.00
Jatich, Brandon 76 – 80 = 156 $60.00
Skripac, Ben 81 – 75 = 156 $60.00
Stephan, Matthew 77 – 79 = 156 $60.00
Huscusson, Zachary 76 – 81 = 157
Milavickas, Alex 80 – 77 = 157
Prok, Joshua 83 – 74 = 157
Ritter, Connor 79 – 78 = 157
DeCheco, Garrett 80 – 78 = 158
Drukenbrod, Zak 80 – 78 = 158
Lowder, Hunter 79 – 79 = 158
Crone, Eric 85 – 74 = 159
Horning, Camden 78 – 81 = 159
Micale, Alex 76 – 83 = 159
Shultz, Drew 75 – 84 = 159
Bowman, Eric 84 – 76 = 160
Buehler, Dustin 78 – 82 = 160
Tomak, Christian 79 – 81 = 160
Ellis, Jamison 79 – 82 = 161
Filo, Adam 80 – 81 = 161
Strang, Lance 81 – 80 = 161
Belden, Dan 83 – 79 = 162
Hewitt, Zachary 78 – 84 = 162
Hatch, Mark 84 – 80 = 164
Tracey, Justin 81 – 83 = 164
Ellison, William 79 – 88 = 167
Isla, Zack 83 – 84 = 167
Adcock, Alex 88 – 81 = 169
Hood, Blake 86 – 83 = 169
Durica, Garrett 89 – 86 = 175
Hodges, Joshua 91 – 84 = 175
Testa, Cayden 81 – 94 = 175
Huff, Todd 93 – 83 = 176
Ochs, Sully 85 – 91 = 176
Wilson, Landon 87 – 89 = 176
Troyer, Branden 93 – 86 = 179
Wilcox, James 92 – 87 = 179
Wickham, Adam 95 – 86 = 181
Delillo, Jordan 97 – 87 = 184
Gardner, Connor 89 – 116 = 205
Schneider, Mark 84 – WD
Stefanski, Ryan 78 – WD
Wild, Jimmy 77 – WD
Loudon, Scott 87 – WD
SATURDAY CHAMPIONSHIP CASH POT:
Snyder $125.00
Oats $125.00
Simpson $70.00
Lieser $42.00
Crewse $42.00
SUNDAY CHAMPIONSHIP CASH POT:
Trzebuckowski $150.00
Clay $100.00
Crewse $60.00
Mastcko $60.00
Crone $12.00
Prok $12.00
Snyder $12.00
SATURDAY CHAMPIONSHIP SKINS: $67 ea
Jones – 1
Clay – 2
Oates – 8
Snyder – 10
Simpson – 14
Hodges – 16
SUNDAY CHAMPIONSHIP SKINS: $135 ea
Liesner – 2
Trzebuckowski – 11
Crone – 15
Senior 50-59 Division
Laubacher, Tom 72 – 72 = 144 $700.00
Lambos, Nick 69 – 77 = 146 $600.00
Wamack, Terry 71 – 76 = 147 $500.00
Spino, Bobby 72 – 76 = 148 $400.00
Freeman, Allen 77 – 73 = 150 $325.00
Jatich, Nolan 76 – 75 = 151 $250.00
Peterson, Kurt 76 – 75 = 151 $250.00
Sutter, Matt 75 – 77 = 152 $150.00
Cutlip, Dean 78 – 75 = 153 $125.00
Kovach, Ty 75 – 79 = 154 $50.00
Trier, David 81 – 73 = 154 $50.00
Burge, Geoffrey 80 – 75 = 155
Chapman, Ron 81 – 74 = 155
Hawkins, Scott 77 – 78 = 155
Minear, Chris 77 – 78 = 155
Wadsworth, Bobby 78 – 78 = 156
Campbell, Jeffrey 79 – 79 = 158
Pariano, Tony 78 – 80 = 158
Huntley, Brian 81 – 78 = 159
Allton, Dave 80 – 84 = 164
Barbas, Jeff 88 – 79 = 167
Dillon, Shawn 85 – 82 = 167
Sovak, Brian 91 – 78 = 169
Stearn, Greg 86 – 85 = 171
Toth, John 88 – 84 = 172
SATURDAY SENIOR 50-59 CASH POT:
Lambos $150.00
Wamack $90.00
Spino $60.00
Laubacher $60.00
SUNDAY SENIOR 50-59 CASH POT:
Laubacher $150.00
Trier $80.00
Freeman $80.00
Chapman $50.00
SATURDAY SENIOR 50-59 SKINS: $120 ea
Peterson – 9
Minear – 17
Laubacher – 18
SUNDAY SENIOR 50-59 SKINS: $120 ea
Trier – 5
Cutlip – 11
Campbell – 12
Senior 60-69 Division
Chirumbolo, Bruno 72 – 72 = 144 $600.00
Semple, Jeff 70 – 77 = 147 $500.00
Bryson, Rick 76 – 72 = 148 $400.00
Freudeman, Dave 76 – 76 = 152 $300.00
Crawford, Mike 77 – 77 = 154 $200.00
LaGrotteria, Paul 79 – 75 = 154 $200.00
Thomas, Mark 80 – 75 = 155 $100.00
Lahnan, Larry 80 – 78 = 158
Crider, Randy 81 – 78 = 159
Peck, Dave 79 – 81 = 160
Barr, Dennis 78 – 89 = 167
Miller, Fred 82 – 87 = 169
Hanzel, Andy 86 – 91 = 177
Charles, Bill 91 – 89 = 180
Heavner, Tim 84 – NC
Spino, Sam 87 – NC
SATURDAY SENIOR 60-69 CASH POT:
Semple $120.00
Chirumbolo $80.00
Freudeman $40.00
SUNDAY SENIOR 60-69 CASH POT:
Bryson $100.00
Chirumbolo $100.00
LaGrotteria $20.00
Thomas $20.00
SATURDAY SENIOR 60-70+ SKINS: $72 ea
Semple – 1
Steinhilber – 2
Crawford – 4
Semple – 9
Bryson – 18
SUNDAY SENIOR 60-70+ SKINS: $120 ea
Brady – 1
Hanzel – 10
Stack – 13
Senior 70+ Division
Brady, Mike 77 – 70 = 147 $600.00
Dottavio, Alex 82 – 78 = 160 $400.00
Stack, Tom 79 – 83 = 162 $300.00
Young, Randy 81 – 83 = 164 $200.00
Steinhilber, Steven 84 – 81 = 165
Snyder, Dave 85 – 81 = 166
Smart, Scott 83 – 87 = 170
Champagne, Bradley 96 – 102 = 198
VanNostran, Doug 80 – NC
SATURDAY SENIOR 70+ CASH POT:
Brady $80.00
Stack $40.00
SUNDAY SENIOR 70+ CASH POT:
Brady $80.00
Dottavio $40.00