A shockingly great weather day for the first of May — sunny, breezy and 82 degrees! — and some fantastic putting surfaces at Shady Hollow Country Club in Massillon made for a strong opening event to the 2019 tournament season of the Northern Ohio Golf Association.
But some tricky hole locations and wind gusts of up to 30 mph kept the scramble scoring in check.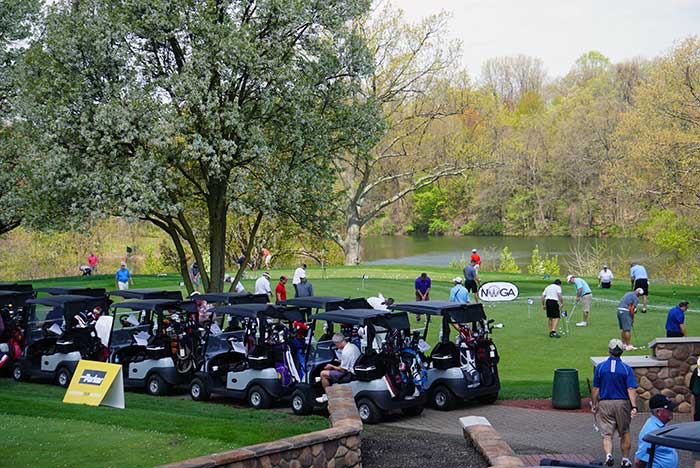 Jim Krivanek and Brian Smith tied with Ben Hogan and Greg Thomas atop the AA Division with a score of 7-under par 65. Hogan/Thomas were bogey-free on the day, while Krivanek and Smith overcame a bogey at the short tenth. Those two teams captured three of the four skins in that flight as well.
Tom Baugh and Tom Skidmore reversed a bogey-bogey slide coming down the stretch by making a par-5 eagle chip-in at their last to nip two teams in the Senior AA Division — and grab three of six flight skins won, to boot.
Shady Hollow members James Steiner and Chris Wright won the A Division by two shots, while in the Senior A Division the teams of Bill Kruse and Howard Essner of Silver Lake tied with Dan O'Donnell and David Hunt from Fairlawn.
Tim Miller and Steve Riley captured the B Division with a tidy 4-under par 68, and Terrence Foley and Tom English took the Senior B Division. Charlie and Frank Denallo earned C Division honors.
Complete results below.
The next event on the 2019 NOGA schedule is the sold-out NOGA Spring Four-Ball at Lakewood Country Club in Westlake on Monday, May 6th. Then three separate handicap-flighted Four-Ball Championships follow that, but each site is nearly sold out — so register today…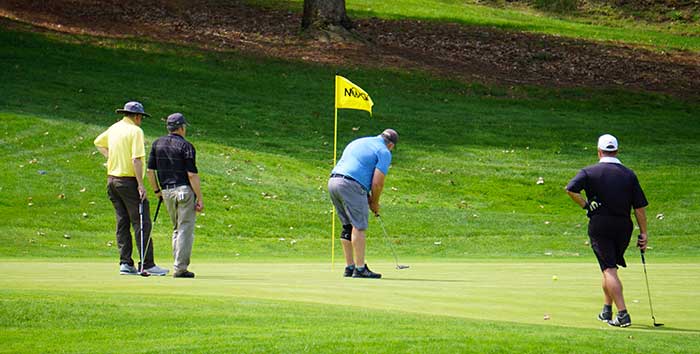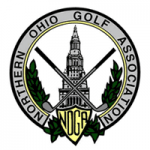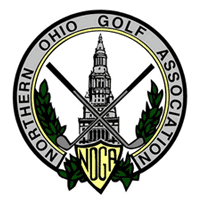 FINAL RESULTS:
Northern Ohio Golf Association 2-Player Scramble
Shady Hollow Country Club, Massillon
Wednesday, May 1, 2019

AA DIVISION
T1  Jim Krivanek / Brian Smith 65
T1  Ben Hogan / Greg Thomas 65
T3  Belden, Daniel / Parker, Quinn 67
T3  Freeman, Allen / Kovach, Ty 67
T3  Okeson, Chris / Schustrich, Robert 67
6  Goist, Scott / Howard, Matt 68
7  Clay, Dennis / Clay, Joshua 69
8  Areddy, Rick / Baumgartner, Emily 71
9  Cohn, Barry / Rumizen, Scott 72
AA SKINS: $45 ea
Jim Krivanek / Brian Smith – Birdie 3, Hole #1
Jim Krivanek / Brian Smith – Birdie 2, Hole #2
Ben Hogan / Greg Thomas – Birdie 3, Hole #4
Scott Goist / Matt Howard – Eagle 3, Hole #9
SENIOR AA DIVISION
1  Tom Baugh / Tom Skidmore 67
T2  David Alden / Michael Boyle 68
T2  Jim Durr / Mark Guadagni 68
4  Rick Bryson / Rick Merrow 70
5  David Devault / David White 79
SENIOR AA SKINS: $15 ea
Baugh, Tom / Skidmore, Tom – Birdie on 4, Eagle on 12, Birdie on 13
Alden, David / Boyle, Michael – Birdie on 16
Devault, David / White, David – Birdie on 14
Bryson, Rick / Merrow, Rick – Birdie on 5
A DIVISION
1  Steiner, James / Wright, Christopher 65
T2  Fleming, Douglas / Wilson, Steven 67
T2  Grosso, Jim / Recht, Joel 67
4  Bukovecky, Nick / Weaver, Bob 69
5  Armeni, Jim / Seifert, Tim 72
6  Hach, Mark / Rothstein, Alan 73
7  Maconachy, Drew / McMillen, Shade NC
A SKINS: $15 ea
Bukovecky, Nick / Weaver, Bob – Birdie on 4, Birdie on 8, Birdie on 16
Steiner, James / Wright, Christopher – Birdie on 2, Birdie on 18
Armeni, Jim / Seifert, Tim – Eagle on 12
Fleming, Douglas / Wilson, Steven – Birdie on 3
SENIOR A DIVISION
T1  Bill Kruse / Howard Essner 75
T1  Dan O'Donnell / David Hunt 75
T3  Gail Hackett / Carol Bonavita 76
T3  Fred Sinram / Greg Schindler 76
5  Ned Foley / Mitchell Henn 82
6  Tom Adams / Steve Willett 88
SENIOR A SKINS: $10 ea
Schindler, Greg / Sinram, Fred – Birdie on 12, Birdie on 15, Birdie on 17
Hunt, David / O'Donnell, Dan – Birdie on 4, Birdie on 6, Birdie on 16
Bonavita, Carol / Hackett, Gail – Birdie on 3, Birdie on 13
Foley, Ned / Henn, Mitchell – Birdie on 18
Essner, Howard / Kruse, Bill – Birdie on 8
B DIVISION
1  Miller, Tim / Riley, Steve 68
T2  Tedrow, Derrick / Wreyford, Tye 69
T2  Bast, Ed / Bast, Eddie 69
4  Kirtz, Dan / Kirtz, David 70
T5  Bingman, George / Willison, Chris 72
T5  Lewis, Mark / Moore, Chuck 72
7  Bryant, Mark / Mangano, Samuel 74
8  Gerber, Creighton / Roberts, Tom 75
9  Ettinger, Jeff / Walsh, Pat 76
B SKINS: $30 ea
Miller, Tim / Riley, Steve – Birdie on 3, Birdie on 4
Kirtz, Dan / Kirtz, David – Birdie on 7, Birdie on 13
Gerber, Creighton / Roberts, Tom – Birdie on 1
Bryant, Mark / Mangano, Samuel – Birdie on 2
SENIOR B DIVISION
1  Terrence Foley / Tom English 78
T2  Larry Suter / Alan Markus 79
T2  Joe Pellegrene / Gregory Zugrave 79
4  Jay Park / Ed Babcock 84
5  John Brocklehurst / Pat Graham 86
SENIOR B SKINS: $12.50 ea
Miller, Tim / Riley, Steve – Birdie on 3, Birdie on 4
Kirtz, Dan / Kirtz, David – Birdie on 7, Birdie on 13
Gerber, Creighton / Roberts, Tom – Birdie on 1
Bryant, Mark / Mangano, Samuel – Birdie on 2
C DIVISION
1  Denallo, Charlie / Denallo, Frank 74
T2  Deep, Robert / Wilbur, Mark 75
T2  Blaser, Lawrence / Kaltenstein, Mike 75
T4  Clark, Richard / Dashner, Chris 76
T4  Grishkevich, Bruce / Kilkenny, Tim 76
T4  Cosentino, John / Jones, Roy 76
T4  Fernandez, Joe / Zinna, Dan 76
T8  Bitsko, Kelly / Lorenzo, Anthony 81
T8  Schaefer, Charles / Weiss, Richard 81
C SKINS: $20 ea
Blaser, Lawrence / Kaltenstein, Mike – Birdie on 1, Birdie on 16
Deep, Robert / Wilbur, Mark – Birdie on 18
Denallo, Charlie / Denallo, Frank – Birdie on 14
Clark, Richard / Dashner, Chris – Birdie on 11
Fernandez, Joe / Zinna, Dan – Birdie on 2
Grishkevich, Bruce / Kilkenny, Tim – Birdie on 6
Cosentino, John / Jones, Roy – Birdie on 8