Northern Ohio Golf Course Superintendents celebrate 100th anniversary with Westwood gala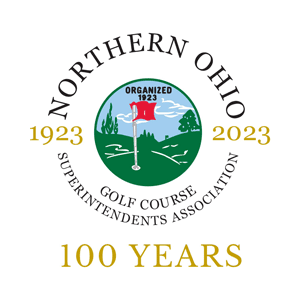 J. Rhett Evans, chief executive officer of the Golf Course Superintendents Association of America, will be the keynote speaker at the 100th anniversary gala of the Northern Ohio Golf Course Superintendents Association at Westwood Country Club on Saturday, November 11, 2023.
Emmy award-winning PGA Golf Professional Jimmy Hanlin will serve as emcee for the event.
Evans joined the GCSAA in 2009 and became CEO in 2011 and has helped the organization maneuver its way through the challenging times of the global Covid pandemic and economic recession.
At the same time membership in the GCSAA's 95 chapters has grown to more than 20,000 members.
An accomplished mountain climber and Ironman Triathlete, Evans has scaled the mountainous issues facing superintendents today and has listed the key issues as developing well-schooled maintenance teams, making wise use of natural resources, and dealing with the continuous change of government regulations.
In June of 2022 Evans, a native of Prescott, Ariz., scaled Denali, the highest mountain peak in North America. Located in central Alaska, Denali, also known as Mount McKinley, rises 20,310 feet and is the third-highest of the Seven Summits. His goal is to scale all Seven Summits, the highest mountain in each of the world's seven continents.
Evans earned a sociology degree from Brigham Young University with an emphasis in business, and a master's degree in recreation management and leadership with an emphasis in public administration.
Return to Westwood
It is only fitting that the NOGCSA's 100th anniversary will be celebrated at Westwood Country Club. Fred Burkhart, the greenskeeper at WCC, supported Colonel John Morley in developing the Cleveland District Greenkeepers Association later becoming the Northern Ohio Golf Course Superintendents Association. Burkhardt joined founding father, Morley as a significant early influencer in the new organization.
That led to the founding of the national GCSAA in 1926 – first known as the National Association of Greenkeepers of America — also organized by Colonel Morley. From there affiliated chapters have been founded all over the world. Morley is regarded as the godfather of American greens keeping.
Dobie to address attendees
While Evans will serve as keynote speaker, the members and guests also will hear from Frank Dobie, who spent 56 years at The Sharon Golf Club as general manager and senior agronomist. Dobie, 82, has been president of the Musser Foundation, an organization that recognizes excellence in turfgrass research, since 1988.