The Seneca Course Championship proved to be a challenging two-day tournament. The consistent strong westerly winds along with a few rain drops on Saturday provided a challenge for some of the best area golfers.
After the first day, only eight of the 57 golfers were able to crack a score in the 70s. First round leaders Jonathan Riemer and Matthew Mullen both fired 75 on Saturday over the 7,000-yard Chippewa / Furnace Run combination.
Riemer was able to complement his opening round with a tie for Sunday's second round best score of 77, giving him a five-shot victory.
This was Jonathan's second Course Championship victory this season, as he was able to capture the Big Met Championship earlier this month.
A condensed leaderboard of finishers between 157-163 were able to earn Cleveland Metropark Gift Cards.
There were also seven golfers who were non-exempt who shot 160 or better who qualify for next month's Greater Cleveland Amateur Championship at Sleepy Hollow:
Matthew Mullen
Adam Arman
Thomas DeCaro
Scott Tarcy
Brandon Mihalo
Ryan Chipps
Jason Jendre
The staff at Seneca Golf Course would like to thank all that participated in this year's edition of the Course Championship. A special thank you to General Manager Dave Donner and his team's superb efforts for perfect fast and firm conditions.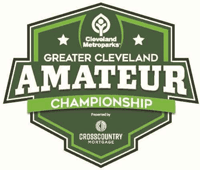 FINAL RESULTS: Cleveland Metroparks Golf
2022 Seneca Course Championship + Cleveland Am Qualifier
Seneca Golf Course, Broadview Heights, Ohio
Sat/Sun, July 23-24, 2022

Jonathan Riemer* 75 – 77 = 152 $420.00
Matthew Mullen 75 – 82 = 157 $200.00
Adam Arman 77 – 80 = 157 $200.00
Thomas DeCaro 79 – 78 = 157 $200.00
Scott Tarcy 80 – 78 = 158 $135.00
Brandon Mihalo 81 – 77 = 158 $135.00
Andrew Malkus* 78 – 82 = 160 $110.00
Ryan Chipps 79 – 81 = 160 $110.00
Jason Jendre 81 – 79 = 160 $110.00
Mike Fierst 83 – 79 = 162 $78.00
Benjamin Johannsen 83 – 79 = 162 $78.00
Mike Dota 79 – 84 = 163 $60.00
Tom Hallaran 81 – 84 = 165
Eric Wonkovich* 82 – 83 = 165
Aryan Ahlawat 83 – 82 = 165
James Hentosz 83 – 82 = 165
Ryan Burrows 84 – 81 = 165
Justin Kocan 87 – 78 = 165
Shrone Mitchell 77 – 89 = 166
Austin Jenkins 80 – 86 = 166
Kyle Carile 82 – 84 = 166
Blaze Tanner 83 – 83 = 166
Brandon Kovach 85 – 81 = 166
Shane Strongosky 84 – 83 = 167
Chris Ramaglia 85 – 82 = 167
Rory Sullivan 85 – 83 = 168
Michael Steiner 81 – 88 = 169
Chris Nurse 86 – 83 = 169
Dave Stover 86 – 83 = 169
Jacob Zbin 91 – 80 = 171
Thomas Smith 85 – 87 = 172
Brandon Kocan 86 – 86 = 172
Tristan Arno 93 – 79 = 172
William Patton 83 – 90 = 173
Michael Marchionda 88 – 85 = 173
Daniel Terry 83 – 91 = 174
Shawn Miko 87 – 87 = 174
Steven Allen 88 – 86 = 174
Matt Anzalone 89 – 85 = 174
Jack Hay 89 – 85 = 174
Lance Shakespeare 88 – 86 = 174
John Doyle 91 – 84 = 175
Matthew Granitto 85 – 91 = 176
Michael Cook 84 – 93 = 177
Nick Simon 95 – 87 = 182
Brandon Kutrubs 88 – 95 = 183
Haroon Ismail 90 – 94 = 184
Evan Truelson 92 – 95 = 187
Eric Rush 90 – 100 = 190
Dontez Sanders 93 – 103 = 196
Kaelib Graaf 126 – 110 = 236
Wyatt Suntala 91 – NC
Benjamin Gibson 93 – NC
Dean Jenkins 93 – NC
Charles Worth 103 – NC
Anthony DiSanto NC
Steven Petite NC