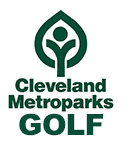 With only the Tour Championship at Manakiki left to earn points in the race for the 2016 Cleveland Metroparks Golf Player of the Year title, things got little tighter with the results of the Big Met 2-Player Scramble.
Nick Anagnost pulled to within 7 points of leader Steve Blackburn Jr. after his victory at Big Met with partner David Sotka.
With Blackburn's top-ten finish at Big Met, he now has 200 points, followed by Anagnost with 197, Brian Polick with 173, and David Sotka with 169.
Those four are the only players with a mathematical chance of winning the Player of the Year award after Manakiki.
But there are still many more players with a chance to finish the Series in the top-ten! The 10 best will share in the Bonus Pool and receive a Cleveland Metroparks gift card, with a payout projected to be close to $1,350!
On the senior side, Allen Freeman is very close to securing the first CMG Senior Player of Year award. His top-ten finish at Big Met put him at 112 points, 33 ahead of Mike Beres and 34 ahead of Andrew Jendre. Either one of those two players would have to come in first or second and have Freeman not finish among the top ten at the Tour Championship to win Player of the Year.
The senior division will pay out the top-3 series points leaders with a pot projected to be around $350 in Metroparks gift cards.
2016 CLEVELAND METROPARKS GOLF PLAYER OF THE YEAR STANDINGS THROUGH THE BIG MET 2-PLAYER SCRAMBLE
CHAMPIONSHIP DIVISION: Top 30
1 Steve Blackburn Jr. 200
2 Nick Anangost 193
3 Brian Polick 173
4 David Sotka 169
5 Jack Garswood 120
6 A.J. Borisa 109
7 Ryan Stefanski 108
8 Jacob Appleby 78
9 Bill Speirs 65
10 Brian Smith 63
11 Robert Schustrich 61
12 Jason Jendre 56
13 Allen Freeman 54
T14 Peyton White 45
T14 Mark Borlin 45
T16 John Williams 43
T16 Mark Foss 43
18 Paul LaGrotteria 41
T19 Tim Cebula 38
T19 Andrew Jendre 38
T21 Austin Zoller 37
T21 Doug Barber 37
T23 Gage Basiletti 36
T23 Chris Okeson 36
T25 John Baggott 35
T25 Jackson Farling 35
T27 Phil Latsko 33
T27 Eric Wonkovich 33
T27 Mike Beres 33
T30 Mike Witmer 31
T30 Paul Prince 31
T30 John Prince 31

SENIOR DIVISION: Top 20
1 Allen Freeman 112
2 Mike Beres 79
3 Andrew Jendre 78
4 Mark Foss 71
5 Mark Borlin 61
6 Paul LaGrotteria 58
7 Steve Blackburn Sr. 48
T8 Tom Lauderbacher 28
T8 Scott Saari 28
T10 Larry Lahnan 25
T10 Michael Mintz 25
12 Phillip Jendre 20
13 Pat Tyrrell 18
14 Scott Heran 17
15 David Peck 16
T16 Jim Cea 13
T16 Ron Bell 13
T16 Rodney May 13
19 Ray Durban 9
20 Barry Cohn 8