NOPGA MEMBERS DEAL WITH THE RAIN AND COLD; Senior and Associate Divisions to Finish Thursday
Never let it be said that golf professionals are soft.
Never let it be said that members of the Northern Ohio Section of the Professional Golfers Association of America cannot handle the cold, the wind and the wet that can be Northeast Ohio any time after Labor Day, and that's why they head south every winter.
A handful of Section members proved otherwise on Wednesday.
They laughed in the face of brutal weather conditions – 33-degree temperature, 15-mph winds and aggravating intermittent pelting rain – to compete in the Denny Shute Memorial Match Play Championship at Portage Country Club.
Brave souls, these guys.
The day produced one champion in the Regular Division and four guys who hope to become champions in the Senior Division.
The finalists in the Associate Division elected to hold off their finals match to Thursday.
The day's big winner was Brookside Country Club PGA Assistant Golf Professional Mark Scott Jr., who took control of the scheduled 36-hole final over the second 18 holes and went on to defeat co-worker – actually his boss — Cory Kumpf, Brookside's PGA Director of Golf, 3-and-2 in the Regular Division.
Scott Jr. and Kumpf were major troopers in light of the horrendous weather. Both agreed to play on after given the chance to put their match on hold after the first 18 and resume on Thursday.
The Senior Division produced four semifinalists, who will return to Portage at 8 a.m. on Thursday with the finals scheduled immediately following.
Three-time winners Rob Moss (Pepper Pike Club) and Jon Jones (Youngstown Country Club) and former winner Tony Adcock (Seven Hills Country Club) joined four-time winner Tom Atchison (PGA Life Member) in the semifinals.
They all somehow survived on a day when even the ducks and geese were AWOL.
This is not the first time Scott Jr. has been in the Shute winner's circle. The 31-year-old Bolivar native and Ashland University graduate won the Associate Division title last year, kind of a prerequisite for his win on Wednesday when he and Kumpf played 34 of the scheduled 36 holes.
"I just tried to just focus on the next shot or my situation," said Scott Jr., who won the Section's second Stroke Play event of the season at Elyria Country Club in late May, also beating his boss by one stroke. "I felt if I did that, just thinking about the next shot at hand, I would think less about the elements."
It worked. Elements be damned.
He took control of the match with a par on the 407-yard first hole – the twosome's 19th of the day – with a par to Kumpf's bogey and a birdie to Kumpf's par on the monstrous 525-yard second. From there he remained in front, even extending his lead to 4-up at one point early on the back nine.
A key stroke came on the 366-yard 13th hole. Kumpf, with six top-10 finishes this season, was already in with a par and Scott Jr. faced a testy 7-footer to save par. He made the putt to halve the hole to maintain the lead.
"That was pretty big," said Scott Jr., who closed out the match by two-putting from 70 feet on the 232-yard 16th.
The victory was Scott Jr.'s first in the Section's majors.
"It is definitely something I was hoping to win and wanted to win," said Scott, who became a PGA member by earning his Class A membership in April. "I really enjoy match play in general because everything is right in front of you. You can be aggressive or conservative, depending on what your opponent is doing."
His march to the finals also included a 4-and-3 victory over 2018 winner and current Player-of-the-Year points leader Jim Troy in Tuesday's semifinals.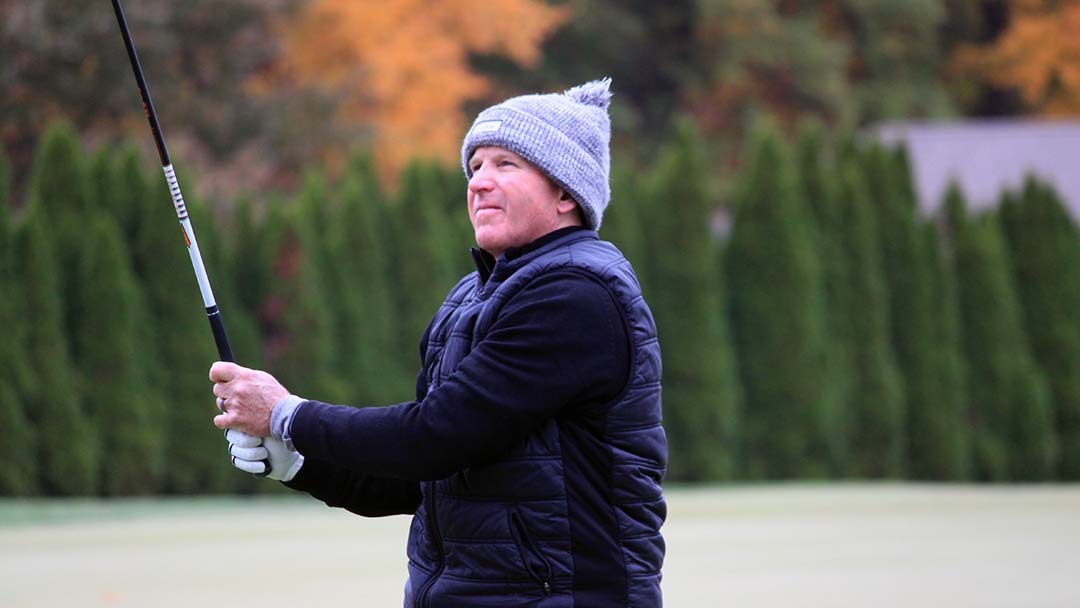 Moss, the reigning Senior Division champion, reached the semifinals by beating Steve Parker, his former Kent State teammate, 2-and-1. Moss took the lead for good on the eighth hole and eventually extended it to 3-up before Parker, the 2017 champion, narrowed the gap.'Playing in the cold is one thing," said Moss, "but playing in the cold and the rain is altogether different. It reminded me of college when you played in all sorts of conditions."
Atchison, who won his third Senior Division title in 2016 and was the Senior Division champ at this year's Mitchell-Haskell Tour Championship, defeated Brookside assistant Joe Borawski, 4-and-3. Atchison took the lead with consecutive pars on the second and third holes and never relinquished.
"It was brutal," Atchison said of the weather. "No matter how many hand warmers you had in your gloves once your hands got wet, it was hard to warm them up. I just kept trying to get the ball in the fairway and make pars."
Jones, who won Regular Division titles in 2006 and 2007 and added a Senior title in 2018, eliminated Windmill Lakes Golf Course Director of Instruction and Fitting Justin Long, 5-and-3.
Adcock, a Regular Division winner in 2003, played longer than anyone as he and Gary Rusnak went 19 holes before Adcock emerged as the winner. It was Adcock's second straight match that went extra holes as he defeated Kevin Sullivan on the 19th hole in Tuesday's quarterfinals.
Rusnak did not go quietly in the up-and-down match. Adcock was 3-up after five holes but Rusnak rallied and was 2-up with five holes to play. Adcock, a semifinalist last year, played the last five holes of regulation and the 19th hole in one-under, winning with a par on the first extra hole.
It will be Moss vs. Atchison and Jones vs. Adcock in Thursday's semifinals, with the finals scheduled immediately following.
In the Associate Division final, the match will be between Patrick Milkovich (Canterbury Golf Club) and DJ Holub (Pepper Pike).
The forecast does not include any precipitation but it's not going to be Palm Beach.

RESULTS: Northern Ohio PGA
2022 Denny Shute Match Play Championship
Portage Country Club, Akron
Mon, Oct 17 – Thurs, Oct 120
(Seeded number precedes name)
Full Brackets on Blue Golf >
REGULAR DIVISION FINALS:
6-Mark Scott Jr. (Brookside CC) def. 5-Cory Kumpf (Brookside CC), 3-and-2.
SENIOR DIVISION QUARTERFINALS:
1-Rob Moss (Pepper Pike Club) def. 9-Steve Parker (Portage CC), 2-and-1;
5-Tom Atchison (PGA Life Member) def. 13-Joe Borawski (Brookside CC), 4-and-3;
7-Tony Adcock (Seven Hills CC) def. 2-Gary Rusnak (1899 Golf-CleEast), 19 holes;
6-Jon Jones (Youngstown CC) def. 14-Justin Long (Windmill Lakes GC), 5-and-3.
SENIOR DIVISION SEMIFINALS:
1-Moss vs. 5-Atchison; 7-Adcock vs. 6-Jones. Thursday, 9 a.m.; Finals immediately following.
ASSOCIATE DIVISION FINALS:
4-Patrick Milkovich (Canterbury GC) vs. 2-DJ Holub (Pepper Pike). Thursday, 9 a.m.