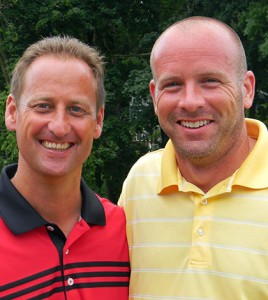 Jeff Covert and Aaron Crewse won The Fairways at Twin Lakes July 2-Man Scramble on Sunday in Kent by five shots.
Five shots.
They set a scoring record of 9-under par 26 on their first nine holes, and they did it after making a par at the first hole.
An eagle at the third combined with birdies on the other seven will do that.
They shot a more human 3-under par back nine to finish at 12-under par 58 for the day, to win by a mere 5 shots.
Most surprising of all, the majority of the hole locations were brand new to the event and much more difficult than they have been for the previous three scrambles of the 2013 season. But still they shot 26 the first go-around.
With a nice field of 26 teams competing, Covert and Crewse nabbed a tidy $720 for first.
Did I mention they won by 5 shots?
Seven teams tied for second place at 7-under par 63, each netting $195.
There were no outright skins won on the day, but two 'least tied' holes were split: two birdies at hole #2; two eagles at hole #12.
And yes, Covert and Crewse nabbed one of the quartered skins with their birdie at the second hole.
Which makes for a nice four-figure day.
Complete results below.
Next month, The Fairways at Twin Lakes 2-Man Scramble Series continues with an event on Saturday, August 17th; entry details here.
FINAL RESULTS: The Fairways at Twin Lakes
July 2013 Monthly 2-Man Scramble Series
The Fairways at Twin Lakes Golf Course, Kent, Ohio
Sunday, July 7th, 2013

1st Aaron Crewse / Jeff Covert- 26-32=58 $720.00
T2 Al Freeman / Rob Schustrich- 34-29=63 $195.00
T2 Mike Simpson/ Bobby Spino- 32-31=63 $195.00
T2 David Massucci/ Mike Peet- 30-33=63 $195.00
T2 Eric Gudenas/ Pat Osborne- 30-33=63 $195.00
T2 Brian Smith/ Ryan Stefanski- 32-31=63 $195.00
T2 Ryan Mikita/ Mike Sampson- 31-32=63 $195.00
T2 Quinn Parker / Josh Clay- 29-34=63 $195.00
T9 Chris Plute / Bruce Bailey- 32-32=64
T9 Bob Gless / Mr. Cavanaugh- 32-32=64
T9 Tim Morrow / Mr. Todd- 33-31=64
T12 Brandon Fouts / Clay Casamento- 34-32=66
T12 Tim Davis / Tom Seever – 31-35=66
T12 Mark White / Erron Gomez- 34-32=66
T15 Rick Bryson / Ryan Maxwell 33-34=67
T15 Jeff Stormer / Dean Cutlip- 32-35=67
T15 Dustin Alcorn / Mike Lenartowicz- 33-34=67
T18 Charlie Schrader / Todd Huff- 34-35=69
T18 Steve Feist / Mike Sissler- 36-33=69
T18 Dan Marr / Howard Clenendin 33-36=69
T21 Mr. Testa / Mr. Testa- 35-35=70
T21 Drew Thompson / Russ Rybka- 36-34=70
23rd Mike Dota / Jared Bartholomew- 36-35=71
T24 Chris Bisard / Brian White- 36-38=74
T24 Mr. Zimmerman / Mr. Wiggins- 36-38=74
26th Tom Bartz / Cory Gilman- 36-40=76
Closest to the Pin:
Hole # 2/11 Mike Lenartowicz, 35 inches, $260.00
Hole # 8/17 Mark White, 7 feet, $260.00
Skins (least tied):
2 birdies on Hole #2
Gudenas/ Osborne $325.00
Covert/ Crewse $325.00
2 eagles on Hole #12
Freeman/ Schustrich $325.00
Smith/ Stefanski- $325.00