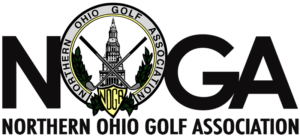 Rob Schustrich and Chris Okeson won for the second time in as many events in capturing the Scratch Division of the December 2020 NOGA 1899 Four Ball Tournament.
Their 1-over par score of 73 on the Trackman-virtual Albany Golf Club course in the Bahamas, the site of the PGA Tour's HERO World Challenge, was good for a three shot victory over Landon Palay and Mike Stefko.
In the Net Division, the race was much more tight and the scores went incredibly low, especially for better ball!
Gary Peters and John Pettit shot a stunning 13-under par net score of 59 to nip the team of Aaron Kazan and Kevin Mcafee by a single shot at 12-under par.
Participation in the December NOGA 1899 Four Ball events held at the 1899 Golf Twinsburg and Canton locations more than doubled from November. 1899 Tournament Director Scott Pollack sees an even bigger field coming for the January event, as play will be conducted on the virtual Royal Troon Trackman course. JANUARY CALL FOR ENTRIES >
FINAL RESULTS:
December 2020 NOGA 1899 Four Ball
Albany Golf Club, Bahamas
Dec 1 – 31, 2020
SCRATCH DIVISION
1 Okeson, Chris + Schustrich, Robert +1 73 $120.00
2 Palay, Landon + Stefko, Mike +4 76 $100.00
T3 Polick, Brian + Wolanin, Paul +5 77 $70.00
T3 Trier, David + Toth, John +5 77 $70.00
5 Dumm, Ben + Dumm, Nathaniel +8 80 $40.00
NET DIVISION
1 Peters, Gary + Pettit, John -13 59 $130.00
2 Kazan, Aaron + Mcafee, Kevin -12 60 $100.00
3 Thompson, David + Lucas, Bob -8 64 $60.00
4 Polack, Howard + Bandura, Joe +6 78 $30.00