Drew Miller and Lorenzo Pinili birdied their final hole to finish at 8-under par and earn medalist honors in the 8th U.S. Amateur Four-Ball Qualifier at Catawba Island Club in Port Clinton.
"Out the gate we started with an eagle," Pinili said. "So that got us off to a good start, we were 4-under through five." Miller added, "We really played good when the other was plying bad. We were up and down, good together, and good as a team."
Two team finished one shot back, tied at 7-under par after 18 holes, and with only two qualifying spots up for grabs a playoff was required. It was a doozy.
John Angelo and Marcus Carano earned their third straight trip to the Four-Ball Championship, beating Andrew Bailey and Kevin Carlin on the seventh playoff hole with a 30-foot putt from Carano.
"We haven't played a lot of great golf this summer, so today was the day that it finally clicked for us," Carano said. "Happy to get one more birdie and send everyone home." Angelo added "We didn't make a birdie that we didn't need."
The two qualifying teams will head to the Kiawah Island Club in South Carolina from May 20-24, 2023 for the U.S. Amateur Four-Ball.
Connor Doria made a hole-in-one, the third of his golf career, on the par-3 ninth hole from 190 yards with a six iron.
— content courtesy of Justin Golba, USGA/NOGA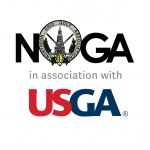 FINAL RESULTS: United States Golf Association
8th U.S. Amateur Four-Ball Qualifier
Catawba Island Club, Port Clinton
Thursday, October 6, 2022

QUALIFIERS:
Drew Miller / Lorenzo Pinili -8 64
Marcus Carano / John Angelo 65 (playoff)
ALTERNATES:
Andrew Bailey / Kevin Carlin 65 1st Alternate
Erik Bertrand / Aaron Crewse 66 2nd Alternate (playoff)
DID NOT QUALIFY:
Jim Krivanek / Brian Smith 66
Tristan Lewis / Chris Mullhaupt 67
Jeffrey Scohy / Ben Leestma 67
Tom Miles / Jonathan Bowers 67
Chester Vandenberg / Ricky Shilts 67
Logan Bratsch / Henry Neumann 68
Jared Wissinger / Alex Andrews 68
Charlie Hendrickson / Mark Robinson 68
Todd Bucher / Kevin Lenhart 68
Jake Miller / Jarrett Focht 69
Tanner Grzegorczyk / Caleb Westfall 69
Andrew Grayson / Ryan Zetwick 69
Jimmy Wolfe / Tim Maloney 69
Matthew Collins / Brady Green 69
Matthew Abendroth / Ben Silverman 69
Andrew Quintrell / Ryan Wirtz 70
Brad Griffith / Chad Johnson 70
Kyle Andrews / Forrest Krazit 70
Chris Okeson / Vaughn Snyder 70
Connor Doria / Brad Haley 70
George Cornwell / Jordan Andrus 70
Brian Hinkle / Andrew Van Horn 71
Jimmy Wild / Ryan Stefanski 71
Jake Oberlin / Bill Meyer 71
Michael Mccaffrey / Benjamin Brej 71
Derek Gordon / Nathan Mullen 72
Trevor Cohen / Garrett Cona 72
Jared Wilson / Jules Blakely 72
Tom Ballinger / Rob Wakeling 73
Richard Scarborough / Anil Das 74
Brian Tischler / Martin Connor Wisniewski 74
Jonathan Feldkamp / Wes Fidler 74
Josh Clay / Kurt Peterson 75
Jeff Mihalick / Justin Kelley 75
Ricky Watson / Andrew Bolinger 76
Brian Beebe / Eric Crone 76
Jeff Sager / Greg Reece 77
Drew Engler / Matt Malone 77
Tom Jalbert / Michael Brenner 81