Joseph Juszczyk of Dearborn Heights, MI and Mansfield native Tom Ballinger shared medalist honors with a score of 66 in the U.S. Open Local Qualifying Tournament on Monday, May 8th at Highland Meadows Golf Club in Toledo.
Juszczyk finished birdie-eagle to reach the 5-under par mark, while Ballinger made eight birdies against five bogeys to get the job done.
Six players advanced to Sectional Qualifying out of Toledo. Eastern Michigan golfer Cam Kellett took solo third with a 67, followed by former University of Michigan's Kyle Mueller of Athens, GA and former OSU Buckeye Jeg Coughlin III in a T4 at 68.
Seven players shot 69, requiring a large playoff for the final spot. Westerville's Tyler Jones made birdie on the second hole of the playoff to advance.
GOLF GENIUS HOLE-BY-HOLE RESULTS >
PHOTO GALLERY >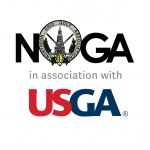 FINAL RESULTS: United States Golf Association
2023 U.S. Open Local Qualifying – Toledo
Highland Meadows Golf Club
Monday, May 8, 2023

QUALIFIED:
T1 Joseph Juszczyk 66
T1 Tom Ballinger 66
3 Cam Kellett 67
T4 Kyle Mueller 68
T4 Jeg Coughlin III 68
T6 Tyler Jones 69
ALTERNATES:
T6 Michael Balcar 69
T6 Logan Hooper 69
DID NOT QUALIFY:
T6 Connor Gdovin 69
T6 James Holley 69
T6 Otto Black 69
T6 Joo Lee 69
T13 Tommy Sullinger 70
T13 Cooper Musselman 70
T13 Tim Pearce 70
T13 Alec Cramer 70
T17 Davis Gochenouer 71
T17 Brandon Hoelzer 71
T17 Jake Kneen 71
T17 Benjamin Cors 71
T17 Garrett Wood 71
T17 Drew Salyers 71
T17 Kevin Gordon 71
T17 Jonah Kumfer 71
T25 Michael Kinkopf 72
T25 Patrick Deardorff 72
T25 Parker Haynes 72
T25 Ieuan Jones 72
T25 Nash Linder 72
T25 Zack Sims 72
T25 Henry May 72
T25 Brandon Rattray 72
T25 Egor Zotov 72
T25 Mckenzie Cushman 72
T25 Connor Dwyer 72
T36 Charles Merzbacher 73
T36 Justin Atkinson 73
T36 Hunter Foltz 73
T36 Thomas Bell 73
T36 Jack Mancinotti 73
T36 Carsten Judge 73
T36 Steven Dilisio 73
T36 Evan Yakubov 73
T44 Jaysen Hansen 74
T44 Dylan Stevens 74
T44 Eric Lilleboe 74
T44 Ian Johnston 74
T44 Joey Bussdieker 74
T44 Matthew Orwig 74
T44 Cayse Morgan 74
T44 Gunnar Mccollins 74
T44 James Troy 74
T53 Mason Deal 75
T53 Jack Marshall 75
T53 Joshua Lim 75
T53 Darin Hudak 75
T53 Myles Murphy 75
T53 Andy Hire 75
T53 Justy Vonlehmden 75
T53 James Hill 75
T53 Milton Carswell Jr 75
T53 John Powers 75
T63 Caleb Westfall 76
T63 Tyler Mchugh 76
T63 Trey Walker 76
T63 Palmer Yenrick 76
T63 Joseph Kiss 76
T68 Justin Sui 77
T68 Justin Pollock 77
T68 Jon Addis 77
T68 Jerred Barley 77
T68 Jake Daly 77
T68 Hunter Lowder 77
T68 Reece Minard 77
T75 Logan Dray 78
T75 Collin O'riordon 78
T75 Steven Brown 78
T75 Trent Tipton 78
T75 Jeremiah Bane 78
T80 Miles Miller 79
T80 Peter Laws 79
T80 Zach Burton 79
T80 Cade Breitenstine 79
T84 Zach Sudinsky 80
T84 Kevin Kornowa 80
T84 Nathan Harms 80
T87 Jonathan Green 81
T87 Isaac Elsasser 81
T87 Landon Finch 81
T87 Lyle Sanvido 81
T91 Austin Boley 82
T91 Connor Mccann 82
T91 Brandon Pollom 82
T91 Brian Luft 82
95 David Edelstein 83
96 Zachary Morris 84
T97 Benjamin Lansinger 85
T97 Matt Moos 85
T97 Kyle Maury 85
T97 Matt Gentry 85
T101 Drake Koegel 87
T101 Todd Jones 87
T101 Jason Moscone 87
T104 Grant Smeltzer 89
T104 Alex Cyrenne 89
WD Kyle Grant WD
DNF Matt Heuerman DNF
DNF John Karcher DNF
DNF Kyle Kellogg DNF
DNF Chris Shutters DNF
111 Mike Adams  DNF
NS Clay Merchent NS