The Northern Ohio PGA Junior Tour hosted its second event of the season at Trumbull Country Club in Warren.
Zachary Huscusson is starting 2023 off strong in the Boys 16-19 Division with consecutive wins. Huscusson emerged victorious last week at Old Avalon, and continued his winning streak today by clinching the win here at Trumbull with a score of 74.
In the Girls 16-19 Division, Alexandra Petrochko took home the win with a solid four over par, 76.
In the Boys 14-15 Division, a three way tie between Dexter James, Mick Ambrose, and Ryan Czenszak who all came in with six over par, 76.
In the Girls 11-15 Division, Olivia Berlingieri came in with an 85 to take the win in her division.
In the Boys 11-13 Division, Ray Koeberle ran away with the lead in his division with a six over par, 78.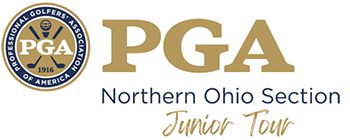 FINAL RESULTS:
Northern Ohio PGA Junior Tour
Trumbull Country Club, Warren, OH – Par 70/72
Sunday May 7, 2023

BOYS 16-19
1. Zachary Huscusson, Canal Fulton, OH, 2023, *39-35-74 +4
2. Steven Voinovich, Hudson, OH, 2025, *38-37-75 +5
2. Parker Barrett, Aurora, OH, 2024, *35-40-75 +5
2. Jack Myslenski, Richfield, OH, 2024, *35-40-75 +5
5. Rocco Turner, Canfield, OH, 2024, *36-40-76 +6
5. Dillon Pendergast, Mogadore, OH, 2023, *41-35-76 +6
7. Daniel Gambone, North Canton, OH, 2025, *38-39-77 +7
8. Craig Carneval, Hinckley, OH, 2025, *37-42-79 +9
8. Dante Turner, Canfield, OH, 2026, *41-38-79 +9
10. Alec Miller, Shaker Heights, OH, 2024, *40-40-80 +10
11. Mica Thirion, Twinsburg, OH, 2026, *39-43-82 +12
12. Nolan Froleich, Canfield, OH, 2025, *41-42-83 +13
12. Preston Kieschnik, Broadview Heights, OH, 2026, *43-40-83 +13
14. Chadwick Yoder, Amherst, OH, 2024, *42-42-84 +14
14. Trey Lautenschleger, Dover, OH, 2024, *43-41-84 +14
14. Christian Mineo, Kent, OH, 2024, *41-43-84 +14
17. MichaelTyler Polca, Rocky River, OH, 2025, *43-42-85 +15
17. Charlie Wilson, Broadview Heights, OH, 2025, *42-43-85 +15
17. Eli Zimmerman, Medina, OH, 2025, *43-42-85 +15
20. Harrison LaBahn, Strongsville, OH, 2025, *43-43-86 +16
20. Caden Bender, West Middlesex, PA, 2024, *42-44-86 +16
22. Ryan Hvizd, Broadview Heights, OH, 2025, *44-43-87 +17
22. Walker Young, Painesville, OH, 2025, *42-45-87 +17
24. Hudson Rice, Farmdale, OH, 2024, *47-41-88 +18
24. Benjamin Matava, Hudson, OH, 2025, *47-41-88 +18
24. Paul Witschey, Wadsworth, OH, 2025, *41-47-88 +18
27. Michael Haddix, Elyria, OH, 2025, *43-46-89 +19
28. Bryce Van Horn, Cortland, OH, 2024, *45-45-90 +20
28. Aryan Ahlawat, Broadview Heights, OH, 2023, *44-46-90 +20
30. Drew Kitzmiller, Macedonia, OH, 2024, *44-48-92 +22
31. Thomas Marshall, North Ridgeville, OH, 2024, *46-47-93 +23
31. Zach Ganser, Boardman, OH, 2024, *50-43-93 +23
31. Finn Thornton, Canfield, OH, 2026, *46-47-93 +23
31. Ben Mallis, Sagamore Hills, OH, 2024, *45-48-93 +23
35. Austin Mariani, Fowler, OH, 2025, *45-49-94 +24
35. Rob Prevette, Twinsburg, OH, 2025, *41-53-94 +24
35. Jackson Sommer, Westlake, OH, 2026, *45-49-94 +24
38. Andrew Dylewski, North Canton, OH, 2024, *49-47-96 +26
38. Jake Lynn, Warren, OH, 2025, *43-53-96 +26
40. Scott Colian, Salem, OH, 2025, *52-49-101 +31
41. Nathan Miller, Youngstown, OH, 2026, *54-48-102 +32
BOYS 11-13
1. Ray Koeberle, Wadsworth, OH, 2028, *39-39-78 +6
2. Parker Wells, Highland, MI, 2030, *39-48-87 +15
3. Sebastian Saporito, Akron, OH, 2028, *49-46-95 +23
4. Owen Edwards, Columbia Station, OH, 2029, *53-49-102 +30
Boys 14-15
1. Mick Ambrose, Canfield, OH, 2026, *39-37-76 +6
1. Dexter James, Hudson, OH, 2027, *41-35-76 +6
1. Ryan Czenszak, Twinsburg, OH, 2026, *39-37-76 +6
4. Fitch Farina, North Ridgeville, OH, 2027, *41-40-81 +11
5. Andrew Fredenburg, Niles, OH, 2026, *43-40-83 +13
5. Jerry Du, Hudson, OH, 2027, *42-41-83 +13
7. Dominic Castelluccio, Westlake, OH, 2027, *44-40-84 +14
8. Alexander Eckstein, Youngstown, OH, 2026, *43-46-89 +19
9. Wren Spires, Medina, OH, 2027, *44-47-91 +21
10. Jack Carey, Canfield, OH, 2026, *47-47-94 +24
11. Griffin Pickett, Painesville, Oh 44077, OH, 2027, *48-51-99 +29
12. Anthony Bako, Girard, OH, 2026, *55-50-105 +35
13. Carter Briskey, Mentor, OH, 2027, *59-49-108 +38
14. Simon Toth, Solon, OH, 2027, *59-58-117 +47
15. Ryan Tackett, Cuyahoga Falls, OH, 2026, *60-61-121 +51
16. Lucas Stringer, Broadview Heights, OH, 2027, *65-59-124 +54
Girls 11-15
1. Olivia Berlingieri, Stow, OH, 2026, *45-40-85 +13
2. Serena Wu, Solon, OH, 2026, *44-43-87 +15
3. Elena Varga, Hudson, OH, 2027, *46-44-90 +18
4. Gianna Rodenhauser, Aurora, OH, 2026, *52-57-109 +37
4. Kate Vickerman, Medina, OH, 2026, *55-54-109 +37
6. Mirabella Shelton, Hinckley, OH, 2026, *64-49-113 +41
7. Ava Roman, North Royalton, OH, 2026, *64-58-122 +50
GIRLS 16-19
1. Alexandra Petrochko, Hermitage, PA, 2024, *34-42-76 +4
2. Hannah Higgins, North Canton, OH, 2023, *38-42-80 +8
3. Gracyn Vidovic, Aurora, OH, 2025, *39-42-81 +9
4. Erin Strouse, Louisville, OH, 2022, *43-39-82 +10
5. Gabriella Berlingieri, Stow, OH, 2024, *46-39-85 +13
5. Kandace Kellon, Shaker Heights, OH, 2023, *45-40-85 +13
7. Siena Maschke, Cleveland, Ohio, 2024, *44-42-86 +14
7. Emily Burling, Hudson, OH, 2025, *43-43-86 +14
9. Alexandria Vardon, Akron, OH, 2024, *48-44-92 +20
10. Claire Hostetler, Carrollton, OH, 2024, *49-48-97 +25
11. Sophia Thompson, Cuyahoga Falls, OH, 2025, *48-53-101 +29
12. Emma Packard, Ashland, OH, 2023, *54-49-103 +31
13. Julia Van Bokkelen, Hudson, OH, 2025, *52-54-106 +34
14. Haiden Goebelbecker, Solon, OH, 2024, *53-56-109 +37
14. Peyton Biery, Louisville, OH, 2024, *52-57-109 +37
16. Teagan Miller, Milan, OH, 2025, *58-68-126 +54
17. Brooke Davis, Tallmadge, OH, 2025, *59-72-131 +59