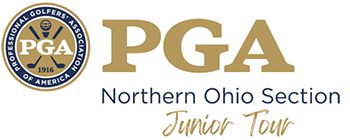 The Northern Ohio PGA Junior Tour kicked off its 2023 tournament season today at Old Avalon Golf Course in Warren with a Stableford points event.
In the Boys 16-19 Division, Zachary Huscusson, Bryce Van Horn, Jackson Pinney, and Aidan Terek all tied for first place with 33 stableford points to share co-victory.
In the Girls 16-19 Division, Emily Burling came in with 29 stableford points for a first place finish.
In the Boys 14-15 Division, Andrew Fredenburg secured his win with 35 points.
In the Girls 11-15 Division, Serena Wu earned 33 stableford points.
And in the Boys 11-13 Division, Elijah Stewart took home his win with an impressive 35 points.
The event was sponsored by Paige & Byrnes Insurance, providing each junior with a Titleist tee gift and arrangements for a food truck. Thank you to Scott Karabin, PGA for hosting.
PHOTO GALLERY: 2023 NOPGA Junior Tour at Old Avalon >

FINAL RESULTS:
2023 Northern Ohio PGA Junior Tour
Old Avalon Golf Course, Warren, Ohio
Saturday, April 29, 2023
BOYS 16-19
1. Zachary Huscusson, Canal Fulton, OH, 2023, *38-36-74 33
1. Bryce Van Horn, Cortland, OH, 2024, *39-35-74 33
1. Jackson Pinney, Hunting Valley, OH, 2025, *38-36-74 33
1. Aidan Terek, Hilliard, OH, 2024, *37-37-74 33
5. Mitchell Tyger, Kent, OH, 2023, *37-38-75 32
6. Hudson Rice, Farmdale, OH, 2024, *35-42-77 30
7. Chase Forsyth, Poland, OH, 2024, *41-37-78 29
7. Ken Williams, Champion, OH, 2023, *39-39-78 29
9. Max Vitale, New Castle, PA, 2024, *37-43-80 28
9. Caden Boyd, Concord TWP, OH, 2025, *40-39-79 28
9. Daniel Gambone, North Canton, OH, 2025, *40-39-79 28
12. Preston Kieschnik, Broadview Heights, OH, 2026, *37-43-80 27
12. Aryan Ahlawat, Broadview Heights, OH, 2023, *39-41-80 27
14. Austin Wilhoit, Stow, OH, 2025, *39-42-81 26
14. Caden Bender, West Middlesex, PA, 2024, *42-39-81 26
14. Drew Kitzmiller, Macedonia, OH, 2024, *43-40-83 26
14. Patrick Witschey, Wadsworth, OH, 2023, *40-41-81 26
18. Rob Prevette, Twinsburg, OH, 2025, *40-43-83 25
18. Paul Witschey, Wadsworth, OH, 2025, *42-40-82 25
18. Thomas Marshall, North Ridgeville, OH, 2024, *40-43-83 25
21. Craig Carneval, Hinckley, OH, 2025, *40-43-83 24
22. Alec Miller, Shaker Heights, OH, 2024, *43-41-84 23
22. Nathan Miller, Youngstown, OH, 2026, *42-42-84 23
24. Nolan Froleich, Canfield, OH, 2025, *42-43-85 22
24. Benjamin Matava, Hudson, OH, 2025, *44-41-85 22
24. Andrew Tanner, Hudson, OH, 2024, *43-42-85 22
24. Mason Reville, Northfield, OH, 2023, *47-38-85 22
28. Peyton Vacca, Parma, OH, 2025, *41-45-86 21
29. William Guest, Medina, Ohio, 2024, *46-41-87 20
29. Matthew Contipelli, Solon, OH, 2025, *43-44-87 20
31. Evan Jordanides, Massillon, OH, 2025, *45-43-88 19
32. Jackson Sommer, Westlake, OH, 2026, *44-45-89 18
32. Jake Lynn, Warren, OH, 2025, *44-45-89 18
34. Josh Turk, Westlake, OH, 2025, *47-44-91 16
35. Michael Haddix, Elyria, OH, 2025, *47-47-94 13
35. Sterling Sparks, Akron, OH, 2024, *48-46-94 13
37. David Jochum, Hudson, OH, 2024, *46-49-95 12
38. Logan Williams, Painesville, OH, 2024, *51-47-98 9
BOYS 11-13
1. Elijah Stewart, East Liverpool, OH, 2030, *37-35-72 35
2. Noah Gabriel, Poland, Ohio, 2029, *40-42-82 25
3. Hamilton Miller, Concord twp, OH, 2029, *45-44-89 18
4. Owen Edwards, Columbia Station, OH, 2029, *52-48-100 9
Boys 14-15
1. Andrew Fredenburg, Niles, OH, 2026, *37-35-72 35
2. Michael (Mick) Ambrose, Canfield, OH, 2026, *35-39-74 33
3. Alexander Eckstein, Youngstown, OH, 2026, *39-37-76 31
4. Jackson Ensley, New Middletown, OH, 2026, *39-38-77 30
5. Angelo Rinaldi, Poland, OH, 2027, *37-41-78 29
6. Ryan Czenszak, Twinsburg, OH, 2026, *38-42-80 27
7. Anthony Gambone, North Canton, OH, 2028, *40-42-82 25
7. Wren Spires, Medina, OH, 2027, *42-40-82 25
9. Dexter James, Hudson, OH, 2027, *40-43-83 24
10. Santino Toscano, New Wilmington, PA, 2027, *41-43-84 23
11. Jayden Park, Pepper Pike, OH, 2026, *41-44-85 22
12. Simon Toth, Solon, OH, 2027, *46-41-87 21
13. Griffin Pickett, Painesville, Oh 44077, OH, 2027, *42-46-88 20
14. Carter Briskey, Mentor, OH, 2027, *46-44-90 19
14. Lincoln Miller, Concord twp, OH, 2027, *45-43-88 19
14. Tyler Cheetham, Stow, OH, 2026, *44-44-88 19
17. Nickolas Torres, Strongsville, OH, 2026, *46-49-95 12
18. Lucas Stringer, Broadview Heights, OH, 2027, *49-51-100 7
18. Kyle Elsass, Akron, OH, 2027, *52-51-103 7
20. Tyler Guerrieri, Canfield, OH, 2027, *51-50-101 6
21. Cameron Yanok, Sagamore hills, OH, 2026, *60-58-118 3
22. Ryan Cogan, Hudson, OH, 2027, *67-60-127 1
Girls 11-15
1. Serena Wu, Solon, OH, 2026, *39-35-74 33
2. Ellie Gonzalez-Ribble, Brunswick, OH, 2028, *38-38-76 31
3. Elena Varga, Hudson, OH, 2027, *40-43-83 24
4. Olivia Berlingieri, Stow, OH, 2026, *42-43-85 22
5. Adrianna Mineo, Kent, OH, 2026, *46-50-96 11
6. Leah Dang, Uniontown, OH, 2027, *49-48-97 10
7. Ava Roman, North Royalton, OH, 2026, *48-57-105 8
8. Rena Steffas, Broadview Heights, OH, 2025, *52-49-101 7
8. Alexis Belser, Oakwood Vlg, OH, 2027, *53-58-111 7
GIRLS 16-19
1. Emily Burling, Hudson, OH, 2025, *40-38-78 29
2. Gabriella Berlingieri, Stow, OH, 2024, *39-44-83 24
3. Cara Murphy, Massillon, OH, 2025, *40-46-86 21
3. Manisha Girn, Aurora, OH, 2025, *45-41-86 21
5. Brooke Barnes, Northfield, OH, 2024, *44-45-89 18
5. Chloe Holton, Rocky River, OH, 2024, *45-44-89 18
7. Sophia Thompson, Cuyahoga Falls, OH, 2025, *46-47-93 14
8. Jaycee Kabasky, Wadsworth, OH, 2024, *50-50-100 11
9. Haiden Goebelbecker, Solon, OH, 2024, *49-48-97 10
10. Teagan Miller, Milan, OH, 2025, *50-48-98 9
10. Julia Van Bokkelen, Hudson, OH, 2025, *49-49-98 9
12. Katie Hout, Massillon, OH, 2024, *57-53-110 7
13. Brooke Davis, Tallmadge, OH, 2025, *52-51-103 4