The Northern Ohio PGA Junior Tour successfully held its third 18 hole junior event of the season today at Lake Forest Country Club in Hudson.
In the Boys 16-19 Division a three way tie was shared between three Hoban high school teammates: Anthony Gore, Ray Dress, and Chris Pollak. The tie was shared at an impressive two over par, 74.
In the Girls 16-19 Division, Cara Murphy came in with a four over par, 76 to lead her division by four shots.
In the Boys 14-15 Division, Ben Fauver led his division by seven shots after an even par, 72.
In the Girls 11-15 Division, Serena Wu takes home her third win this season with a seven over par, 79.
In the Boys 11-13 Division, following his brother's lead, Nicholas Pollak came in with a five over par, 77.
We would like to extend our gratitude to John Goodson, PGA, Zac Cork, PGA, and their exceptional staff for graciously hosting our tour. Lake Forest continues to be a favorite among our junior participants, as it consistently attracts a highly competitive field year after year.
PHOTO GALLERY: 2023 NOPGA Junior Tour – Lake Forest >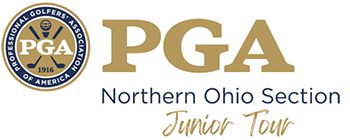 FINAL RESULTS:
2023 NOPGA Junior Tour
Lake Forest Country Club, Hudson, OH – Par 72
Tuesday, May 30, 2023
BOYS 16-19
1. Ray Dress, Medina, OH, 2025, *36-38-74 +2
1. Anthony Gore, Copley, OH, 2023, *38-36-74 +2
1. Chris Pollak, Aurora, OH, 2025, *39-35-74 +2
4. Nathan Menapace, New Philadelphia, OH, 2024, *40-35-75 +3
4. Daniel Gambone, North Canton, OH, 2025, *39-36-75 +3
6. Brock Jenkins, Massillon, OH, 2024, *38-38-76 +4
7. Frankie Adamo, Avon, OH, 2024, *40-37-77 +5
7. Kyle Salamon, Medina, OH, 2022, *39-38-77 +5
9. Michael Haddix, Elyria, OH, 2025, *40-38-78 +6
9. Trey Lautenschleger, Dover, OH, 2024, *40-38-78 +6
11. Brett Bagatti, Medina, OH, 2025, *37-42-79 +7
11. Silas Kirkpatrick, Clinton, OH, 2026, *37-42-79 +7
13. Mitchell Tyger, Kent, OH, 2023, *40-40-80 +8
13. Ryan Dinan, Akron, OH, 2024, *43-37-80 +8
13. Patrick Witschey, Wadsworth, OH, 2023, *42-38-80 +8
16. Evan Raymond, Uniontown, OH, 2024, *43-38-81 +9
16. Charles Hite, Akron, OH, 2024, *40-41-81 +9
16. Jacob Sprinkle, Amherst, OH, 2025, *42-39-81 +9
16. Austin Wilhoit, Stow, OH, 2025, *42-39-81 +9
16. Vinh Lai, Lakewood, OH, 2025, *41-40-81 +9
21. Marco Silva, Barberton, OH, 2025, *44-38-82 +10
21. Tim Mai, Avon, OH, 2025, *41-41-82 +10
23. Callahan Lawler, Hudson, OH, 2024, *41-42-83 +11
24. Grant Price, Uniontown, OH, 2024, *41-43-84 +12
24. Kord Ready, Hudson, OH, 2024, *45-39-84 +12
24. Harrison LaBahn, Strongsville, OH, 2025, *44-40-84 +12
27. Aryan Ahlawat, Broadview Heights, OH, 2023, *40-45-85 +13
28. Alexander Stiegele, Westlake, OH, 2026, *44-42-86 +14
28. Benjamin Matava, Hudson, OH, 2025, *43-43-86 +14
28. Adam Ruffer, Hudson, OH, 2025, *46-40-86 +14
28. Preston Kieschnik, Broadview Heights, OH, 2026, *46-40-86 +14
32. Cole Macko, Barberton, OH, 2025, *47-40-87 +15
32. Rob Prevette, Twinsburg, OH, 2025, *42-45-87 +15
32. Timothy Caspio, Medina, OH, 2022, *44-43-87 +15
32. Craig Carneval, Hinckley, OH, 2025, *49-38-87 +15
32. MichaelTyler Polca, Rocky River, OH, 2025, *43-44-87 +15
32. Jack Myslenski, Richfield, OH, 2024, *46-41-87 +15
38. Michael Dorony, Hudson, OH, 2024, *44-44-88 +16
38. Jaden Schlabach, Apple Creek, OH, 2023, *45-43-88 +16
40. Mason Reville, Northfield, OH, 2023, *45-44-89 +17
40. Paul Witschey, Wadsworth, OH, 2025, *43-46-89 +17
42. Mason Gurney, Clyde, OH, 2023, *47-43-90 +18
42. Camden Bille, Millersburg, OH, 2025, *47-43-90 +18
44. Mason Ely, Brecksville, OH, 2025, *46-45-91 +19
44. Brock Fussell, Oregon, OH, 2024, *51-40-91 +19
44. Jackson Sommer, Westlake, OH, 2026, *44-47-91 +19
44. Drew Kitzmiller, Macedonia, OH, 2024, *43-48-91 +19
48. Kevin Elliott, Akron, OH, 2025, *51-41-92 +20
48. William Davis, Massillon, OH, 2025, *42-50-92 +20
48. Cooper Lodge, Avon, OH, 2025, *49-43-92 +20
51. Owen Robinson, Navarre, OH, 2024, *50-43-93 +21
51. Scott Colian, Salem, OH, 2025, *47-46-93 +21
51. Rowan Baynes, Kent, OH, 2024, *51-42-93 +21
51. Thomas Marshall, North Ridgeville, OH, 2024, *45-48-93 +21
51. Evan Jordanides, Massillon, OH, 2025, *45-48-93 +21
56. Sam Pinkerton, Peninsula, OH, 2023, *46-49-95 +23
57. Isaac Thompson, Massillon, OH, 2025, *52-46-98 +26
58. Alex Norton, Uniontown, OH, 2025, *44-55-99 +27
58. Ryan Hvizd, Broadview Heights, OH, 2025, *52-47-99 +27
60. Carter Klein, Hudson, OH, 2025, *49-56-105 +33
BOYS 11-13
1. Nicholas Pollak, Aurora, OH, 2029, *38-39-77 +5
2. Elijah Stewart, East Liverpool, OH, 2030, *39-40-79 +7
3. Noah Gabriel, Poland, Ohio, 2029, *43-43-86 +14
4. Nathan Vorthong, Akron, OH, 2029, *46-43-89 +17
5. Jax Turner, Kent, OH, 2028, *44-46-90 +18
6. Ray Koeberle, Wadsworth, OH, 2028, *46-45-91 +19
7. Lucas Cutlip, Stow, OH, 2028, *48-46-94 +22
7. Andrew VanDamme, Kent, OH, 2030, *42-52-94 +22
9. Owen Edwards, Columbia Station, OH, 2029, *47-49-96 +24
Boys 14-15
1. Ben Fauver, Hudson, OH, 2027, *36-36-72 E
2. Dexter James, Hudson, OH, 2027, *39-40-79 +7
3. Jerry Du, Hudson, OH, 2027, *41-41-82 +10
3. Leo Carey, Brecksville, OH, 2026, *41-41-82 +10
5. Jackson Keller, Uniontown, OH, 2026, *40-45-85 +13
6. Santino Toscano, New Wilmington, PA, 2027, *45-41-86 +14
7. Henry Self, Canton, OH, 2026, *43-44-87 +15
8. Wren Spires, Medina, OH, 2027, *44-44-88 +16
9. Benjamin Berridge, Seven hills, OH, 2027, *43-47-90 +18
10. Barrett Atchison, Hudson, OH, 2027, *44-47-91 +19
10. Lincoln Miller, Concord twp, OH, 2027, *49-42-91 +19
12. Nicholas Colagiovanni, Strongsville, OH, 2026, *48-44-92 +20
13. Luca Oravecz, Richfield, OH, 2026, *43-50-93 +21
13. Thomas Grasson, Valley City, OH, 2027, *50-43-93 +21
15. Simon Toth, Solon, OH, 2027, *46-48-94 +22
16. Jonny Stephan, Uniontown, OH, 2026, *51-44-95 +23
17. Oliver Huff, Stow, OH, 2027, *50-47-97 +25
18. Graydon Lusk, Massillon, OH, 2027, *49-51-100 +28
19. Lucas Stringer, Broadview Heights, OH, 2027, *51-52-103 +31
20. Jackson Sarver, Aurora, OH, 2027, *45-59-104 +32
21. Colin Klein, Hudson, OH, 2027, *53-56-109 +37
22. Luigi Costanzo, North Canton, OH, 2027, *52-58-110 +38
23. Harrison Bateman, Hudson, OH, 2027, *61-58-119 +47
24. Nickolas Torres, Strongsville, OH, 2026, *61-69-130 +58
Girls 11-15
1. Serena Wu, Solon, OH, 2026, *40-39-79 +7
2. Kayla Knaze, Fairview park, OH, 2027, *41-39-80 +8
3. Korrine Knaze, Fairview Park, OH, 2029, *42-40-82 +10
4. Brynn Harstine, West Lafayette, OH, 2028, *42-44-86 +14
4. Kristina Chill, Columbia Station, OH, 2026, *42-44-86 +14
6. Sarah Vojtko, Stow, OH, 2028, *46-42-88 +16
7. Elena Varga, Hudson, OH, 2027, *44-48-92 +20
8. Taylor Harstine, West Lafayette, OH, 2030, *48-45-93 +21
9. Charlotte Raketich, North Canton, OH, 2026, *50-48-98 +26
9. Leah Dang, Uniontown, OH, 2027, *52-46-98 +26
11. Miley Tylicki, Medina, OH, 2026, *51-57-108 +36
12. Kate Vickerman, Medina, OH, 2026, *55-58-113 +41
13. Jessica Buzinski, Brunswick, OH, 2026, *59-59-118 +46
14. Kathryn Ennemoser, Ravenna, OH, 2026, *75-61-136 +64
GIRLS 16-19
1. Cara Murphy, Massillon, OH, 2025, *39-37-76 +4
2. Kaitlin Kormuth, Solon, OH, 2023, *40-40-80 +8
3. Erin Strouse, Louisville, OH, 2022, *39-42-81 +9
4. Amanda Fedor, Hartville, OH, 2023, *41-41-82 +10
5. Kylie Porter, North Canton, OH, 2025, *45-38-83 +11
6. Maureen O'Leary, Rocky River, OH, 2025, *38-46-84 +12
6. Lizzy Grant, Hudson, OH, 2023, *43-41-84 +12
6. Sherry Du, Hudson, OH, 2024, *44-40-84 +12
9. Hannah Higgins, North Canton, OH, 2023, *45-41-86 +14
10. Paige McKendry, Hinckley, OH, 2024, *41-47-88 +16
11. Ava Kemp, North Canton, OH, 2025, *42-47-89 +17
11. Abrielle Nikolaidis, Canton, OH, 2022, *44-45-89 +17
13. Avery Paez, Rocky River, OH, 2025, *43-49-92 +20
14. Kyah Huckleberry, Ashland, OH, 2025, *49-44-93 +21
15. Lydia Dorman, Medina, OH, 2024, *44-50-94 +22
16. Angela Dodson, Shaker Heights, OH, 2022, *46-49-95 +23
16. Julia Van Bokkelen, Hudson, OH, 2025, *47-48-95 +23
18. Morgan Bauza, Kent, OH, 2022, *51-46-97 +25
19. Kaitlin Sieverts, Canton, OH, 2024, *52-46-98 +26
20. Vanessa Prodafikas, Canton, OH, 2023, *48-51-99 +27
20. Lucy Myers, Galion, OH, 2024, *48-51-99 +27
22. Madison Harpley, Akron, OH, 2025, *48-54-102 +30
23. Katie O'Connell, North Canton, OH, 2024, *53-60-113 +41
24. Brooke Davis, Tallmadge, OH, 2025, *60-64-124 +5