New Philadelphia's Blake Sattler fired 68 (-4) to win the Championship Division of the Northern Ohio PGA's Stroke Play #2 at Elyria Country Club, beating Beechmont's Jaysen Hansen who shot 68 (-3). Sattler had four birdies for a flawless scorecard over the 1921 William Flynn design. Sattler placed his ball in positions where he had uphill putts all day long, a key to putting the quick greens at Elyria.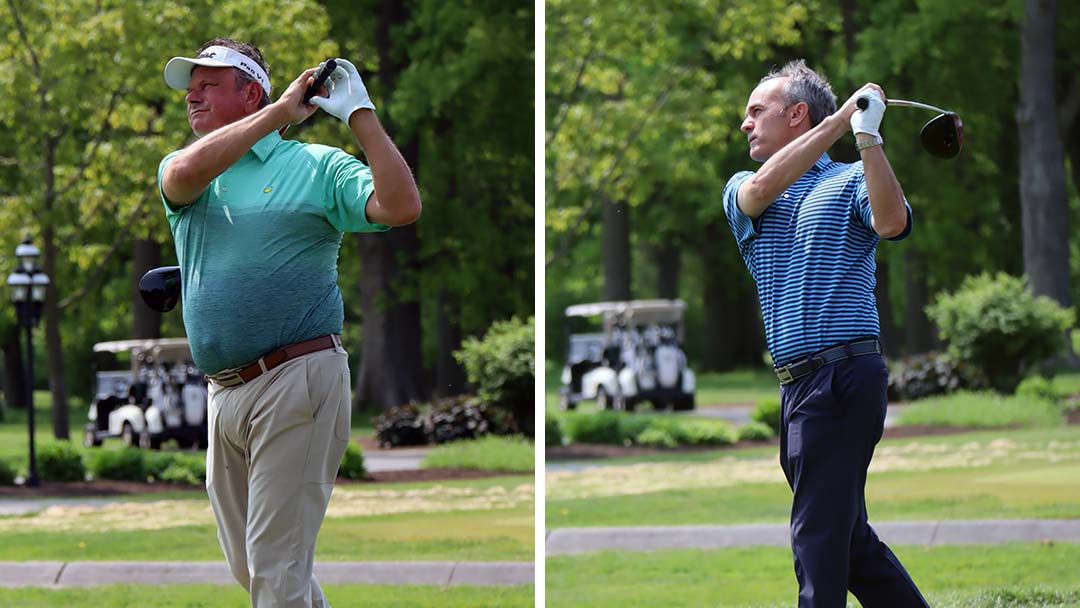 In the Senior Division, PGA of America Life Member Gary Trivisonno and Shawnee Country Club's Steve Mulcahy each fired 69 (-3) to tie for the win, and also played in the same group.
"It was a beautiful day, I had a good attitude, and it resulted in good scores for me and the rest of the group," said Trivisonno. Mulcahy echoed: "I wish my daughters had watched me today. They would have learned something."
PHOTO GALLERY FROM ELYRIA COUNTRY CLUB >
The next stop on the Northern Ohio PGA Tournament Schedule is Tuesday, May 30th at Westfield Country Club for the Pro-Assistants.

FINAL RESULTS: Northern Ohio PGA
2023 NOPGA Club Car / Pepsi Stroke Play #2
Elyria Country Club, Elyria, Ohio – Par 72
Monday, May 22, 2023
CHAMPIONSHIP DIVISION
1. Blake Sattler, Willie's Custom Golf Center, $1,400.00, *34-34-68 -4
2. Jaysen Hansen, Beechmont Country Club, $1,000.00, *36-33-69 -3
3. Mark Bixler, Kirtland Country Club, $621.43, *35-35-70 -2
3. Randy Dietz, Windmill Golf Center​, $621.43, *35-35-70 -2
3. Jim Troy, The Golf Dome, $621.43, *35-35-70 -2
3. DJ Holub, Pepper Pike Club, $621.43, *34-36-70 -2
3. Rob Moss, Pepper Pike Club, $621.43, *35-35-70 -2
3. Austin Graham, Pepper Pike Club, $621.43, *34-36-70 -2
3. Mark Sierak, Optimus Golf, $621.43, *34-36-70 -2
10. Ryan Yip, Kent State University, $350.00, *36-35-71 -1
11. Brett Coluccio, Area 419 Golf, $258.33, *36-36-72 E
11. Jason Carbone, Canterbury Golf Club, $258.33, *37-35-72 E
11. Brock Kehres, Westbrook Country Club, $258.33, *36-36-72 E
14. Jon Jones, Youngstown Country Club, $210.00, *36-37-73 +1
14. Jeff Sasala, Elyria Country Club, $210.00, *37-36-73 +1
14. Joe Puch, Fox Meadow Country Club, $210.00, *37-36-73 +1
14. William McKinley, Sharon Golf Club, $210.00, *36-37-73 +1
14. Mark Scott Jr., Westwood Country Club, $210.00, *33-40-73 +1
19. Milton Carswell, Stone Oak Country Club, $130.00, *37-37-74 +2
19. Cory Kumpf, Brookside Country Club, $130.00, *35-39-74 +2
19. David Morgan, Westfield Group Country Club, $130.00, *34-40-74 +2
19. Ian Haidle, Shady Hollow Country Club, $130.00, *35-39-74 +2
19. Anthony Panepento, Canterbury Golf Club, $130.00, *37-37-74 +2
Out of the Money:
T24 Nick Paez, GolfTEC – Cleveland West 75
T24 Adam Lewicki, Portage Country Club 75
T24 Matthew Creech, The Golf Dome 75
T24 Nick Gustin, Erie Shores Golf Course 75
T24 Michael Balcar, Brandywine Country Club 75
T29 Tim Perin, Lakewood Country Club 76
T29 Jared Toom, GolfTEC-Stonebrook 76
T29 John Powers, Bowling Green State University 76
T29 Asa Donaldson, Shawnee Country Club 76
T29 Drew Pierson, The Clubhouse 76
T29 Brian Boggs, Fremont Country Club 76
T29 Joe Meglen, StoneWater Golf Club 76
36 Anthony Hoover, Elyria Country Club 77
T37 Chris Capriolo, Cappy's Club Repair 78
T37 Trent Maxwell, Windmill Golf Center​ 78
T37 Zack Ford, Tippecanoe Country Club 78
T37 Sean McGuire, Pepper Pike Club 78
T37 Justin Long, Windmill Lakes Golf Club 78
42 Daniel Terry, Chippewa Golf Club 79
T43 Thomas Carlton, Elyria Country Club 80
T43 Mason Laird, 1899 Indoor Golf 80
T43 Kirby Manown, Medina Country Club 80
T43 Andy Silverman, Canterbury Golf Club 80
47 Nick Myers, Highland Meadows Golf Club 81
T48 Joshua Diemer, Chagrin Valley Country Club 82
T48 Chris Casto, Northstar Golf Club 82
T50 Dustin Roth, Eagle Creek Golf Club 83
T50 Scott Siler, Red Tail Golf Club 83
52 Drake Koegel, Stone Oak Country Club 84
T53 Steve Bordner, The Country Club 85
T53 Matt Stroud, Avon Oaks Country Club 85
55 Ryan Eisinger, The Toledo Country Club 86
56 Nate Curtis, Northstar Golf Club 87
57 Chris Knevel, Westwood Country Club 90
WD Dylan Champney, Avon Oaks Country Club  
WD Jake Kruegel, Salem Hills Golf & Country Club  
Senior Division
1. Steve Mulcahy, Shawnee Country Club, $800.00, *35-34-69 -3
1. Gary Trivisonno, PGA Of America Life Member, $800.00, *35-34-69 -3
3. Mike Stone, Belmont Country Club, $500.00, *36-34-70 -2
3. Rob Moss, Pepper Pike Club, $500.00, *35-35-70 -2
3. Gary Rusnak, 1899 Golf, CLE East, $500.00, *34-36-70 -2
6. Steve Stone, McDivots Driving Range, $250.00, *36-36-72 E
6. Tom Waitrovich, PGA Of America Life Member, $250.00, *36-36-72 E
8. Jon Jones, Youngstown Country Club, $150.00, *36-37-73 +1
9. Tom Atchison, PGA Of America Life Member, $75.00, *39-35-74 +2
9. Tony Adcock, 1899 Indoor Golf, $75.00, *38-36-74 +2
Out of the Money:
T11 Dan Sutton, Heather Downs Country Club 75
T11 Ned Weaver, Windmill Golf Center​ 75
T13 David Dinan, Windmill Golf Center​ 77
T13 Mike Rankin, Westbrook Country Club 77
T13 Trevor Thomas, The Delphos Country Club 77
T13 Scott Pollack, 1899 Golf CLE East 77
T17 Tony Milam, North Coast Junior Tour 78
T17 Justin Long, Windmill Lakes Golf Club 78
T17 Eric Morgan, Plum Brook Country Club 78
T20 Joshua Coad, Mount Vernon Country Club 79
T20 Kevin Sullivan, Quail Hollow Country Club 79
22 Ronald Salerno, X-Golf Broadview Heights 80
23 Andy Santor, Reserve Run Golf Course 83