Kyle Jones of Canton bought a brand new membership to Turkeyfoot Lake Golf Links this year, and playing several times in advance of the tournament at the Portage Lakes layout paid off big with an April NOHIO.GOLF Series Stableford victory.
Jones made a whopping six birdies on the day, each worth three points, against nine pars worth one point and three bogeys that earned no points, to post a total score of 27. His sum was seven points better than a trio of players who finished runner-up with 20 points.
"The greens at Turkeyfoot are already fast and firm, and I've played a few times here already this year under those conditions," said Jones. "Most golf courses at this time of year can only dream about being fast and firm. So it gave me a little advantage, and it was a fun day."
Jeff Mihalick of Elyria, along with Cantonites Zach Drukenbrod and Dave Oates, made up the pack of players finishing runner-up at 20 points.
But this event is intentionally flipped to put the majority of the prize purse into the skins pot, to encourage firing at the flags and discourage early season score angst. So while Jones will go down as the day's tournament champion, it could be argued that the four big skins winners were also champs on Saturday at the Turkeyfoot Stableford + Skins.
Oates paired his T2 finish with a birdie skin at the par-3 13th hole, one of four skins won on the day. Each skin was good for a tidy $560 payout.
The day's remaining three skins were won by eagle on a par-4: Aaron Meikle of Fowler with an eagle-2 on the par-4 10th; Chris Nurse of Lake Milton with an eagle-2 on the par-4 11th; and Justin Krotine of Wooster with an eagle-2 on the par-4 14th.
Oates' prize payout take totaled over $712, while Meikle added a T8 to his eagle skin to top $580. Jones victory placed him fifth on the prize payout list with $322.50. Complete results below.
Unless another event is added between now and then, the next event on the NOHIO.GOLF Series schedule will be the annual All-American 3-Player Scramble at Rawiga Golf Club in Seville over the July 4th holiday weekend, on Saturday, July 1st. Entries for that event will open in mid-June.
Thank you to the grounds staff at Turkeyfoot for the great early season conditions, and to host pro Michael Thirion for the hospitality and accommodating reschedule from the initial bad weather date. And kudos as always to Northern Ohio Golf Association's Sean Croell for NOGA Live Scoring, which makes event day feel like TV golf for all the players and their fans.
A photo gallery from the first tee of all the players in the field at the NOHIO.GOLF Turkeyfoot Stableford + Skins can be found below the results.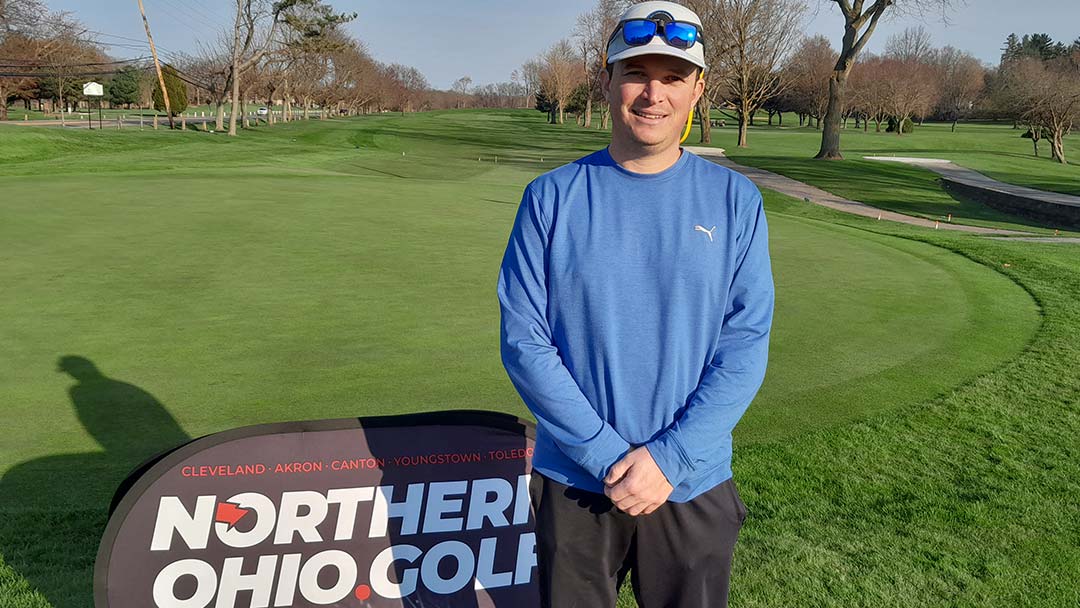 FINAL RESULTS:
2023 NOHIO.GOLF Stableford + Skins
Turkeyfoot Lake Golf Links, Akron
Saturday, April 8, 2023
Hole-by-hole Golf Genius Results >
1 Kyle Jones, Canton 27 $322.50
T2 Dave Oates, Canton 20 $152.50
T2 Jeff Mihalick, Elyria 20 $152.50
T2 Zach Drukenbrod, Canton 20 $152.50
T5 Shaun Kloetzer, Fairlawn 19 $69.17
T5 Brian Smith, Amherst 19 $69.17
T5 Larry Lahnan, Aurora 19 $69.17
T8 Ryan Stefanski, Sagamore Hills 18 $23.75
T8 Matt Mullen, Akron 18 $23.75
T8 Jeff Hetler, Green 18 $23.75
T8 Aaron Meikle, Fowler 18 $23.75
T12 David Trier, Stow 17 $12.50
T12 Solomon Petrie, Akron 17 $12.50
T12 Justin Trzebuckowski, Broadview Heights 17 $12.50
T15 Mark Borlin, Stow 16
T15 Brian Austalosh, Campbell 16
T15 Jimmy Wild, Sagamore Hills 16
T15 Eric Wonkovich, Lakewood 16
T19 Jim Cea, Tallmadge 15
T19 Phil Bojc, Columbus 15
T21 Nathan Kreutzer, Cleveland 14
T21 Chris Nurse, Lake Milton 14
T21 Josh Prok, Akron 14
T21 Rob Loomis, Akron 14
T21 Bobby Wadsworth, North Canton 14
T26 Corey Hines, Leavittsburg 13
T26 Mike Simpson, Uniontown 13
T26 Mark Schneider, Canton 13
T26 Chris Okeson, Lyndhurst 13
T26 Tommy Miano, Stow 13
T26 John Toth, Akron 13
T32 Adam Arman, Massillon 12
T32 Troy Luckenbaugh, Green 12
T32 Alex Loftin, Macedonia 12
T32 Mark Guadagni, Hudson 12
T36 Chris Austalosh, Campbell 10
T36 Wyatt Suntala, Lakewood 10
T36 Mike Fierst, Broadview Heights 10
T39 James Rosen, Green 9
T39 Max Decheco, Stow 9
T39 Nick Foschia, Chicago 9
T39 Allen Freeman, Brecksville 9
T43 Mark Ciccarello, South Euclid 8
T43 Michael Austalosh, Campbell 8
T43 William Cain, Streetsboro 8
T43 Emily Baumgartner, Tallmadge 8
T43 Tyler Watkins, Medina 8
T43 Justin Krotine, Wooster 8
T43 Mike Shisler, Doylestown 8
T50 Jay Dean, Akron 7
T50 Jeremy Brown, Homeworth 7
T50 Matt Roth, Medina 7
T50 Tom Stack, Akron 7
T54 Tim Heavner, Alliance 6
T54 Dustin Buehler, Akron 6
56 Nancy Rishel, Cleveland 1

SKINS: $560 ea
Aaron Meikle, Fowler – Eagle on 10
Chris Nurse, Lake Milton – Eagle on 11
Dave Oates, Canton – Birdie on 13
Justin Krotine, Wooster – Eagle on 14
PHOTO GALLERY
INSTRUCTIONS: Click any thumbnail to launch the photo viewer. Hover your cursor over a photo in the viewer to display arrows to move between photos. Click (x) to exit the current batch after viewing. Then use the navigation below the thumbnails to see additional photos in this gallery.