It took a score of 8-under par 64 to win in both the Championship and Senior Divisions at Sand Ridge Golf Club in the Northern Ohio Golf Association's Great Lakes Auto Scratch Series Four-Ball #1.
In the Championship Division, the defending Four-Ball Match Play Champions Chris Okeson and Michael Klaric II finished in a tie following a hard-charging close by Christopher Brown and Nolan Marks.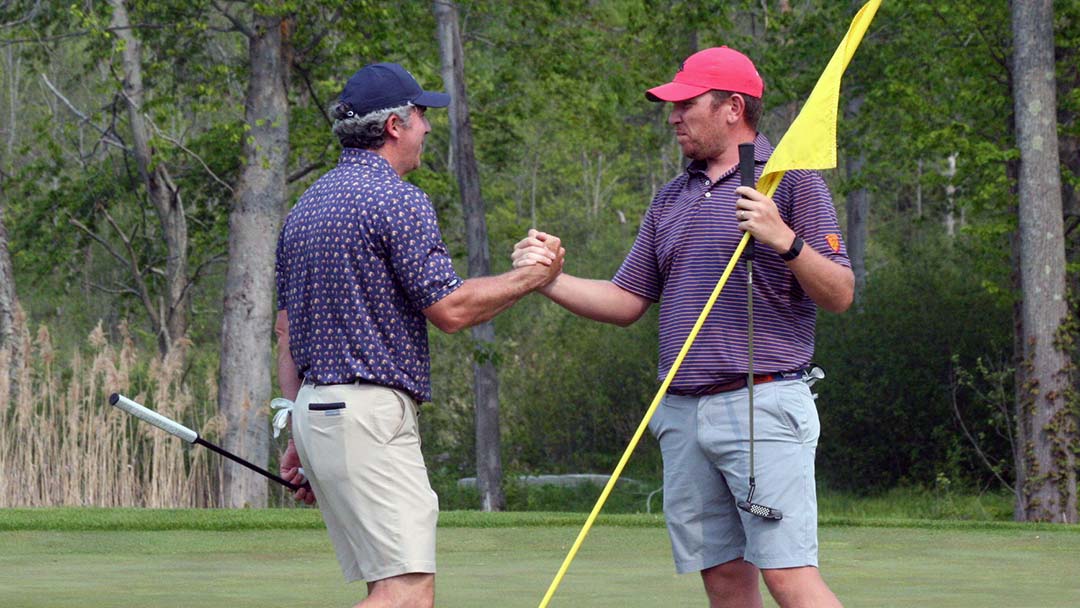 After a pedestrian 2-under par front side, Brown and Marks made six birdies on the back nine to chase down a share of the victory. Okeson and Klaric made nine birdies against a lone bogey on the fifth, but finished with three pars on some gettable holes.
In the Senior Division, Allen Freeman and Mark Borlin matched the 8-under par winning score, but with a shocking hiccup. After turning in 3-under par, both players made double-bogey by hitting their second shots into the water on the 10th. But from there they raced to the finish with five birdies and an eagle, going 7-under par on their last eight holes.
Akronites Rick Merrow and Rick Bryson finished in second place in the Senior Division just one shot back at 7-under par 65, making eight birdies against a bogey at the par-3 fourth.
The NOGA Four-Ball #1 also acts as the qualifier for the season-long Four-Ball Match Play Match Championship. Brackets will be set and announced for each division tomorrow, so watch this website then follow along all season long as each rung on the bracket is completed.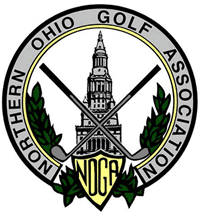 FINAL RESULTS: Northern Ohio Golf Association
2023 Great Lakes Auto Scratch Series Four-Ball #1
and Season-Long Match Play Qualifier
Sand Ridge Golf Club, Chardon, Ohio
Monday, May 22, 2023
HOLE-BY-HOLE RESULTS: Golf Genius >
Championship Division
T1 Chris Okeson / Michael Klaric III 64 $400.00
T1 Christopher Brown / Nolan Marks 64 $400.00
3 Jeff Blechschmidt / Trevor Cohen 65 $310.00
4 Rick Areddy / Thomas Miano 66 $250.00
T5 Brian Smith / Doug Barber 67 $176.67
T5 John Doughton / Jason McDowell 67 $176.67
T5 Matt Donahoe / Anthony Briggs 67 $176.67
T8 Ben Hogan / Justin Krotine 69 $55.00
T8 Garrett Cona / Christian Tomak 69 $55.00
T8 John Young / David Young 69 $55.00
T8 Patrick Metzger / Connor Outcalt 69 $55.00
T8 Justin Trzebuckowski / Shaun Kloetzer 69 $55.00
T8 Michael Brenner / Tom Jalbert 69 $55.00
T14 Emily Baumgartner / Ryan O'Donnell 70
T14 Wes Immler / David Hilditch 70
T16 Griffin Todd / Garrett Frank 71
T16 Zach Glassman / Jeff Pawlowski 71
T16 Jeff Meagrow / John Bernatovicz 71
T19 Steve Putinski / Jim Krivanek 72
T19 Barry Rice, Jr / Kevin Rowe 72
T19 Mike Belacic / Jeff Howard 72
T19 Pat Cartellone / Jesse Fox 72
T19 Tony Cisterino / Michael Meecha 72
T24 Ryan Augustitus / Michael Shea 73
T24 George Rohan / Jonah Karzmer 73
T26 Andrew Malkus / Shawn Jacklitch 74
T26 Tim Skufca / Bryn Irvine 74
T26 Chris Horne / Stephen Bosak 74
T26 Travis Pollari / Paul Krueger 74
T26 Greg Reece / Mike Distefano 74
T26 Derek Gordon / Nathan Mullen 74
T32 Jeff Mihalick / John Lord 75
T32 Alan Rothstein / Jeff Ryan 75
T32 Cody Miller / David Miller 75
35 John Bastulli / Dominic Intorcio 76
36 Olivia Hochschwender / Mike Hochschwender 77
37 Scott Fox / Luke Stretar 78
CHAMPIONSHIP SKINS:
No Skins Won
Senior Division
1 Allen Freeman / Mark Borlin 64 $375.00
2 Rick Merrow / Rick Bryson 65 $300.00
3 Tom Laubacher / Mike Cassell 66 $255.00
4 Jim Durr / Mark Guadagni 67 $225.00
T5 Dean Cutlip / David Trier 68 $86.25
T5 Robert Schustrich / Mark Ciccarello 68 $86.25
T5 Jeffrey Knox / Marc Fried 68 $86.25
T5 BJ Claus / Jeff Kruzel 68 $86.25
9 Tom Baugh / Tom Skidmore 69
T10 Paul Woznicki / Ron Skirpstas 70
T10 Robert Wadsworth / John Toth 70
T10 Ed Marsinek / Dave Cutlip 70
T13 Barry Cohn / David Stover 71
T13 Scott Saari / Paul Lagrotteria 71
T13 Steve Feist / Douglas Fleming 71
T16 Monty Guest / Brian Sparrow 72
T16 Jon Nagy / Nick Bukovecky 72
T16 Tim Baker / Jay Fairfield 72
19 Denny Flood / Bryan Warnica 73
T20 Jim Herchek / Randy Crider 74
T20 Paul Ferguson / Ron HulettU 74
T20 Tom Begley / Terry Hollister 74
T20 Tom Bollenbacher / Craig Soule 74
T24 Joe Denk / Stephen Tischler 77
T24 Mike Crawford / Barry Riggs 77
SENIOR SKINS: $210 ea
Allen Freeman / Mark Borlin Birdie on 5
Ed Marsinek / Dave Cutlip Eagle on 6
Ed Marsinek / Dave Cutlip Birdie on 7
Allen Freeman / Mark Borlin Eagle on 14