Three teams tied at the top of another full-field NOGA Net Series event, as the Lake Erie Golf Cars Four-Ball #1 and season-long Match Play Qualifier was played Tuesday at Youngstown Country Club.
Bob Coy + Dennis Dempsey of Quail Hollow Country Club, Anthony Zabiegala + Ronald Brown of Weymouth/Fox Meadow, and David Routh + Jay Yorty of Elyria Country Club all shot a net round of 64 to finish at 7-under par, tying for the victory.
Greg Haslett + Joel Recht of Weymouth/Fox Meadow CC and Mike Gary + Paul Gibbons of Chagrin Valley Country Club finished at 6-under par, tied for fourth place. A whopping 10 teams tied for sixth place at 5-under par net.
The next NOGA Net Series event will be the Old Pal Four-Ball and Match Play Qualifier on Wednesday, May 31 at Belmont Country Club in Perrysburg.
PHOTO GALLERY: 2023 NOGA Net Lake Erie Golf Cars Four-Ball #1 >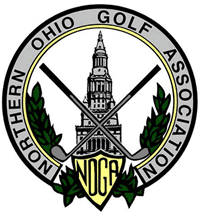 FINAL RESULTS: Northern Ohio Golf Association
2023 NOGA Net Series Lake Erie Golf Cars Four-Ball #1
and Season-Long Match Play Qualifier
Youngstown Country Club, Youngstown, Ohio
Tuesday, May 23, 2023
HOLE-BY-HOLE RESULTS at GOLF GENIUS >

T1 Anthony Zabiegala / Ronald Brown, Weymouth & Fox Meadow CC 64 $320.00
T1 David Routh / Jay Yorty, Elyria Country Club 64 $320.00
T1 Bob Coy / Dennis Dempsey, Quail Hollow Country Club 64 $320.00
T4 Greg Hazlett / Joel Recht, Weymouth & Fox Meadow CC 65 $200.00
T4 Mike Gary / Paul Gibbons, Chagrin Valley Country Club 65 $200.00
T6 John Wright / Matt Vanderhoff, Signature of Solon 66 $114.00
T6 David Scaglione / Doug Van Nostran, Congress Lake Club 66 $114.00
T6 Craig Dunlap / Gabriel Michel, Little Mountain Country Club, Silver Lake Country Club 66 $114.00
T6 Lefteri Psihountakis / Tom Estafen, Chippewa Golf Club 66 $114.00
T6 Alex rice / David Baugh, Portage Country Club 66 $114.00
T6 Rich Kirbus / Tony Constantino, Little Mountain Country Club 66 $114.00
T6 David Miceli / Rick Terens, Valley of the Eagles, Red Tail Golf Club 66 $114.00
T6 Hugh Morgan / Richard Weiss, Stonewater Golf Club 66 $114.00
T6 Bryan Dudash / Ed Svoboda, Fremont CC 66 $114.00
T6 Dan Pyle / Seth Severin, Beechmont Country Club 66 $114.00
T16 Bill Boyd / Dave Pavlick, Club Walden, Signature of Solon 67
T16 Bill Lohn / Mike Blauman, Stonewater Golf Club, Madison Country Club 67
T16 David Piros / William Zaubi, Red Tail Golf Club 67
T16 Aaron Kazan / Kevin Mcafee, Ellsworth Meadows Golf Club 67
T20 David Ehrman / Gordon Netschke, Red Tail Golf Club 68
T20 Bill Allen / Michael Galloway, Westfield Country Club 68
T20 Matt Collier / Peter Hays, Lake Forest Country Club 68
T20 Jim Crandall / Tim Polgar, Valley of the Eagles, Avon Oaks Country Club 68
T20 Chuck Adya / Jacob Coker, Silver Lake Country Club 68
T20 Jeff Ryznar / Joey Huang, Country Club of Hudson 68
T20 Bruce Leff / Robert Edelstein, Beechmont Country Club 68
T27 Erik Huss / Robert Cheffins, Lakewood Country Club 69
T27 Howard Berry / Wally Depasquale, Stonewater Golf Club, Mayfield Sand Ridge Club 69
T27 Denny Flood / Frank Desmit, Oberlin Golf Club 69
T27 Eddie Neer / Frank Neer, Little Mountain Country Club, Madison Country Club 69
T31 Tim Reed / Tom Jonozzo, Signature of Solon 70
T31 Joe Moran / Roger Hird, Country Club of Hudson, Lake Forest Country Club 70
T31 Jeremy Bernard / Kevin Monroe, Madison Country Club, Gleneagles Golf Club 70
T31 Dave Palchesko / David Eli, Gleneagles Golf Club, Manakiki Golf Course 70
T31 Abhijit Shetti / Vincent Yurak, Windmill Lakes Golf Club, Elyria Country Club 70
T31 Ben Aveni / Bill Starr, Quail Hollow Country Club 70
T37 Jason Coleman / John Furlong, Signature of Solon, Club Walden 71
T37 Dennis Borton / Rick Bock, Brookledge Golf Course 71
T37 Adam Blum / Michael Beres, Stonewater Golf Club 71
T37 James Williams / Thomas Benda, USGA/Northern Ohio GC, NOHIO.GOLF Club 71
T37 John Toth / Paul Ferguson, USGA/Northern Ohio GC, Fox Den Golf Course 71
T37 Scott Hollowell / Scott Zielinski, NOHIO.GOLF Club, Quail Hollow Country Club 71
T37 Doug Fifner / Rick Norris, Shady Hollow Country Club, Oberlin Golf Club 71
T44 Brian Polick / Mike English, Weymouth & Fox Meadow CC 72
T44 Jim Rosen / Rich Rosen, Firestone Country Club, NOHIO.GOLF Club 72
T44 Denny Brayer / John Dmytriw, Little Mountain Country Club, Legend Lake Golf Club 72
T44 Chris Moehring / William Bertemes, Weymouth & Fox Meadow CC 72
T44 Evan Lunde / Russ Bowen, Chagrin Valley Country Club, Windmill Lakes Golf Club 72
T44 Doug Phillips / Tom Mitchen, NOHIO.GOLF Club 72
T44 Doug Hauenstein / Timothy Swanda, NOHIO.GOLF Club 72
T51 Creighton Gerber / Jeff Pawlowski, Mayfield Sand Ridge Club, Westfield Country Club 73
T51 Doug Hartman / Greg Helmick, Silver Lake Country Club 73
T51 Arthur Smyth / Thomas Barnish, Ellsworth Meadows Golf Club, Country Club of Hudson 73
T51 Dennis Fujka / Rick Desautels, Red Tail Golf Club 73
T55 Howard Polack / Joe Bandura, Weymouth & Fox Meadow CC 74
T55 Andrew Vinciquerra / James Vinciquerra, Little Mountain Country Club 74
T57 Bob Burak / Bob Pacholewski, Firestone Country Club, Kirtland Country Club 75
T57 Hugh Pace / Ron Hulett, Windmill Lakes Golf Club, Firestone Country Club 75
59 Frank Mittler / Fred Sinram, Oberlin Golf Club 76
60 Al Salvatore / Mike Pappas, Kirtland Country Club 83