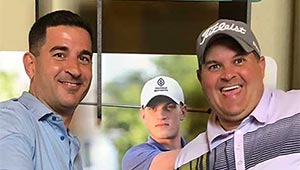 A total of 50 two-player teams competed in the 2023 Cleveland Metroparks Two Player Scramble on Saturday, May 20 at Manakiki Golf Course. The golf course was wet after nearly 2-inches of rain fell overnight, and the windy conditions kept the scores a bit higher than in the past.
2022 Defending Champions and multiple time event winners David Sotka + Nick Anagnost topped the field again, this time with an 8-under par round of 64.
The teams of Adam Frey + Tony Briggs, Jerrod Vastag + Adam Lint, Allen Freeman + Justin Trzebuckowski and Jimmy Wild + Steve Blackburn all tied for second place at 7-under par 65.

FINAL RESULTS: Cleveland Metroparks Golf
2023 Manakiki Spring 2-Player Scramble
Manakiki Golf Course, Willoughby Hills, Ohio
Saturday, May 20, 2023

Nick Anagnost + David Sotka 64 $1,200.00
Adam Frey + Tony Briggs 65 $625.00
Jerrod Vastag + Adam Lint 65 $625.00
Justin Trzebuckowski + Allen Freeman 65 $625.00
Jimmy Wild + Steve Blackburn Jr. 65 $625.00
Michael Meyers + Jeff Sawitke 67 $340.00
Wyatt Suntala + Tim Straka 67 $340.00
Brian Polick + Kyle Jacob 68 $260.00
John Toth + Max DeCheco 68 $260.00
Travis Pollari + Paul Krueger 69 $200.00
Paul Dilyard + David Dilyard 70
Christopher Fritz + Nathan Schuerger 70
Andrew Malkus + Bobby Wadsworth 71
Justin Schroeder + Adam Pry 71
William Speirs + Mike Dota 71
Thommy Butchko + Ian Anderson 71
Michael Renner + Mike Musacchia 71
Ryan Augustitus + Jeff Deal 71
Christopher Kanuch + Ray Frey 72
Reid Sheppard + David Fagan 72
Jason Freeman + Dave Janis 72
Scott Schmit + Brian Schmit 73
Andrew Coddington + Sam Coddington 73
Matthew Willse + Andrew Clark 73
Conor Pentalla + Nick Esposito 74
Ray McNiece + Emilio Noguez 74
Michael Stuewe + Daniel Sabo 76
Jack Elber + Dan Elber 77
Jimmy Geitz + Jon Kent 77
Larry Plas + Tyler Plas 77
Sean McElwee + Drew Weinfurtner 78
Kyle Cox + Aaron Delfs 78
Justin Oshinsky + Gary Long 78
Eric Sebor + Tim Stull 79
Michael Riley + Jordan Evanko 79
Kevin O' Malley + Nick Mylonas 79
Trent Trader + Garret Yant 79
Dustin Huntsman + Cory Potter 80
Peter Hyland + Patrick McIntyre 80
Matthew Maselli + Trevor Mitch 81
Pat Duncan + Matt Palko 82
Jeremiah Smith + Jason Kotlinski 83
Ben Simister + Matt Legat 83
Bruce Batista + Ben Batista 87
Domenic Formick + Ethan Nobbe 88
Jacob Perry + Kennedy Perry 88
Steven Beans + Kevin Callsen 89
Daniel Koller + Doug Koller 93
Zach Januska + Zach Christian DNS
Cole Southworth + Ryan Wenger NC

SKINS: $386 ea
Birdie 3 on Hole #9 – Meyers/Sawitke
Eagle 3 on Hole #12 – Butchko/Anderson
Birdie 2 on Hole #15 – Trzebuckowski/Freeman