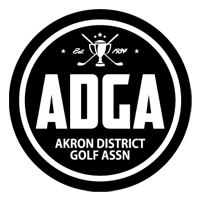 Matt Frey + Tommy Miano blistered the back nine with a better ball 30 at Turkeyfoot Lake Golf Links on Saturday to win the Akron District Golf Association's Parke H. Thornton 2-Man Better Ball tournament by three shots.
The pair turned in 2-under par 34, made birdie at the 10th, but gave it right back with a bogey at 11. From there, they shot 5-under par in their last seven holes, including an eagle-3 by Miano at the par-5 16th hole and a birdie by Frye at the par-3 15th that earned them a skin.
Dave Oates + Vaughn Snyder finished in second place with a 67, and three teams tied for third.
In the Senior Division, Mark Guadagni + Jim Durr and Dean Cutlip + Brian Beebe shared first place with a 4-under par 67. Beebe + Cutlip shot 34 with a bogey on the front side, then played solidly on the back coming home in 33. Durr + Guadagni played their front nine in even par, then finished strong with a four birdie 31.
Three Senior teams finished in a tie for third place at 3-under par 68: Tom Baugh + Rob Yanko, David Trier + Allen Freeman, and Mike Armour + Dan Marr.
Players are back at Turkeyfoot again next week for the annual Turkeyfoot 2-Player Scramble on Saturday, May 13th. Expect some tough hole locations on Turkeyfoot's perfect greens, and hope for a replay of the sunny weather from today's event. Too bad amateur golf isn't covered by the Bet MGM bonus code, because it's going to be a battle worth wagering on.
The next event on the ADGA Calendar is the ADGA 4-Man Scramble at Brookledge Golf Course in Cuyahoga Falls on Saturday, May 27th. Get registered now.
INSTRUCTIONS: Click any thumbnail to launch the photo viewer. Hover your cursor over a photo in the viewer to display arrows to move between photos. Click (x) to exit the current batch after viewing. Then use the navigation below the thumbnails to see additional photos in this gallery.
FINAL RESULTS: Akron District Golf Association
2023 Parke H. Thornton 2-Man Better Ball
Turkeyfoot Lake Golf Links, Akron
Saturday, May 6, 2023
CHAMPIONSHIP DIVISION
Matt Frey / Tommy Miano 34 – 30 = 64 $700.00
Oates/Snyder 36 – 31 = 67 $500.00
Padgett/Kaufman 36 – 32 = 68 $230.00
Ferrara/Jenkins 35 – 33 = 68 $230.00
Clendenin/Blackburn 36 – 32 = 68 $230.00
Prok/Chinn 32 – 37 = 69 $25.00
Angelo/Carano 35 – 34 = 69 $25.00
DeCheco/Drukenbrod 35 – 34 = 69 $25.00
Vincelette/Vincelette 35 – 34 = 69 $25.00
Kloetzer/Arman 38 – 32 = 70
Koprevic/Koprevic 36 – 34 = 70
Miller/Levengood 37 – 33 = 70
Wild/Trzebuckowski 39 – 32 = 71
Malkus/Malkus 36 – 35 = 71
Toth/Marrozzi 38 – 33 = 71
Smith/Stefanski 39 – 33 = 72
Adkins/Matteson 40 – 35 = 75
Hull/Phifer 40 – 37 = 77
Jones/Vellios 39 – 39 = 78
Onorato/Onorato 43 – 43 = 86
Hull/Shisler NC
SKINS: $250 ea
Prok/Chinn Eagle 3, Hole #7
Frey/Miano Birdie 2, Hole #15
SENIOR DIVISION
Mark Guadagni / Jim Durr 36 – 31 = 67 $600.00
Dean Cutlip / Brian Beebe 34 – 33 = 67 $600.00
Baugh/Yanko 34 – 34 = 68 $233.00
Trier/Freeman 33 – 35 = 68 $233.00
Armour/Marr 34 – 34 = 68 $233.00
Fiest/Fleming 37 – 33 = 70
Martin/Stack 36 – 34 = 70
Spino/Laubacher 36 – 34 = 70
Cea/Schustrich 35 – 36 = 71
Diebold/Canter 35 – 36 = 71
Lahnan/Miller 39 – 32 = 71
Nemeth/Wakeling 39 – 33 = 72
Johnson/Jadchew 37 – 36 = 73
Skidmore/Downing 37 – 37 = 74
Sloan/Hengel 38 – 36 = 74
Cutlip/Marsinek 41 – 33 = 74
Warlow/Williams 39 – 36 = 75
Fricker/Lowry 42 – 38 = 80
Eckard/Knoll 41 – 42 = 83
SKINS: $158 ea
Warlow/Williams Birdie 2, Hole #2
Armour/Marr Eagle 3, Hole #6
Lahnan/Miller Birdie 2, Hole #13