The scores were crazy low at Brookledge Golf Course in Cuyahoga Falls on Saturday, as the victors posted a winning score of 21-under par.
The Pittsburgh team of Jay Hollifield, Jon Clark, Ken Keller and Noah Frase ripped off a pair of 25s to shoot 50 on the par-71 layout, including an eagle-2 at the par-4 finishing hole.
That same team also won this same ADGA 4-Man Scramble event in 2022 at Seven Hills.
What is more amazing is that they won by just one shot, with third place finishing just another shot behind that.
Kyle Jones, Barry Riggs, Frank Groves and Mike McVey finished in second place at 20-under par 51.
Steve Blackburn Jr., Jimmy Wild, Ryan Stefanski and Howard Clendenin finished third at 19-under par 52.
The fourth place finishers, Allen Freeman, Justin Trzebuckowski, Shaun Kloetzer and Mark Borlin won one of two skins on the day after Freeman drove the green and Trezbuckowski made the putt. The other skin belonged to the team of Larry Lahnan, Fred Miller, Jim Durr and Mark Guadagni, as Durr holed out a 90-yard wedge shot on two bounces for eagle-2 on the long par-4 ninth hole.
The next event on the schedule is the ADGA 3-Man Shamble at Chippewa Golf Club in Doylestown on Saturday, June 17th.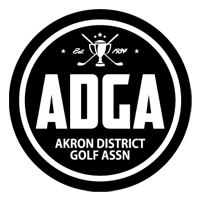 FINAL RESULTS:
Akron District Golf Association
2023 ADGA 4-Man Scramble
Brookledge Golf Course, Cuyahoga Falls
Saturday, May 27, 2023
1st Clark Frase Hollifield Keller 25 – 25 = 50 $1,750.00
2nd Jones Riggs Groves McVey 27 – 24 = 51 $1,350.00
3rd Blackburn Wild Stefanski Clendenin 24 – 28 = 52 $1,000.00
4th Freeman Trzebuckowski Kloetzer Borlin 24 – 30 = 54 $580.00
5th Frey Fierst Vojtko Witmer 27 – 28 = 55 $480.00
T6 Trier Skirpac McCaulley Miano 27 – 29 = 56 $220.00
T6 Lahnan Miller Durr Guadagni 27 – 29 = 56 $220.00
T6 Williams Scarborough Czetli 0 29 – 27 = 56 $220.00
Elson Weekley Heavner Cordillo 27 – 30 = 57
Trent Stormer Barry Steiner 28 – 29 = 57
Bryson Herchek Merrow Baugh 28 – 29 = 57
Cea Bell Fleming Fiest 29 – 28 = 57
Martin Hedrick Stack Tarter 28 – 29 = 57
Murello McCarley Puffenbarger Selzer 28 – 29 = 57
Skidmore Vincelette Downing Brouse 29 – 29 = 58
Armour Marr Horner Watkins 28 – 30 = 58
Cutlip Marsinek Luckenbaugh Thigpen 30 – 29 = 59
Ferrara Jenkins Bellovich Ryee 28 – 31 = 59
Pellegrino Pellegrino Nord Vincent 30 – 29 = 59
Toth Decheco Decheco Marrozzi 30 – 29 = 59
Suntala Karic Ramaglia Berkheimer 29 – 31 = 60
Wakeling Eckard Zurz Stewart 29 – 31 = 60
Foschia Carson Wild Carson 28 – 32 = 60
Ankrom Dye Rodgers Colaco 28 – 32 = 60
Thomas Mendoza Canter Diebold 28 – 33 = 61
Fricker Lowry Herbert Balca 31 – 30 = 61
Marsh VanRyzin Earl Francazso 29 – 34 = 63
McQuillan Richardson Cardarelli Greising 31 – 32 = 63
Cona Winer Reigler Green 31 – 33 = 64

SKINS: $650 ea
Freeman Trzebuckowski Kloetzer Borlin Eagle 2, Hole #3
Lahnan Miller Durr Guadagni Eagle 2, Hole #9