Zoar Golf Club hosted the Senior Masters 2-Man Scramble on Saturday for players age 60+. 18 teams competed.
The team of Doug Rockich and Mark Thomas won by two strokes. Rockich and Tomas went out in the front nine low 6-under par 30 and completed the victory with a strong back nine of 5-under par 31. They also were able to chip in on the par-5 14th hole to take one of the two skins on the day.
Dave Peck and Steve Blackburn Sr. finished as the runners up after a after a strong showing at 9-under par 63. John Dunn and Mark Tomasina rounded out the podium finishers with a 8-under par 64 along with making eagle at the par-5 second hole to gobble up the second skin on the day.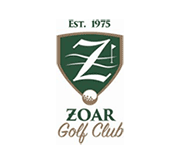 FINAL RESULTS:
2022 Zoar Senior Masters Fall 2-Man Scramble
Zoar Golf Club, Zoar, Ohio
Saturday, October 1, 2022

1st Rockich/Thomas 30-31= 61 $350
2nd Peck/Blackburn Sr 31-32=63 $250
3rd Dunn/Tomasina 31-33=64 $150
T4 Crider/Herchek 31-34=65 $20
T4 Dean/Mendozza 35-30=65 $20
T4 Vaughn/Briggs 32-33=65 $20
T4 Mann/Holzapfel 33-32=65 $20
T8 Cea/Jones 33-33=66
T8 Gonter/Haynes 34-32=66
T10 Livak/Bedell 35-32=67
T10 Crislip/Morgan 34-33=67
T12 Wendell/Riggenbach 34-34=68
T12 Sibila/Wright 32-36=68
14 Stack/Martin 37-32=68
15 Hood/Lavery 35-36=71
T16 Frank/Zizes 36-37=73
T16 Guedel/Lengyel 39-34=73
18 Davis/Davis 40-37=77

SKINS: $180 each
Dunn/Tomasina Eagle 3 On 2
Rockich/Tomas Eagle 3 on 14