The Fall Zoar 2-Man Scramble was played on a summer-like Saturday October afternoon.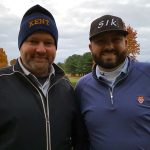 The team of Mike Simpson and Ryan Culbertson used two back nine eagles to nip the team of Kevin Miller and Mitch Levengood by one.
Culbertson holed a wedge from 105 yards on the par-4 16th hole to be the difference maker.
The top pair won this same Zoar Fall scramble event in 2020 (photo above from that chilly year).
Max Decheco and Zach Drukenbrod tied for third place with Ryan Stefanski and Brian Smith.
There were three skins won on the day worth $320 each: the hole out on 16 from Simpson/Culbertons; an eagle two on #2 from Justin Trezbuckowski and Zoran Karic; and a birdie-2 on the long par-3 13th by the Lee Hood father/son team.

FINAL RESULTS:
2022 Zoar Fall 2-M Scramble
Zoar Golf Club, Zoar, Ohio
Saturday, October 22, 2022

1st Simpson/Culbertson    58 $600
2nd Miller/Levengood   59 $400
T3rd Decheco/Drukenbrod   61 $220
T3rd Stefanski/Smith   61 $220
5th Beebe/Trier          62 $150
T6th Okeson/Schustrich     63 $110
T6th Trezbuckowski /Karic     63 $110
8th Arman/Kloetzer          64
T9th Bunder/Clark           65
T9th Baker/Cope            65
T11th Prok/Chinn            66
T11th Crone/Solvey          66
T11th Wadsworth/Malkus     66
T11th Czetli/Williams         66
T15th Schneider/Vincellette   67
T15th Jones/Vellios          67
T15th Hood/Hood            67
T15th Pierce/Brianing         67
T15th Williams/Henry         67
20th Diebold/Canter          68
21st Jadchew/Johnson        69
T22nd Feltmyer/Feltmyer      70
T22nd Bujank/Evans          70
24th Wickham/Wickham       71
T25th Hepner/Wilson          72
T25th Gasser/Gasser          72
T25th Bright/Patterson         72
T25th Juravic/Lavcchia             72
T29th Toth/Marrozzi           74
T29th Terry/Taylor             74
32nd Wilson/Tekip             83

SKINS: $320 ea
Trezbuckowski/Karic     Eagle 3 on #2
Hood/Hood             Birdie 2 on #13
Simpson/Culbertson      Birdie 2 on #16