The 36-hole U.S. Amateur Qualifying Tournament on Thursday at Weymouth Country Club in Medina determined the two entrants and two alternates heading to the Ridgewood Country Club in Paramus, New Jersey on August 15-21.
Ken Keller from Youngstown State and Drew Salyers from Indiana outplayed the field. After 36 holes, Keller finished at 10-under par and Salyers finished 8-under par. Both shot 66 (-6) for their second 18 holes.
After the first 18 holes, two Youngstown State Penguins were at the top of the leaderboard. Bryan Kordupel and Keller both shot 68 (-4). Kordupel recorded two birdies, two bogeys and two eagles in his first round to record the 68.
Tanner Grzegorczyk and Bill Williamson were tied for third place at 3-under par and Salyers, Sam Jean, Anthony Briggs and Zak Supelak were all tied in fifth place at 2-under par.
Once the second round got started, Keller made his move away from the field, making five birdies on the first six holes to jump out to 9-under par, a lead he would never relinquish.
"On the first hole, I made a little 5 foot slider for birdie and that felt really good and then I had maybe 10 or 15 feet on the next four and five holes and I felt really comfortable over all of them," Keller said.
Keller added "I never really got tentative. I stayed committed and I stayed aggressive and it worked out. It felt good."
Bryan Kordupel and Sam Jean went to a playoff for the first and second alternate spots after both shooting a 36-hole score of 7-under par. After three playoff holes, Sam Jean earned the first alternate spot.
— Justin Golba, USGA/NOGA Communications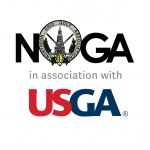 FINAL RESULTS: United States Golf Association
2022 U.S. Amateur Qualifying Tournament
Weymouth Country Club, Medina, Ohio
Thursday, July 7, 2022

QUALIFYING PLAYERS:
Ken Keller, Youngstown 68 – 66 = 134
Drew Salyers, Howard 70 – 66 = 136
ALTERNATES:
Bryan Kordupel, Youngstown 68 – 69 = 137
Sam Jean, Greenwood 70 – 67 = 137
DID NOT QUALIFY:
Tanner Grzegorczyk, Glenshaw 69 – 70 = 139
Cooper Hrabak, Medina 71 – 70 = 141
Bill Williamson, Cincinnati 69 – 73 = 142
Zach Mandry, Solon 73 – 69 = 142
Connor Curry, Mount vernon 73 – 69 = 142
Anthony Briggs, Lakewood 70 – 73 = 143
Andrew Kaye, Avon lake 72 – 71 = 143
Kyle Buzaki, Stow 71 – 73 = 144
Howard Clendenin, Fairlawn 73 – 71 = 144
Roni Shin, Rocky river 72 – 73 = 145
Ian Hardesty, Kent 73 – 72 = 145
Benjamin Cors, Wooster 72 – 73 = 145
Dominik Cosic, Concord twp. 72 – 73 = 145
Caleb Westfall, Findlay 72 – 74 = 146
Matthew Ball, Mansfield 72 – 74 = 146
Trevor Cohen, Cleveland 73 – 73 = 146
Cade Kreps, Youngstown 73 – 73 = 146
Justin Atkinson, Brookfield 71 – 75 = 146
Zak Supelak, Copley 70 – 76 = 146
Josh Veith, Plain city 72 – 75 = 147
Jeffrey Blechschmidt, Cleveland 71 – 76 = 147
Dean Austalosh, Campbell 75 – 72 = 147
Chris Okeson, Lyndhurst 73 – 74 = 147
Liam Ottaway, Pepper pike 72 – 75 = 147
Scott Anderson, Columbus 75 – 72 = 147
Paul Ajak III, Pittsburgh 74 – 74 = 148
Ian Weinberg, Cleveland heights 76 – 72 = 148
Cory Gasaway, Mogadore 76 – 72 = 148
Tim Raleigh, Bentleyville 74 – 74 = 148
Austin Powell, Fort lauderdale 76 – 73 = 149
Daniel Metzendorf, Medina 78 – 71 = 149
Trevor Binau, Bexley 76 – 73 = 149
Andrew Grayson, Medina 76 – 74 = 150
David Laib, Wadsworth 79 – 72 = 151
Darin Hudak, Tallmadge 76 – 75 = 151
Jeff Mallette, North canton 75 – 76 = 151
Dillon Pendergast, Mogadore 76 – 75 = 151
Max Watson, Ashland 77 – 74 = 151
Topher Reed, Fairview park 76 – 76 = 152
Michael Porter, Mcdonald 73 – 79 = 152
Max Crookston, Stow 77 – 75 = 152
Jake Lowis, Westerville 78 – 74 = 152
Jack Garswood, Fairview park 77 – 75 = 152
Blake Shienkaruk, Medina 76 – 77 = 153
Jarrod Teeter, Johnstown 79 – 75 = 154
Nicklaus Pidgeon, Homeworth 77 – 78 = 155
Ajay Morris, Avondale 76 – 80 = 156
John Angelo, Twinsburg 78 – 78 = 156
Mason Frazier, Wooster 79 – 78 = 157
Carson Bellish, Pickerington 78 – 79 = 157
Mike Dugan, Washington 80 – 77 = 157
Gunnar McCollins, Massillon 77 – 80 = 157
Griffin Hrabak, Medina 79 – 79 = 158
Michael Fazio, Gates mills 77 – 81 = 158
Klay Redman, Dublin 81 – 77 = 158
Jesse Fox, Aurora 79 – 79 = 158
Scott Bitar, Pittsburgh 79 – 80 = 159
Liam Curtis, Stow 81 – 78 = 159
Ayden Richmond, Geneva 81 – 78 = 159
Tyler Ankrom, Akron 85 – 75 = 160
Ryan Norkin, Dublin 80 – 80 = 160
Benjamin Ramold, Navarre 79 – 82 = 161
Jaydan Morgan, Barberton 85 – 76 = 161
Eric Wonkovich, Lakewood 83 – 81 = 164
Luke Dietrich, Rocky river 78 – 87 = 165
Benjamin Dearth, Dublin 82 – 84 = 166
Michael Kistler, Cleveland 86 – 84 = 170
Jacob Zbin, Brookpark 82 – 90 = 172
Michael Martin, Hudson 92 – 83 = 175
Tim Novic, Pittsburgh 73 – DNF
Josh Clay, North canton 78 – DNF
Jonathon Knapp, Uniontown 81 – DNF
Jacob Yarbrough, Dublin 83 – DNF
Kota Ando, Ashland 94 – DNF
Charlie Belden, Canton DNF
Christian Tomak, Massillon WD
Davis Irving, Germantown WD