Rob Wakeling + Vaughn Snyder and Alex Loftin + Evan McCauley shared the overall victory in the 2022 Turkeyfoot Fall Jumble on a gorgeous Saturday in Akron, with both teams posting 10-under par totals of 96.
Wakeling and Snyder cruised through the first 18 holes with decent scores, then turned on the jets: 3-under par in the Scramble nine, 1-under par in the Better Ball nine, then a sizzling 6-under par in Alternate Shot.
Loftin and McCauley had a sterling Better Ball session, going 2-under par in Scramble, 5-under par in Better Ball (with an eagle-2 on the par-4 tenth hole), and coming home with a 3-under par Alternate nine.
Finishing two shots behind the day's co-champions, two teams tied for third place with each of them winning a nine hole session.
Josh Prok + Kevin Miller jumped out blazing hot on the first nine holes, posting a sizzling 6-under par 29 in Scramble. They went 2-under par in Better Ball then even par in Alternate Shot.
But the nine holes of the day belonged to Kent Monas + Danielle Nicholson. In the Better Ball session, they shot 6-under par 30 which included a hole-in-one by Monas to a buried-behind-the-bunker hole location on the par-3 13th hole, followed two holes later by an eagle-3 on the par-5 16th. Both were good for skin winners.
Tallying the prize and skins totals on the day, Loftin + McCauley came out on top with $1,290, Monas + Nicholson shared $1,270, Wakeling + Snyder earned $1,250, and Prok + Miller nabbed $1,135. All players looking to collect any prize or skins money should stop by the Turkeyfoot pro shop.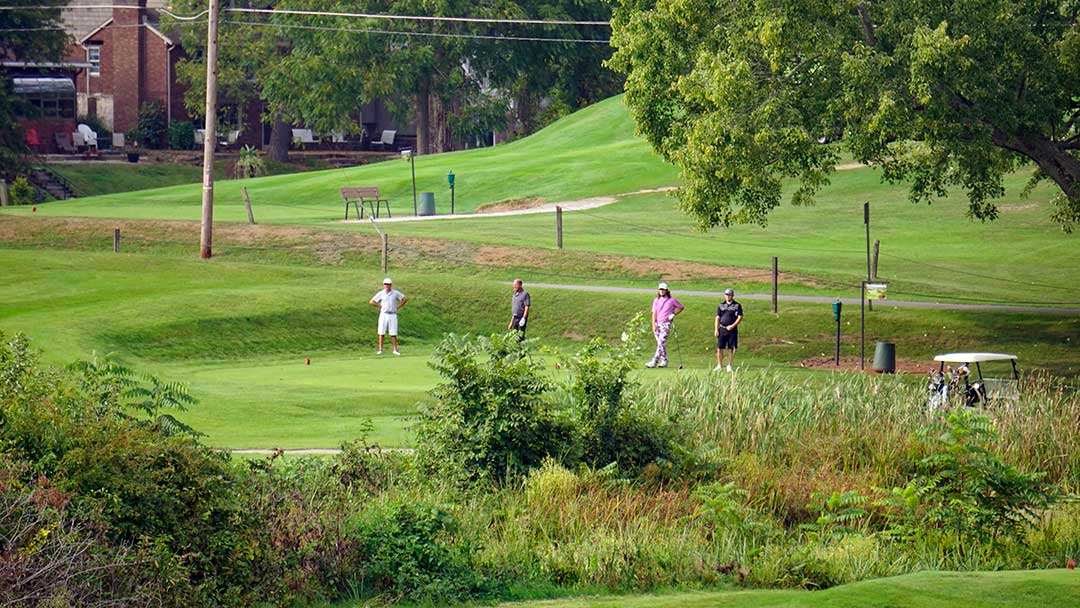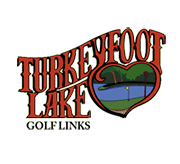 FINAL RESULTS:
2022 Turkeyfoot Fall 2-M Jumble
Turkeyfoot Lake Golf Links, Akron
Saturday, September 17, 2022

FORMAT: First Nine Scramble, Par 35 | Second Nine Better Ball, Par 36 | Third Nine Alternate Shot, Par 35
OVERALL RESULTS:
T-1 Rob Wakeling / Vaughn Snyder 32 – 35 – 29 = 96 $900
T-1 Alex Loftin / Evan McCauley 33 – 31 – 32 = 96 $900
T-3 Monas/Nicholson 33 – 30 – 35 = 98 $650
T-3 Prok/Miller 29 – 34 – 35 = 98 $650
T-5 Marozzi/Marozzi 31 – 36 – 32 = 99 $400
T-5 Simpson/Krivanek 32 – 34 – 33 = 99 $400
T-5 Jones/Drukenbrod 31 – 34 – 34 = 99 $400
T-8 Cea/Cutlip 34 – 36 – 31 = 101 $195
T-8 Karamas/Kloetzer 34 – 33 – 34 = 101 $195
T-8 Smith/Stefanski 34 – 33 – 34 = 101 $195
T-8 Miller/Lahnan 33 – 33 – 35 = 101 $195
12th Beebe/Trier 34 – 34 – 34 = 102 $110
Wagner/Bresnan 34 – 37 – 32 = 103
Crewse/Vincelette 35 – 35 – 33 = 103
Jones/Oyler 35 – 36 – 33 = 104
Watkins/Warren 35 – 33 – 36 = 104
Freeman/Borlin 35 – 35 – 35 = 105
Canter/Diebold 35 – 34 – 36 = 105
Stack/Martin 34 – 35 – 36 = 105
Miano/Decheco 31 – 34 – 40 = 105
Shultz/Buckingham 35 – 33 – 38 = 106
Sotka/Anagnost 34 – 34 – 38 = 106
Trent/Augsburger 33 – 35 – 38 = 106
Burns/Wirtz 31 – 37 – 38 = 106
Bordman/Mongardo 37 – 36 – 34 = 107
Blaze/Sirrianni 35 – 37 – 35 = 107
Anderson/Johnson 34 – 37 – 36 = 107
Rockich/Schustrich 34 – 35 – 38 = 107
Ramaglia/Reed 35 – 38 – 35 = 108
Koinis/Alge 36 – 35 – 37 = 108
Jenkins/Jenkins 33 – 37 – 38 = 108
Vargo/Andy 34 – 39 – 36 = 109
Delorenzo/Lloyd 36 – 36 – 37 = 109
Seftas/Chesko 35 – 37 – 37 = 109
Thiron/Jersan 33 – 38 – 38 = 109
Pedroza/Hackenbracht 37 – 38 – 35 = 110
Rhodemeyer/Gross 37 – 36 – 37 = 110
Malkus/Malkus 35 – 36 – 39 = 110
Hedrick/Shisler 33 – 38 – 39 = 110
Selzer/Fisher 34 – 36 – 40 = 110
Mannarino/Wichie 37 – 38 – 36 = 111
Hetler/Hetler 35 – 38 – 39 = 112
Craft/Sheak 34 – 39 – 39 = 112
Metzer/Kisel 38 – 35 – 40 = 113
Armon/Patton 34 – 39 – 40 = 113
Bricker/Deam 37 – 35 – 41 = 113
Olge/Olge 36 – 43 – 35 = 114
Hartbert/Cutright 39 – 42 – 35 = 116
Skorman/Thornton 34 – 43 – 40 = 117
Johnson/O'Boyle 38 – 35 – 44 = 117
Miller/Coblentz 39 – 42 – 37 = 118
Ondrus/Saunders 39 – 41 – 38 = 118
Bull/Radish 39 – 38 – 42 = 119
Plute/Lefty 39 – 38 – 46 = 123
FIRST 9 SCRAMBLE RESULTS:
1st Prok/Miller 29 $350
T-2 Jones/Drukenbrod 31 $88
T-2 Marozzi/Marozzi 31 $88
T-2 Miano/Decheco 31 $88
T-2 Burns/Wirtz 31 $88
SCRAMBLE SKINS: $540 ea
Wagner/Bresnan 3 on #7
SECOND 9 BETTER BALL RESULTS:
1st Monas/Nicholson 30 $350
2nd Loftin/McCauley 31 $210
T-3 Miller/Lahnan 33 $30
T-3 Karamas/Kloetzer 33 $30
T-3 Smith/Stefanski 33 $30
T-3 Watkins/Warren 33 $30
T-3 Shultz/Buckingham 33 $30
BETTER BALL SKINS: $135 ea
Loftin/McCauley 2 on #10
Monas/Nicholson HOLE-IN-ONE on #13
Monas/Nicholson 3 on #16
Schultz/Buckingham 3 on #18
THIRD 9 ALTERNATE SHOT RESULTS:
1st Wakeling/Snyder 29 $350
2nd Cea/Cutlip 31 $210
T-3 Loftin/McCauley 32 $45
T-3 Marozzi/Marozzi 32 $45
T-3 Wagner/Bresnan 32 $45
ALTERNATE SHOT SKINS: $135 ea
Prok/Miller 2 on #19
Simpson/Krivanek 2 on #22
Cea/Cutlip 2 on #24
Smith/Stefanski 2 on #25