Dominik Cosic (Concord) and Robert Kimmel (Shaker Hts) teamed up to win the 2022 JB Four-Ball at Quail Hollow Country Club's Devlin Course with a 33-36–69 (-2).
Cosic & Kimmel had 5 birdies and 3 bogeys. This was their second win in the Four-Ball, taking the title in 2020 as well.
Victor Prokop (Willoughby Hills) and Nolan Adams (Concord) finished second with 36-35–71 (E). Prokop and Adams had 4 birdies and 4 bogeys.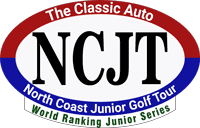 FINAL RESULTS: North Coast Junior Tour
2022 JB Four-Ball Classic
Quail Hollow CC, Concord – Par 71, 6303 Yards
Wednesday, June 22, 2022

Robert Kimmel + Dominik Cosic, 2018, Painesville, OH 33-36–69
V. Prokop + N. Adams, 2023, Concord, OH 36-35–71
T. Milam + M. Milam, 2020, Concord, OH 35-38–73
N. Longano + K. Klubnik, 2023, Concord, OH 38-35–73
O. Zampedro + J. Zampedro, 2020, Mentor, OH 36-38–74
M. Olson + J. Wymard, 2023, Concord, OH 41-33–74
C. Byran + M. Coyne, 2023, Pepper Pike, OH 36-39–75
D. Goss + J. Stover, 2019, Pepper Pike, OH 40-36–76
B. Hinkle + O. Hinkle, 2019, Loudonville, OH 37-41–78
S. Nielsen + O. Tepper, 2023, Chagrin Falls, OH 41-37–78
V. Giancola + A. Mylen, 2023, University Hts, OH 41-41–82
T. Baller + A. Frank, 2023, Willoughby Hills, OH 41-45–86