Temperatures were high here at Wooster Country Club but the golfers managed to put together some solid scores whilst maintaining a positive attitude.
In our Boys 16-19 Division, Jack Myslenski and Kyle Salamon tied for the lead with a pair of 76's. Salamon started off his round with an eagle and Myslenski made two birdies in his round today.
In our Boys 11-15 Division, we had yet another tie with Alexander Eckstein and Fitch Farina. Both boys came into the clubhouse with a nine over par, 81.
In our Girls 16-19 Division, Madolyn Kost took home the win with a four over par, 76. Kost made many pars today which led her to winning her division by an outstanding five strokes.
In the Girls 11-15 Division, Hannah Lee stole the lead coming into the clubhouse with an eight over par, 80.
We would like to thank all of the golfers today for sticking out the heat and working hard all day. We would also like to thank Glenn Cunningham, PGA for allowing us to host here at Wooster. Wooster was in excellent condition for us today, and the players were very happy with the course itself.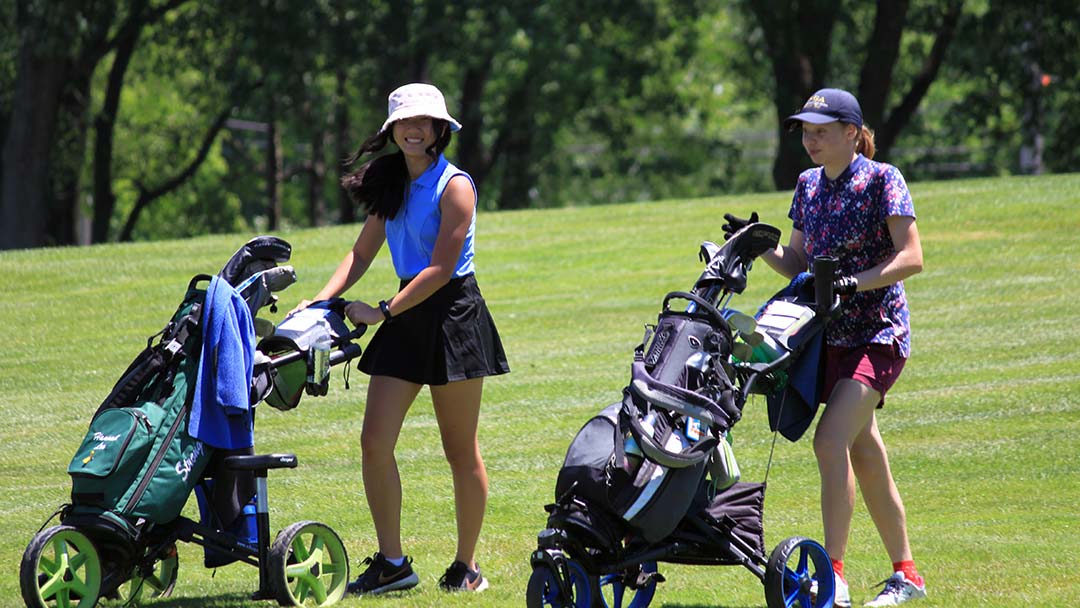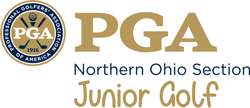 FINAL RESULTS:
2022 Northern Ohio PGA Junior Series
Wooster Country Club, Wooster, OH – Par 72
Tuesday, June 21, 2022
BOYS 16-19
1. Jack Myslenski, Richfield, OH, 2024, *38-38-76 +4
1. Kyle Salamon, Medina, OH, 2022, *36-40-76 +4
3. Michael Lee, Strongsville, OH, 2021, *39-39-78 +6
4. Zachary Huscusson, Canal Fulton, OH, 2023, *39-40-79 +7
5. Timothy Caspio, Medina, OH, 2022, *39-41-80 +8
6. Mason Reville, Northfield, OH, 2023, *38-43-81 +9
6. Lucas Yoder, Millersburg, OH, 2023, *38-43-81 +9
6. Gavin Stutz, Wooster, OH, 2022, *43-38-81 +9
9. Brock Jenkins, Massillon, OH, 2024, *43-39-82 +10
9. Aidan Loy, Massillon, OH, 2024, *43-39-82 +10
9. Dominic Kapics, Youngstown, OH, 2022, *42-40-82 +10
12. Aiden Cannone, Copley, OH, 2023, *43-40-83 +11
12. Nick Tianello, Rocky River, OH, 2024, *41-42-83 +11
12. Ryan Przybysz, Wadsworth, OH, 2024, *44-39-83 +11
12. Daniel Lee, Strongsville, OH, 2023, *41-42-83 +11
16. Brendan Lehman, Dalton, OH, 2023, *41-43-84 +12
16. Joshua Hammond, Bay Village, OH, 2024, *41-43-84 +12
18. Sion Park, Westlake, OH, 2024, *42-43-85 +13
19. Matthew DiMare, Cuyahoga Falls, OH, 2024, *42-44-86 +14
19. Drew Kitzmiller, Macedonia, OH, 2024, *42-44-86 +14
21. Devon Starcher, Wooster, OH, 2022, *46-41-87 +15
21. Rowan Baynes, Kent, OH, 2024, *44-43-87 +15
21. Christian Mineo, Kent, OH, 2024, *46-41-87 +15
24. Evan Dennison, Ashland, OH, 2022, *42-46-88 +16
25. Luke Walton, West Salem, OH, 2024, *41-48-89 +17
26. Jake Platner, Olmsted Twp, OH, 2024, *45-45-90 +18
27. Caelan McLellon, Avon, OH, 2024, *44-47-91 +19
28. Robert Morgan, Massillon, OH, 2023, *45-47-92 +20
29. Cayden de Wever, Medina, OH, 2024, *50-43-93 +21
29. Carson Brubaker, Shelby, OH, 2023, *46-47-93 +21
29. Derek McCrum, Avon Lake, OH, 2024, *43-50-93 +21
29. Andrew Cawrse, Mansfield, OH, 2024, *50-43-93 +21
33. Thomas Biery, Wooster, OH, 2023, *43-51-94 +22
34. Ethan Kuzmik, Wadsworth, OH, 2024, *50-50-100 +28
35. Ty Keinath, Shelby, OH, 2024, *52-50-102 +30
36. Nolan Dennison, West Salem, OH, 2023, *53-54-107 +35
37. Matthew Kittle, Wadsworth, OH, 2023, *51-61-112 +40
GIRLS 16-19
1. Madolyn Kost, Kent, OH, 2024, *38-38-76 +4
2. Allyson Siewert, Sagamore Hills, OH, 2021, *42-39-81 +9
3. Alyson Veverka, Olmsted Twp, OH, 2021, *44-39-83 +11
4. Abbigail Jones, Wooster, OH, 2023, *43-43-86 +14
5. Alexandria Vardon, Akron, OH, 2024, *39-48-87 +15
5. Annie Cors, Stow, OH, 2024, *44-43-87 +15
7. Isabella Mineo, Kent, OH, 2021, *43-45-88 +16
7. Aubrie Rush, Avon, OH, 2023, *43-45-88 +16
9. Kamil Stephens, Port Clinton,Oh, 2023, *42-47-89 +17
9. Emma Konopa, Independence, OH, 2023, *43-46-89 +17
9. Lucy Myers, Galion, OH, 2024, *42-47-89 +17
12. Trynity Wolfe, Lexington, OH, 2023, *48-43-91 +19
12. Elizabeth Hohman, Wooster, OH, 2023, *44-47-91 +19
14. Molly McGreal, Independence, OH, 2024, *48-44-92 +20
15. Emma Packard, Ashland, OH, 2023, *46-53-99 +27
16. Payton Haynes, Wooster, OH, 2024, *52-60-112 +40
17. Teagan Miller, Milan, OH, 2025, *63-63-126 +54
BOYS 11-15
1. Alexander Eckstein, Youngstown, OH, 2026, *41-40-81 +9
1. Fitch Farina, North Ridgeville, OH, 2027, *38-43-81 +9
3. Scott Colian, Salem, OH, 2025, *45-39-84 +12
4. Rob Prevette, Twinsburg, OH, 2025, *45-41-86 +14
4. Tyler Pickard, Brecksville, OH, 2026, *44-42-86 +14
6. Dexter James, Hudson, OH, 2027, *42-46-88 +16
7. Coen Miller, Medina, OH, 2025, *45-46-91 +19
7. Alexander Stiegele, Westlake, OH, 2026, *43-48-91 +19
9. Emer Wieland, Liberty Township, OH, 2025, *43-50-93 +21
10. Rowan Seymour, Olmsted Twp, OH, 2025, *48-51-99 +27
11. Jackson Sommer, Westlake, OH, 2026, *50-51-101 +29
12. Kai Hemery, Hinckley, OH, 2026, *59-61-120 +48
GIRLS 11-15
1. Hannah Lee, Strongsville, 2025, *40-40-80 +8
2. Kayla Knaze, Fairview Park, OH, 2027, *42-41-83 +11
3. Serena Wu, Solon, OH, 2026, *42-43-85 +13
4. Julia Van Bokkelen, Hudson, OH, 2025, *43-45-88 +16
5. Korrine Knaze, Fairview Park, OH, 2029, *46-44-90 +18
6. Elizabeth Chester, Medina, OH, 2025, *47-47-94 +22
7. Olivia Pfannenschmidt, North Canton, OH, 2024, *48-52-100 +28
8. Kyah Huckleberry, Ashland, OH, 2025, *57-55-112 +40
9. Morgan Deeringer, Medina, OH, 2025, *58-56-114 +42