Battling the heat is beginning to become a trend for our players. The temperature today at Shawnee was in the upper 80's with quite a bit of humidity. Even though the weather conditions were tough out here at Shawnee, the players managed to fight through the heat and put together some very good scores.
In the Boys 16-19 Division, Adrian Puz fired a two over par, 73. Puz started off his round three over through four holes, and managed to work incredibly hard throughout the final stretch to come into the clubhouse with a 73.
In our Boys 11-15 Division, Alexander Eckstein took home the win in his division coming in with a five over par, 76. This is Eckstein's second consecutive win after winning yesterday at Wooster CC.
In the Girls 16-19 Division, Christina Nagy took home the win with a solid seven over par, 78. Nagy had one birdie today which took place on number four.
In the Girls 11-15 Division, Serena Wu took home the win with a nine over par, 80. Wu won her division by four shots.
We would like to thank Damian Cosby, PGA as well as Ben Ladaika for allowing us to host here at Shawnee Hills. Shawnee was a great course for our juniors as many of them said that they enjoyed the course, as well as it being in good condition.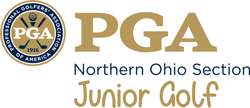 FINAL RESULTS:
2022 Northern Ohio PGA Junior Series
Shawnee Hills Golf Club, Walton Hills, OH – Par 71
Wednesday, June 22, 2022
BOYS 16-19
1. Adrian Puz, Canfield, OH, 2023, *37-36-73 +2
2. Dylan Sowers, Olmsted Falls, OH, 2024, *34-41-75 +4
2. Peyton Vacca, Parma, OH, 2025, *36-39-75 +4
4. Dominic Kapics, Youngstown, OH, 2022, *37-39-76 +5
4. Sion Park, Westlake, OH, 2024, *38-38-76 +5
4. Mason Reville, Northfield, OH, 2023, *39-37-76 +5
7. Jack Zeid, Aurora, OH, 2024, *38-39-77 +6
8. Michael Lee, Strongsville, OH, 2021, *37-42-79 +8
8. Charlie Medvin, Rocky River, OH, 2023, *38-41-79 +8
10. Timothy Caspio, Medina, OH, 2022, *33-47-80 +9
10. Jake Platner, Olmsted Twp, OH, 2024, *39-41-80 +9
10. Jack Myslenski, Richfield, OH, 2024, *37-43-80 +9
10. Artie Reginelli, Broadview Heights, OH, 2023, *42-38-80 +9
10. Ethan Hughes, Avon Lake, OH, 2023, *37-43-80 +9
10. Domenic Pilla, Highland Heights, OH, 2022, *41-39-80 +9
10. Adam Sands, Chagrin Falls, OH, 2025, *40-40-80 +9
17. Jackson Kubic, Shaker Heights, OH, 2023, *43-38-81 +10
17. Anthony Grossi, Northfield, OH, 2023, *40-41-81 +10
17. Ryan Przybysz, Wadsworth, OH, 2024, *38-43-81 +10
20. Aryan Ahlawat, Broadview Heights, OH, 2023, *38-44-82 +11
20. Daniel Lee, Strongsville, OH, 2023, *44-38-82 +11
20. Charlie DeCapua, Independence, OH, 2023, *42-40-82 +11
23. Derek McCrum, Avon Lake, OH, 2024, *40-43-83 +12
23. Michael Ochall, North Ridgville, OH, 2024, *42-41-83 +12
23. Ben Mallis, Sagamore Hills, OH, 2024, *42-41-83 +12
26. Thomas Marshall, North Ridgeville, OH, 2024, *40-44-84 +13
26. Charlie Hagopian, Mentor, OH, 2024, *40-44-84 +13
28. Robert Morgan, Massillon, OH, 2023, *40-45-85 +14
29. Caelan McLellon, Avon, OH, 2024, *43-43-86 +15
29. Anthony Kichurchak, Seven Hills, OH, 2024, *42-44-86 +15
31. Ken Williams, Champion, OH, 2023, *46-41-87 +16
31. Matthew DiMare, Cuyahoga Falls, OH, 2024, *45-42-87 +16
31. Jacob Zahler, Broadview Hts, OH, 2022, *41-46-87 +16
34. Connor Kiewatt, Hudson, OH, 2024, *38-52-90 +19
35. Alec Miller, Shaker Heights, OH, 2024, *43-48-91 +20
36. Connor Engstrom, Strongsville, OH, 2024, *44-48-92 +21
37. Lukas Cengic, North Royalton, OH, 2024, *44-49-93 +22
38. Adam Carafa, Painsville, OH, 2024, *48-50-98 +27
39. Bennett Stetter, Strongsville, OH, 2023, *53-53-106 +35
39. Ryan Shijo, Brecksville, OH, 2024, *56-50-106 +35
BOYS 11-15
1. Alexander Eckstein, Youngstown, OH, 2026, *36-40-76 +5
2. Alexander Stiegele, Westlake, OH, 2026, *36-42-78 +7
3. Mica Thirion, Twinsburg, OH, 2026, *38-41-79 +8
4. Preston Kieschnik, Broadview Heights, OH, 2026, *41-40-81 +10
4. Logan Mackey, Sagamore Hills, OH, 2025, *38-43-81 +10
6. Jack Plesec, Cleveland Heights, OH, 2026, *40-42-82 +11
6. Dexter James, Hudson, OH, 2027, *41-41-82 +11
6. Zachary Butcher, Medina, OH, 2025, *43-39-82 +11
6. Daniel Gambone, North Canton, OH, 2025, *39-43-82 +11
10. Luke Butcher, Medina, OH, 2025, *42-43-85 +14
10. Rob Prevette, Twinsburg, OH, 2025, *40-45-85 +14
12. Kevin Dang, Twinsburg, OH, 2026, *45-42-87 +16
13. Leo Carey, Brecksville, OH, 2026, *43-45-88 +17
14. Joseph Maloof, Avon, OH, 2026, *45-44-89 +18
15. Justin Gilbert, Chagrin Falls, OH, 2025, *44-47-91 +20
15. Will Cody, Shaker Heights, OH, 2027, *46-45-91 +20
17. Harrison LaBahn, Strongsville, OH, 2025, *47-48-95 +24
17. Slater Schoaf, Chagrin Falls, OH, 2025, *45-50-95 +24
19. Barrett Atchison, Hudson, OH, 2027, *46-51-97 +26
20. Will Archacki, Broadview Heights, OH, 2025, *47-53-100 +29
20. Cooper Lodge, Avon, OH, 2025, *49-51-100 +29
22. Ryan Mallis, Sagamore Hills, OH, 2026, *54-49-103 +32
22. Ryan Hvizd, Broadview Heights, OH, 2025, *52-51-103 +32
GIRLS 16-19
1. Christina Nagy, Macedonia, OH, 2023, *39-39-78 +7
2. Aubrie Rush, Avon, OH, 2023, *40-39-79 +8
3. Madolyn Kost, Kent, OH, 2024, *41-43-84 +13
4. Larisa Golembiewski, Northfield, OH, 2023, *42-47-89 +18
4. Gabriella Berlingieri, Stow, OH, 2024, *46-43-89 +18
4. Angela Dodson, Shaker Heights, OH, 2022, *43-46-89 +18
7. Alexandria Vardon, Akron, OH, 2024, *47-49-96 +25
7. McKenzie Ickes, Munroe Falls, OH, 2023, *45-51-96 +25
9. Maria DeCapua, Independence, OH, 2025, *50-59-109 +38
9. Kate Coljohn, Independence, OH, 2023, *54-55-109 +38
11. Teagan Miller, Milan, OH, 2025, *62-57-119 +48
GIRLS 11-15
1. Serena Wu, Solon, OH, 2026, *37-43-80 +9
2. Hannah Lee, Strongsville, 2025, *41-43-84 +13
2. Alyssa Zhang, Allison Park, PA, 2028, *40-44-84 +13
4. Avery Paez, Rocky River, OH, 2025, *39-46-85 +14
4. Julia Gulla, Sagamore Hills, OH, 2025, *39-46-85 +14
6. Olivia Berlingieri, Stow, OH, 2026, *45-42-87 +16
7. Colleen Stadler, Seven Hills, OH, 2026, *44-50-94 +23
8. Manisha Girn, Aurora, OH, 2025, *48-50-98 +27
9. Macey McGhee, Independence, OH, 2025, *48-53-101 +30
10. Elizabeth Chester, Medina, OH, 2025, *48-54-102 +31
11. Ava Lewandowski, Chagrin Falls, OH, 2026, *53-62-115 +44