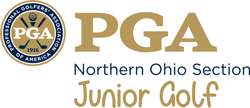 Near perfect weather conditions and smiling families led to a great event at Black Brook Golf Club today. The event featured both the 18-Hole Junior Series as well as the 9-Hole Futures Tour. It was delightful to see the families on the golf course enjoying their Friday in the sun together. Thanks Tim Arsperk, PGA for hosting our juniors.
In the Boys 16-19 Division, Matthew Mullen from Sidney, OH ran away with the lead by four shots coming into the clubhouse with a one over par, 72 for the day. "The key to my success today on the golf course was keeping the ball and play and playing smart," said Mullen. He followed this by claiming that he did not hit many greens, but his chipping helped him immensely throughout the day. When asked about something exciting that happened in his round, he said that he had made back-to-back birdies on the front nine.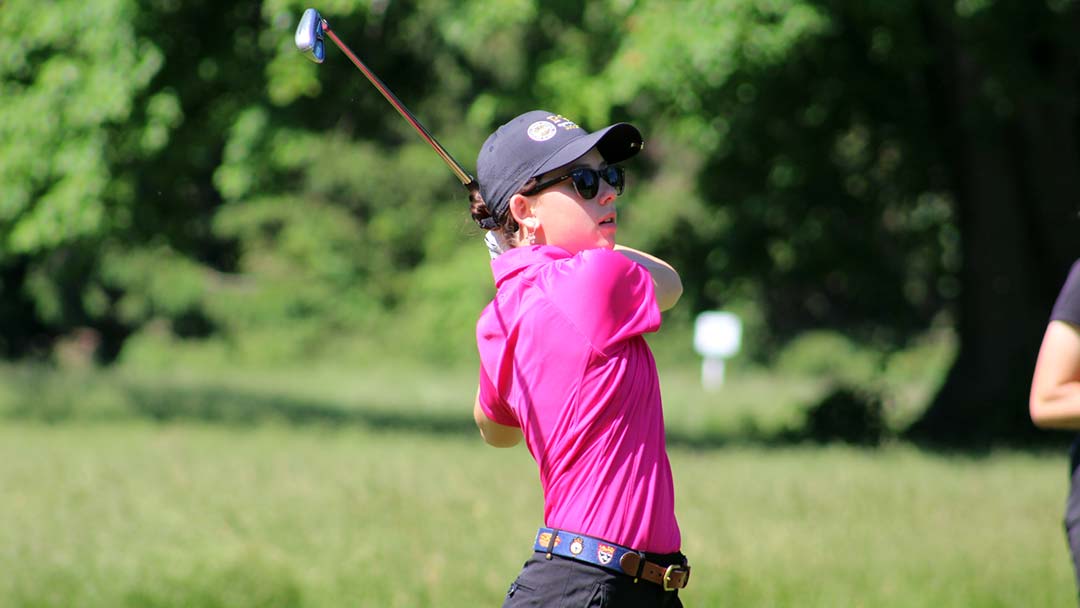 In the Girls 16-19 Division, Ella Wong took home the win coming into the clubhouse with a solid two over par 73. Wong also ran away with the lead in her division, winning by a grand total of nine strokes. "The key to my success today was being able to make a few birdies after starting +3 through 3," said Wong. She said that her putting helped her a lot throughout her round, as well as her ability to hit all nine greens in regulation on the back nine.
In the Boys 11-15 Division, Daniel Gambone also ran away with a one under par 70 to win the event. "I made a really long putt for eagle on one of the par 5's that helped a lot," Gambone said. He also said that he was able to hit a lot of greens in regulation which gave him the ability to make a few runs at birdie.
In the Girls 11-15 Division, Gracyn Vidovic won her division by one shot, shooting a total of 82 for the event. In her interview she said that she putted really well and wanted to thank her dad and grandpa for coming out to support her.
On the 9-Hole Futures Tour for the boys we had Nicholas Pollack from the 8-11 group and Lincoln Miller from the 12-16 group win their respective divisions, with a 37 for Miller and 38 for Pollack.
When Pollack was interviewed about his win he said, "I practiced a lot and went out there and had fun." In Milller's interview he said, "I hit all of my fairways and made a lot of long putts."
Anna Phillips from the 8-11 group and Elena Varga from the 12-16 group won their respective girls divisions, with a 36 for Phillips and a 42 for Varga. In Varga's interview she said that her success was contributed to her ability to stay consistent and patient. In Phillips' interview, she stated that not focusing on her score helped her quite a bit throughout her nine-hole round.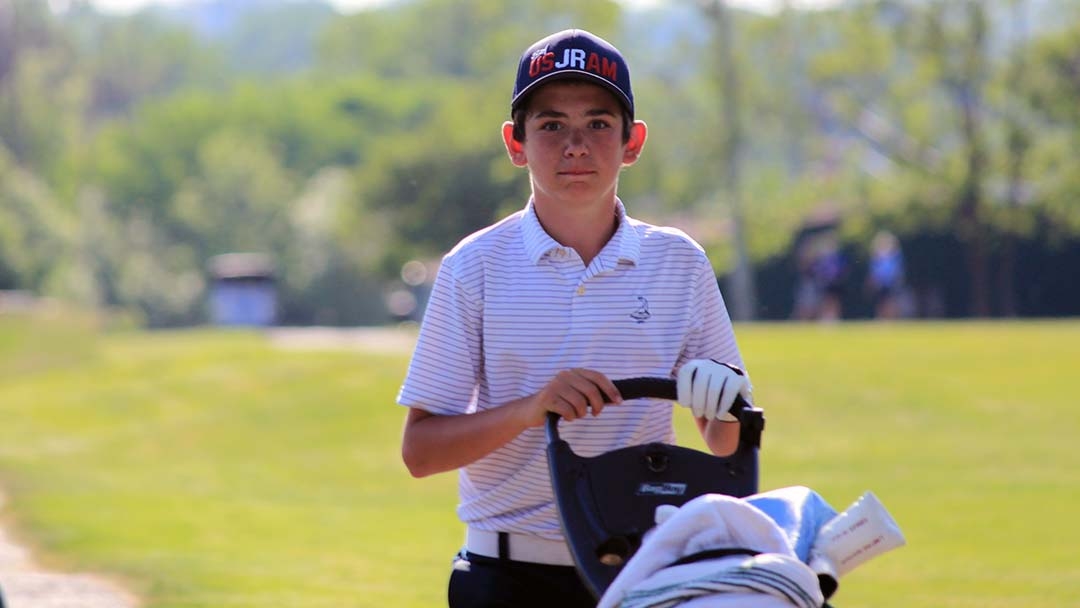 FINAL RESULTS: Northern Ohio PGA
2022 NOPGA Junior Series Event
Black Brook Golf Club, Mentor, Ohio – Par 71
Friday, June 3, 2022
Boys 16-19
1. Matthew Mullen, Sidney, OH, 2022, *34-38-72 +1
2. Braden Hilditch, Avon, OH, 2023, *37-39-76 +5
3. Ethan Hughes, Avon Lake, OH, 2023, *39-38-77 +6
4. Frankie Adamo, Avon, OH, 2024, *37-41-78 +7
5. Mason Gurney, Clyde, OH, 2023, *44-35-79 +8
5. Eli Zimmerman, Medina, OH, 2025, *40-39-79 +8
5. Ray Dress, Medina, OH, 2025, *38-41-79 +8
5. Bryce Van Horn, Cortland, OH, 2024, *40-39-79 +8
9. Nathan Kelly, East Liverpool, OH, 2023, *43-37-80 +9
9. Domenic Pilla, Highland Heights, OH, 2022, *40-40-80 +9
9. Sion Park, Westlake, OH, 2024, *41-39-80 +9
12. Zachary Huscusson, Canal Fulton, OH, 2023, *40-41-81 +10
13. Chaz Ekoniak, Struthers, OH, 2023, *44-40-84 +13
14. Matthew DiMare, Cuyahoga Falls, OH, 2024, *43-46-89 +18
15. Michael Ochall, North Ridgville, OH, 2024, *47-45-92 +21
16. Anthony Donley, Parma, 2024, *46-51-97 +26
17. Matthew Kittle, Wadsworth, OH, 2023, *48-50-98 +27
17. Connor Engstrom, Strongsville, OH, 2024, *52-46-98 +27
19. Adam Carafa, Painsville, OH, 2024, *48-51-99 +28
20. Caden Kitchen, Avon, OH, 2023, *53-52-105 +34
21. Bennett Stetter, Strongsville, OH, 2023, *56-62-118 +47
Girls 16-19
1. Ella Wong, Pepper Pike, OH, 2023, *37-36-73 +2
2. Madolyn Kost, Kent, OH, 2024, *44-38-82 +11
3. Kristen Belden, Canton, OH, 2023, *43-42-85 +14
3. Alexandria Vardon, Akron, OH, 2024, *40-45-85 +14
5. Alyson Veverka, Olmsted Twp, OH, 2021, *45-41-86 +15
5. Caroline Harold, Canton, OH, 2023, *41-45-86 +15
7. Kamil Stephens, Port Clinton,Oh, 2023, *51-44-95 +24
8. Nina Shaffer, Uniontown, OH, 2023, *48-50-98 +27
Boys 11-15
1. Daniel Gambone, North Canton, OH, 2025, *37-33-70 -1
2. Gavin Owens, Aurora, OH, 2026, *39-41-80 +9
3. Alexander Stiegele, Westlake, OH, 2026, *41-40-81 +10
4. Nathan Chege, Olmsted Falls, OH, 2027, *42-40-82 +11
4. Patrick Myers, Westlake, OH, 2028, *41-41-82 +11
4. Dylan Phillips, Chesterland, OH, 2028, *44-38-82 +11
7. Rob Prevette, Twinsburg, OH, 2025, *42-41-83 +12
8. Jacob Rainieri, Mogadore, OH, 2027, *38-46-84 +13
9. Jonas Hinderer, Brunswick, OH, 2025, *43-44-87 +16
10. Diesel Williams, North Bloomfield, OH, 2025, *46-44-90 +19
11. Scott Colian, Salem, OH, 2025, *45-46-91 +20
11. Michael Tyler Polca, Rocky River, OH, 2025, *45-46-91 +20
11. Kevin Elliott, Akron, OH, 2025, *44-47-91 +20
11. Leo Carey, Brecksville, OH, 2026, *49-42-91 +20
15. Harrison LaBahn, Strongsville, OH, 2025, *47-45-92 +21
15. Mica Thirion, Twinsburg, OH, 2026, *50-42-92 +21
15. Will Cody, Shaker Heights, OH, 2027, *48-44-92 +21
18. Gannon Brady, Aurora, OH, 2025, *52-47-99 +28
19. Owen Smith, Strongsville, OH, 2025, *49-52-101 +30
20. Anderson Hurst, Silver Lake, OH, 2025, *53-52-105 +34
21. Jayson Miller, Bay Village, OH, 2026, *51-56-107 +36
22. Cameron Phillips, Aurora, OH, 2025, *54-55-109 +38
23. Connor Crilley, Lowellville, OH, 2028, *52-59-111 +40
Girls 11-15
1. Gracyn Vidovic, Aurora, OH, 2025, *44-38-82 +11
2. Kayla Knaze, Fairview Park, OH, 2027, *42-41-83 +12
2. Gianna Reginelli, Broadview Hts, OH, 2025, *42-41-83 +12
4. Ellie Gonzalez-Ribble, Brunswick, OH, 2028, *41-43-84 +13
4. Alyssa Zhang, Allison Park, PA, 2028, *42-42-84 +13
6. Colleen Stadler, Seven Hills, OH, 2026, *41-46-87 +16
7. Korrine Knaze, Fairview Park, OH, 2029, *46-43-89 +18
7. Sophia Thompson, Cuyahoga Falls, OH, 2025, *46-43-89 +18
9. Blake Cody, Shaker Heights, OH, 2025, *47-47-94 +23
Futures Tour 9-Hole Event
Boys 12-16
1. Lincoln Miller, Concord twp, OH, 2027, *37 +2
2. Noah Gabriel, Poland, Ohio, 2029, *38 +3
3. Silas Kirkpatrick, Clinton, OH, 2026, *40 +5
4. Griffin Pickett, Painsville, OH, 2027, *49 +14
5. Reilly Maloney, Westfield Center, OH, 2028, *57 +22
6. Ethan Gruber, Louisville, OH, 2027, *58 +23
7. Nathan Miller, Youngstown, OH, 2026, *60 +25
8. Kyle Elsass, Akron, OH, 2027, *63 +28
9. Chase Filomena, Akron, OH, 2029, *69 +34
Girls 12-16
1. Elena Varga, Hudson, OH, 2027, *42 +7
2. Emerson Glending, Avon, OH, 2026, *51 +16
3. Gianna Rodenhauser, Aurora, OH, 2026, *57 +22
3. Magdalen Kothera, Kirtland, OH, 2027, *57 +22
5. Madelyn Addessi, Akron, OH, 2027, *59 +24
6. Samantha Macek, North Royalton, OH, 2025, *61 +26
7. Quinlan Malarkey, Medina, OH, 2027, *67 +32
Boys 8-11
1. Nicholas Pollak, Aurora, OH, 2029, *38 +3
2. Hamilton Miller, Concord Twp, OH, 2029, *41 +6
3. Noah Liston, Newbury, OH, 2030, *43 +8
4. Isaac Bowland, Dover, OH, 2029, *46 +11
5. Preston Tolnar, Canfield, OH, 2032, *47 +12
6. Carter Van Putten, North Ridgeville, OH, 2029, *50 +15
7. Jacob Snay, Mansfield, OH, 2029, *53 +18
8. Constantine Diamantis, Bratenahl Village, OH, 2030, *57 +22
8. Hayden Stanton, Medina, OH, 2030, *57 +22
 
Girls 8-11
1. Anna Phillips, Chesterland, OH, 2030, *36 +1
2. Emma Gonzalez-Ribble, Brunswick, OH, 2029, *42 +7
3. Gabby Fisher, Solon, OH, 2029, *50 +15
4. Ayreana Rippey, Mogadore, OH, 2031, *61 +26
5. Avery Dugan, Hartville, OH, 2029, *70 +35