Today we hosted our last Futures Tour event of the season at Turkeyfoot Lake Golf Links in Akron. The weather was beautiful for our tour players today and the Water Nine was in great shape.
In the Girls 12-16 Division, Amrita Deo won her division with a sixteen-over par, 51. In second place was Lily Taylor, coming in with a 56.
In the Girls 8-11 Division, Emma Gonzalez-Ribble won her division with a seventeen-over par, 52.
In the Boys 12-16 Division, Lucas Cutlip took home the win following a second place finish yesterday in North Olmsted. Cutlip came in today with an eight-over par, 43 to win his division. In second place, Kyle Elsass came in with a 59.
In the Boys 8-11 Division, Noah Liston and Isaac Bowland tied for the win with a pair of seven-over pars, 42. Following close behind with a pair of 43's was Hayes Pethtel and Jacob Snay.
We want to thank Michael Thirion, PGA for allowing us to host our event at Turkeyfoot today. Mr. Thirion was on the bag today for James Hetler, which was a great sight to see. We also again want to thank all of our Futures Tour players and parents for a wonderful season. We are sad to see the season end, but we want to thank everyone again for making this season special. Our staff loves seeing the joy the players showcase throughout their time here with us on tour.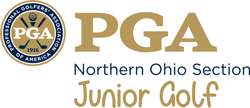 FINAL RESULTS: Northern Ohio PGA
2022 Futures Tour Event at Turkeyfoot
Turkeyfoot Lake Golf Links, Water Nine, Akron, OH – Par 35
Wednesday, August 10, 2022
GIRLS 12-16
1. Amrita Deo, 9 Hole Future Girls 12 to 16, *51 +16
2. Lily Taylor, 9 Hole Future Girls 12 to 16, *56 +21
BOYS 12-16
1. Lucas Cutlip, 9 Hole Futures Boys 12-16, *43 +8
2. Kyle Elsass, 9 Hole Futures Boys 12-16, *59 +24
BOYS 8-11
1. Noah Liston, 9 Hole Futures Boys 8-11, *42 +7
1. Isaac Bowland, 9 Hole Futures Boys 8-11, *42 +7
3. Hayes Pethtel, 9 Hole Futures Boys 8-11, *43 +8
3. Jacob Snay, 9 Hole Futures Boys 8-11, *43 +8
5. Mason Dillon, 9 Hole Futures Boys 8-11, *47 +12
6. Carter Van Putten, 9 Hole Futures Boys 8-11, *48 +13
7. Ajay Deo, 9 Hole Futures Boys 8-11, *54 +19
8. Lincoln Watral-Turner, 9 Hole Futures Boys 8-11, *57 +22
9. James Hetler, 9 Hole Futures Boys 8-11, *65 +30
GIRLS 8-11
1. Emma Gonzalez-Ribble, 9 Hole Futures Girls 8-11, *52 +17