Today was a beautiful day for golf at North Olmsted Golf Club. We hosted our Futures Tour players here today for a postseason competition.
In the Girls 12-16 Division, Kiley Gorog came in with a sixteen-over par, 48. This was Gorog's first win on our tour this year! In second place, Amrita Deo came in with a twenty-two over par, 54.
In the Girls 8-11 Division, Emma Gonzalez-Ribble came in with an extraordinary even-par, 32. In second place, Anna Phillips came in with a six-over par, 38.
In the Boys 12-16 Division, Reilly Maloney came in with a seven-over par, 39 to take the lead. Coming close behind in second place with an eight-over par, 40 was Lucas Cutlip.
In the Boys 8-11 Division, Hayes Pethtel came in with a five-over par, 37. In second place, Coleson Paez and Hayden Stanton came in with a pair of six-over par, 38's.
We would like to thank Trevor Hazen, PGA and Erin Craig, PGA for allowing us to host here in North Olmsted. Their staff did a wonderful job preparing the course for us today after the rain last night. We are incredibly grateful for their help in making this event special today for our Futures Tour players. We also would like to thank the Northern Ohio Golf Association's Executive Director, Robb Schulze, PGA for his dedication today.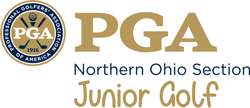 FINAL RESULTS: Northern Ohio PGA
2022 Futures Tour Event – North Olmsted GC
North Olmsted Golf Club, North Olmsted, OH – Par 32
Tuesday, August 9, 2022
BOYS 8-11
1. Hayes Pethtel, 9 Hole Futures Boys 8-11, *37 +5
2. Coleson Paez, 9 Hole Futures Boys 8-11, *38 +6
2. Hayden Stanton, 9 Hole Futures Boys 8-11, *38 +6
4. Isaac Bowland, 9 Hole Futures Boys 8-11, *39 +7
5. Noah Liston, 9 Hole Futures Boys 8-11, *40 +8
6. Jacob Snay, 9 Hole Futures Boys 8-11, *41 +9
7. Carter Van Putten, 9 Hole Futures Boys 8-11, *47 +15
8. Agampratap Kanwar, 9 Hole Futures Boys 8-11, *48 +16
9. Ajay Deo, 9 Hole Futures Boys 8-11, *51 +19
10. Matt Carneval, 9 Hole Futures Boys 8-11, *53 +21
11. JP Miller, 9 Hole Futures Boys 8-11, *54 +22
BOYS 12-16
1. Reilly Maloney, 9 Hole Futures Boys 12-16, *39 +7
2. Lucas Cutlip, 9 Hole Futures Boys 12-16, *40 +8
3. Christian Lisowski, 9 Hole Futures Boys 12-16, *51 +19
GIRLS 12-16
1. Kiley Gorog, 9 Hole Future Girls 12 to 16, *48 +16
2. Amrita Deo, 9 Hole Future Girls 12 to 16, *54 +22
GIRLS 8-11
1. Emma Gonzalez-Ribble, 9 Hole Futures Girls 8-11, *32 E
2. Anna Phillips, 9 Hole Futures Girls 8-11, *38 +6