Today at Alliance Country Club we hosted our second collegiate preview of the season. The course was in great shape and our players greatly enjoyed their time here in Alliance.
In the Girls 16-22 Division, Jordan Van Meter took home the win with a seven-over par, 77. Coming close behind in second place was Erin Strouse with an eight-over par, 78.
In the Boys 16-22 Division, Mike Qui took home the win with a one-under par, 69. In second place, Brian Terlesky came in close behind with an even par, 70.
We would like to thank Doug Brown, PGA for allowing us to host both our collegiate players as well as our section members here today.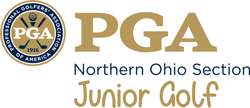 FINAL RESULTS: Northern Ohio PGA
2022 NOPGA COLLEGIATE PREVIEW #2
Alliance Country Club, Alliance Ohio
Monday, Aug 8, 2022
BOYS 16-22
1. Mike Qui, Boys 20-22, *33-36-69 -1
2. Brian Terlesky, Boys 20-22, *36-34-70 E
3. Jake Sylak, NOPGA Series Boys 16-19, *34-37-71 +1
4. Nicklaus Pidgeon, Boys 20-22, *37-35-72 +2
5. Kyle Salamon, NOPGA Series Boys 16-19, *40-37-77 +7
6. Jake Shingledecker, Boys 20-22, *42-37-79 +9
7. Jaekob Conard, NOPGA Series Boys 16-19, *41-42-83 +13
8. Evan Dennison, NOPGA Series Boys 16-19, *42-42-84 +14
9. Timothy Caspio, NOPGA Series Boys 16-19, *48-41-89 +19
10. Jack Stanovic, NOPGA Series Boys 16-19, *49-46-95 +25
GIRLS 16-22
1. Jordan Van Meter, Girls 20-22, *38-39-77 +7
2. Erin Strouse, NOPGA Series Girls 16-19, *38-40-78 +8
3. Alexis Savage, Girls 20-22, *41-41-82 +12
3. Anastasia Nikolaidis, NOPGA Series Girls 16-19, *40-42-82 +12
3. Sydney Leyerle, NOPGA Series Girls 16-19, *45-37-82 +12
6. Abby Jones, Girls 20-22, *42-41-83 +13
7. Isabella Mineo, NOPGA Series Girls 16-19, *41-43-84 +14
8. Erica Headley, Girls 20-22, *46-39-85 +15
8. Gracie Baun, NOPGA Series Girls 16-19, *46-39-85 +15
10. Mattie Muckleroy, NOPGA Series Girls 16-19, *44-42-86 +16
11. Jacquelyn Adler, Girls 20-22, *46-41-87 +17
11. Emma McGreal, Girls 20-22, *41-46-87 +17
11. Grace May, NOPGA Series Girls 16-19, *46-41-87 +17
11. Madison Gruber, NOPGA Series Girls 16-19, *47-40-87 +17
15. Emily Jones, Girls 20-22, *45-43-88 +18
16. Lauren Petro, NOPGA Series Girls 16-19, *44-46-90 +20
17. Alexis Zimmer, NOPGA Series Girls 16-19, *49-44-93 +23
18. Olivia Martinez, NOPGA Series Girls 16-19, *47-48-95 +25
19. Matilyn Zines, NOPGA Series Girls 16-19, *48-48-96 +26
20. Angela Dodson, NOPGA Series Girls 16-19, *50-47-97 +27
21. Devon Carpenter, NOPGA Series Girls 16-19, *52-54-106 +36
22. Elaine Kirkbride, NOPGA Series Girls 16-19, *48-63-111 +41
22. Katie Reynolds, NOPGA Series Girls 16-19, *58-53-111 +41