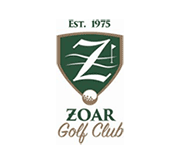 The traditional season opening Yuengling 3-Man Step Back Scramble was played on a gorgeous Saturday afternoon at Zoar Golf Club. Unseasonably warm weather greeted the 36 teams that played a scramble format, but required the players' shot being used to "step back" and not hit the next shot.
Two teams tied for first place at 11-under par 61. Mike Simpson, Dave Oates and Vaughn Snyder started slowly with six straight pars, but played the final 12 holes on fire, shooting a back nine 27 that included one par and one eagle. Their strong finish allowed them to tie Jimmy Wild, Ryan Stefanski and Ryan Gutowski for first place.
There were three teams tied for third place just one stroke back: Waligura-Snodgrass-Frey; Suntala-Ramaglia-Bell; and Freeman-Koprivec-Trzebuckowski.
Coming in tied for sixth place were Crone-Garwood-Jones and DeChecko-Foschia-Bouch. In eighth place: Bishop-Diebold-Canter and Anagnost-Sotka-Blackburn.
There were two skins won on the day, paying $540 each: an eagle-3 on hole number 7 by Kirk-Kirk-Hall; and an eagle-2 on number 17 by Stormer-Barry-Federonick.

FINAL RESULTS:
2021 Yuengling 3-Man Step Back Scramble
Zoar Golf Club, Zoar, Ohio
Saturday, March 27, 2021
61 Simpson-Oates-Snyder $750
61 Wild-Stefanski-Gutowski $750
62 Waligura-Snodgrass-Frey $245
62 Suntala-Ramaglia-Bell $245
62 Freeman-Koprivec-Trzebuckowski $245
63 Crone-Garwood-Jones $165
63 Dechecko-Foschia-Bouch $165
64 Bishop-Diebold-Canter $60
64 Anagnost-Sotka-Blackburn $60
36 teams competed