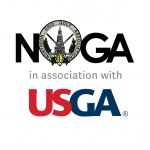 A pair of former College of Wooster golfers posted an eye-popping score on a tough setup to earn a USGA berth.
John Angelo of Twinsburg and Marcus Carano of Columbus crafted a birdie-laden 10-under par score of 62 at Sand Ridge to earn a spot in the 2021 U.S. Amateur Four-Ball Championship at Chambers Bay.
Angelo was previously a member at Sand Ridge for four years, so he had a fair bit of experience playing the golf course. But experience isn't guts or execution, so putting together a better ball 62 with a fellow Fighting Scot on a brisk October day was quite the accomplishment.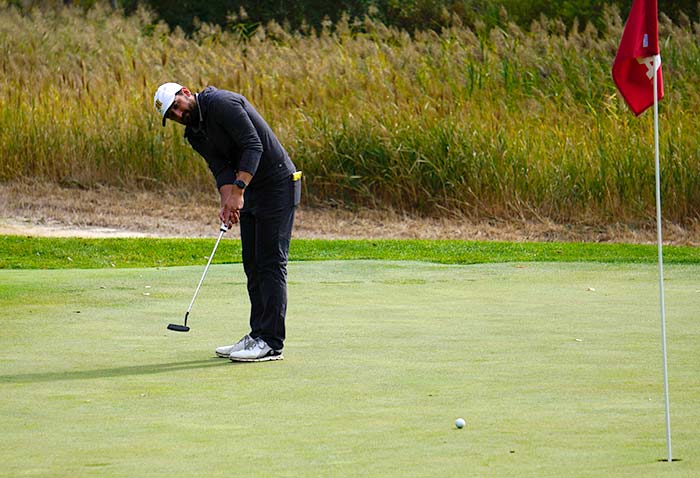 But the medalist honors didn't come without stress. "We stared bogey in the face more than a couple of times," said Carano after the round. Each time, either Angelo or Carano answered the call and saved par. "We didn't leave any shots out there," confirmed Angelo.
Angelo and Carano didn't know the score required to earn their spot, but they did know how deep they needed to push. They played in the same group as Columbus natives Jonathan Bowers (who played golf at Northwestern) and Tom Miles (TCU), watching as their fellow competitors shot 9-under par 63 to finish one back. Bowers and Miles made a bogey at the par-4 10th hole, the difference on the day. "We butchered that one," commented Miles.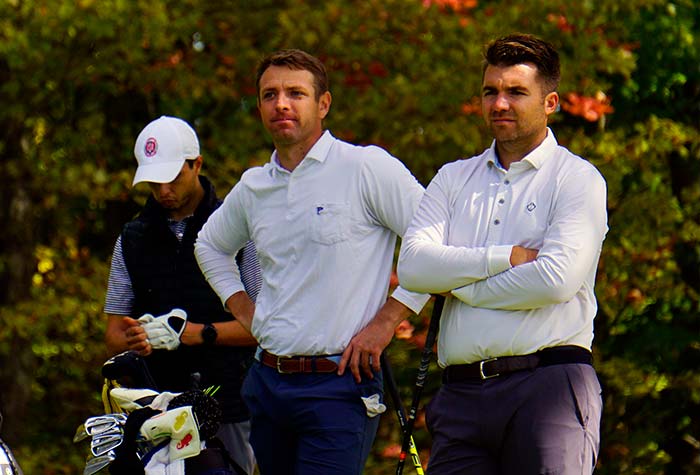 Also finishing with 63 were brothers Clark and Grant Engle, natives of Springfield and both Ohio State Buckeyes golfers (Clark graduated in 2017, Grant is a sophomore). Team Engle also made a lone bogey during their 9-under par round, taking a 5 on the long, sweeping, into-the-wind par-4 13th hole.
The Engles won the playoff for the First Alternate spot.
How tough was the setup? The course stretched over 7,000 yards and the hole locations were tucked behind bunkers and on the fade-away side of slopes. The chilly wind was steady and the fairways didn't roll out much.
How talented was the field? Before play began, NOGA Director of Operations Frank Rihtar guessed the conditions and setup would lead to a winning score of 67, maybe 66. Five teams bested that.
Angelo and Carano advance to the 2021 U.S. Amateur Four-Ball at Chambers Bay in University Place, WA on May 25-29th.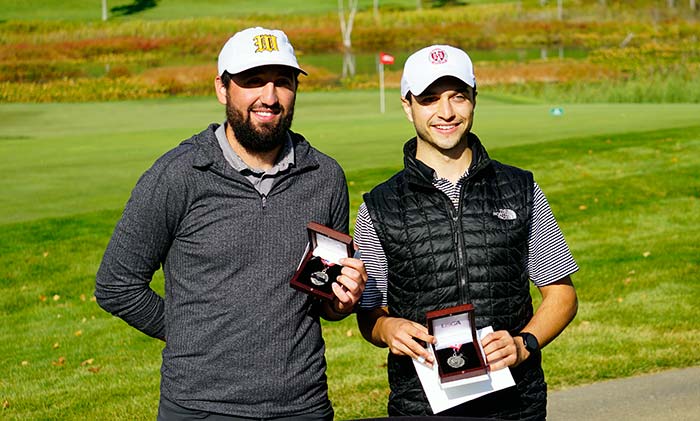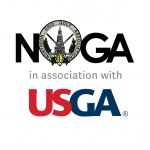 FINAL RESULTS: United States Golf Association
2021 USGA Amateur Four-Ball Cleveland Qualifier
Sand Ridge Golf Club, Chardon, Ohio
Monday, October 5, 2020
QUALFIERS:
John Angelo + Marcus Carano 62
ALTERNATES:
Clark Engle + Grant Engle 63 First
Jonathan Bowers + Tom Miles 63 Second
Dylan Fitchet + Tom North 65
Tyler Cozad + Mike Wolfe 65
Ben Farina + Daniel Grincewicz 67
Wes Stafford + Ian Weinberg 68
Christopher Vandette + Jared Wilson 68
Blake Hartford + Dylan Van Fossen 68
Kent Monas + Josh Prok 68
Matthew Hoffman + Will Straub 68
Josh Clay + Aaron Crewse 69
Mitchell Kontak + Trey Walker 69
Justin Grondahl + Christian Tomak 69
Brett Bergman + Douglas Stadler 70
Ryan Stefanski + Jimmy Wild 70
Nick Hofland + Ward Kyle 70
Jon Merriott + Alex Weir 70
Michael Garcia + Ted Grassi 70
Andy Hire + Tim Skufca 70
Jeffrey Blechschmidt + Trevor Cohen 70
Jack Coyne + Max Elgart 71
Jim Krivanek + Brian Smith 71
Trevor Merril + Jake Peer 71
Thomas Leech + Justin Miller 71
Chad Ransom + Luke Waggoner 71
Rich Berglund + Steve Leone 72
Robbie Denove + Tom Summers 73
Logan Bratsch + James Clark 73
Nicholas Fiore + Brandon Mihalo 73
Jeff Pawlowski + Chris Sloe 73
Dave Goda + Nate Matthews 73
Tyler Edholm + Matthew Pawlak 73
Chris Daily + Jared Hirauk 73
Matthew Cooperrider + Ryan Dorff 73
Nathan Meeker + Marshall Ruffing 75
Jon Lenton + Nolan Marks 76
Michael Schustrich + Robert Schustrich 79
Kris Clarke + Paul Doucher WD
Nick Russo + Greg Thomas WD