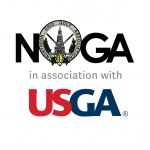 Two current and two former Golden Flashes golfers led the way in the 2021 U.S. Open Local Qualifier for the Greater Cleveland area, played Tuesday at Beechmont Country Club.
Current Kent State junior Jared Wilson of Columbiana won medalist honors going away, posting seven birdies against a single bogey in earning a three-shot victory on a damp day.
Another current KSU sophomore, Cade Breitenstine of Akron (above), tied with 2018 Kent grad and playing professional Ian Holt of Stow (below) for second place at 3-under par 68. Breitenstine had his round to 5-under par with two holes to play, but finished with a pair of bogeys. Holt also made two bogeys against five birdies but finished with a great par save at the last.
Former KSU player and two-time NOPGA Associate Player of the Year Tyler McHugh (below), who now works as an assistant at Club Walden in Aurora, finished at 2-under par 69 to nab the fourth qualifying spot.
Ohio State Buckeyes golfer Jonerik Alford from Johns Creek, GA earned the fifth qualifying spot shooting 1-under par 70.
Three players finished at even-par 71 for the final two qualifying spots of the seven total awarded.
Bowling Green State University Men's Golf Coach John Powers made four birdies against four bogeys and finished with a solid up-and-down at the last.
17-year-old Ashland High School junior Tyler Sabo, a two-time All-Ohio golfer, posted even par in a round highlighted by an eagle-3 at the par-5 sixth hole.
Canton pro Ryan Troyer, also a former Kent State player, shot 71 in the morning wave but decided not to return to Beechmont for the 3-for-2 playoff. Troyer had his round to 4-under par through 12 holes, but gave back those birdies in his closing six holes. By skipping the playoff, he was relegated to the first alternate spot.
Ben Jones of Strongsville, a senior at the University of Ashland, earned the second alternate spot in a 4-for-1 playoff, with two not appearing for that playoff.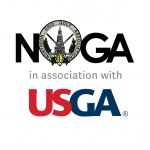 FINAL RESULTS:
2021 U.S. Open Local Qualifying Tournament – Cleveland
Beechmont Country Club, Beachwood, Ohio | Par 71
Tuesday, May 4, 2021

1  Jared Wilson (a) 65
T2  Cade Breitenstine (a) 68
T2  Ian Holt 68
4  Tyler McHugh 69
5  Jonerik Alford (a) 70
T6  John Powers 71
T6  Tyler Sabo (a) 71
DID NOT QUALIFY:
CUT  Ryan Troyer 71 1st Alternate
CUT  Benjamin Jones (a) 72 2nd Alternate, playoff
CUT  Palmer Yenrick (a) 72
CUT  Jack Garswood (a) 72
CUT  Ryan Gutowski (a) 72
CUT  Robert Kimmel (a) 72
CUT  Jackson Chandler (a) 72
CUT  Michael Barnard (a) 73
CUT  Dylan Kaufman (a) 73
CUT  Maxwell Moldovan (a) 73
CUT  Kyle Buzaki (a) 73
CUT  Michael Balcar 73
CUT  Max Watson (a) 73
CUT  Jacob Scott 73
CUT  Ryan Ferry (a) 73
CUT  Ken Keller (a) 73
CUT  Bradley Thornton 74
CUT  Nate Thomson (a) 74
CUT  Darin Hudak (a) 74
CUT  Lucas Murray (a) 74
CUT  Austin Graham 74
CUT  Joshua Wright (a) 74
CUT  Jason Goodendorf 74
CUT  Joshua Zarlenga (a) 74
CUT  Jack Angelucci (a) 75
CUT  Steve Stone 75
CUT  Rob Moss 75
CUT  David Laib (a) 75
CUT  Ryan Yip 75
CUT  Nick Gustin 75
CUT  Solomon Petrie (a) 76
CUT  Connor Gdovin (a) 76
CUT  Bryan Kordupel (a) 76
CUT  Brandon Jatich (a) 76
CUT  Brennan Whitis (a) 76
CUT  Kyle Flatow (a) 76
CUT  Grant Engle (a) 76
CUT  Jonathan Mills 76
CUT  Bradley Chill Jr (a) 76
CUT  Randy Dietz 76
CUT  Drew Deimel (a) 76
CUT  Kyle Kellogg 76
CUT  Alex Andrews 76
CUT  Max Crookston (a) 76
CUT  Brandon Broyles 76
CUT  Topher Reed (a) 76
CUT  Brett Kaufman (a) 76
CUT  Matt Gurska 77
CUT  Ryan Sabo (a) 77
CUT  Austin Nowak 77
CUT  Jack Coyne (a) 77
CUT  Roni Shin (a) 77
CUT  Jesse Wilkin (a) 77
CUT  Darrin Vaughan 78
CUT  Rick Pagniano (a) 78
CUT  Patrick Schmuecking (a) 78
CUT  Joshua Blaha 78
CUT  Jack Vojtko (a) 78
CUT  Jack Crawshaw (a) 78
CUT  Jay Schiffbauer 78
CUT  Julian Dugan (a) 78
CUT  Dennis Holub 78
CUT  Jake Appleby 78
CUT  Michael Riley (a) 78
CUT  Andrew Simpson (a) 79
CUT  Jaydan Morgan (a) 79
CUT  Sean McGuire 79
CUT  Seth Carn 79
CUT  Jaysen Hansen 79
CUT  Ben Smith 79
CUT  Joshua Prok (a) 79
CUT  Jonathon Knapp (a) 79
CUT  Jack Snyder 80
CUT  Nathanael Matthews (a) 80
CUT  Liam Ottaway (a) 80
CUT  Jon Jones 80
CUT  Shayne Beaufait (a) 80
CUT  Blake Shienkaruk (a) 80
CUT  Dean Catalano (a) 81
CUT  Zach Mandry (a) 81
CUT  Thomas Priore (a) 81
CUT  Austin Rohrer 81
CUT  Jordan Paolini 81
CUT  Tim Raleigh (a) 82
CUT  Chris Horne (a) 82
CUT  Brian Butler 83
CUT  Craig Voorhees (a) 83
CUT  Jonathan Lyng (a) 83
CUT  Jeffrey Blechschmidt (a) 83
CUT  David Reiter Jr 84
CUT  Jeff Sawitke (a) 84
CUT  Demitrius De Almeida 85
CUT  Tim Skufca (a) 85
CUT  Cory Gasaway (a) 85
CUT  Dylan Erks (a) 85
CUT  Erik Basarab 85
CUT  Michael Fazio (a) 85
CUT  Luke Beeler (a) 86
CUT  Joseph Rogers 88
CUT  Josh Blaustein (a) 89
CUT  Luke Schreck (a) 91
CUT  Ric Hey (a) 94
CUT  Jeff Hershey 95
CUT  Xander Moran (a) 97
CUT  Brian Suydam 102
WD  Mike Slivanya (a) WD
WD  Dave Poprocky (a) WD
WD  Jeremy Olsen WD
WD  Nolan Marks (a) WD
WD  Logan Bratsch (a) WD
WD  Josh Gilkison (a) WD
WD  Ryan Cseplo (a) WD
NS  John Peck (a) NS
(a) – amateur
Golf Genius Hole-by-Hole Results >