Rain delays disrupted the 2021 U.S. Mid-Amateur Championship Qualifier for the Cleveland area at Avon Oaks Country Club, but the start-and-stop didn't seem to bother Shaker Heights' Andrew Bailey or Fairlawn's Ryan Gutowski.
A down pour stopped play at 7:37 a.m., and as that down pour continued a restart was in doubt. But when the rains finally slowed after a couple of hours, Avon Oaks superintendent Terry Boehme and his crew used every squeegee trick in the book to get play restarted again by 11 a.m. Kudos to Boehme and staff!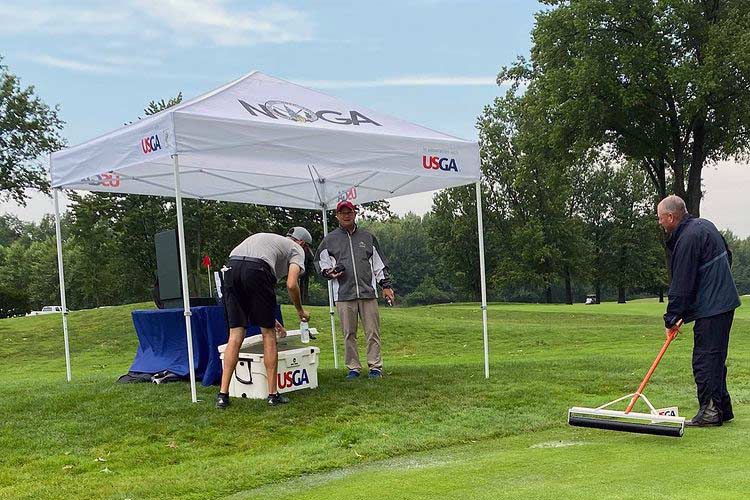 Playing in the first group off of the first hole, Bailey made eagle-3 on the par-5 first hole, then added five birdies against a lone bogey to shoot 6-under par 66 and earn medalist honors for the day.
Gutowski birdied all four par-5 holes plus the par-4 7th, made a lone bogey at the tough par-4 fifth, and finished with a 4-under par 68 to claim the second qualifying spot.
Three players tied for the final qualifying spot at 2-under par 70, requiring a playoff to determine who would advance to the Championship proper in Nantucket. Cleveland's Jeffrey Blechschmidt, 54-year old Kurt Peterson of Bolivar and Oakmont PA's Andrew Hodge each limited their bogeys across Avon Oaks (two each for Blechschmidt and Hodge, one for Peterson) to earn a chance to advance, the playoff winner going while the other two earned alternate status.
Starting on the par-5 10th hole for the sudden-death playoff, Blechschmidt made birdie, Hodge made par and Peterson made bogey to quickly decide the order of finish for the final slots.
The three qualifiers head to Sankaty Head Golf Club in Siasconset, MA and Miacomet Golf Course, Nantucket, MA for the 40th U.S. Mid-Amateur Championship on September 25-30th.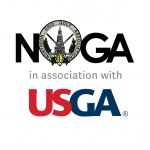 FINAL RESULTS: United States Golf Association
2021 U.S. Mid-Amateur Qualifying Tournament – Cleveland
Avon Oaks Country Club, Avon, Ohio
Thursday, August 12, 2021

QUALIFIERS:
Andrew Bailey, Shaker Heights, Ohio 66
Ryan Gutowski, Fairlawn, Ohio 68
Jeffrey Blechschmidt, Cleveland, Ohio 70 (playoff)
ALTERNATES:
Hodge, Andrew Oakmont, Pennsylvania 70 1st Alternate
Peterson, Kurt Bolivar, Ohio 70 2nd Alternate
DID NOT QUALIFY:
Clendenin, Howard Fairlawn, Ohio 71
Todd, Griffin Canfield, Ohio 71
Schrader, Casey Chagrin Falls, Ohio 72
Angelo, John Mayfield Heights, Ohio 72
Glassman, Zach Gates Mills, Ohio 72
Stephens, Ryan Lakewood, Colorado 72
Clay, Josh North Canton, Ohio 72
Raleigh, Tim Bentleyville, Ohio 72
Okeson, Chris Lyndhurst, Ohio 72
Garswood, Jack Fairview Park, Ohio 73
Krivanek, Jim Pepper Pike, Ohio 73
Knox, Lee St. Simons Island, Georgia 73
Fuller, Matt Maumee, Ohio 73
Henighan, Bob Medina, Ohio 74
Silverman, Ben Toledo, Ohio 74
Smith, Brian Amherst, Ohio 74
Areddy III, Richard Silver Lake, Ohio 74
Bernatovicz, John Akron, Ohio 75
Malik, PJ South Russell, Ohio 75
Fankhauser, Roy Palm Beach Gardens, FL 75
Steven, Brad Concord, Ohio 76
Reynolds, Gabriel Fairview Park, Ohio 76
Rowe, Kevin Westlake, Ohio 76
Meagrow, Jeff Akron, Ohio 76
Ebert, John Cleveland, Ohio 76
Urie, Mathew Independence, Ohio 76
Malkus, Andrew Maple Heights, Ohio 77
Wild, Jimmy Sagamore Hills, Ohio 77
Padgett III, Don Akron, Ohio 77
Engler, Drew Delaware, Ohio 77
Metzendorf, Daniel Medina, Ohio 77
Gordon, Derek Canton, Ohio 77
Koss, Jonathan Pepper Pike, Ohio 77
Irvine, Bryn Bay Village, Ohio 77
Dorff, Ryan Bay Village, Ohio 78
Skufca, Tim Westlake, Ohio 78
Hoops, Collin Bowling Green, Ohio 78
Timby, Dan Avon Lake, Ohio 78
Hilditch, David Avon, Ohio 78
Thomarios, Adam Akron, Ohio 78
Weinberg, Ian Cleveland Heights, Ohio 78
Carney-DeBord, Tyler Lakewood, Ohio 78
Radabaugh, Chuck Maumee, Ohio 78
Steiner, Michael Shaker Heights, Ohio 79
Stiwald, Jason North Ridgeville, Ohio 79
Briggs, Anthony Lakewood, Ohio 79
Wonkovich, Eric Lakewood, Ohio 79
Chuparkoff II, Ken Copley, Ohio 80
Borisa, A JBroadview Hts, Ohio 80
Graff, Seth Toledo, Ohio 80
Howard, Jeff Westfield Center, Ohio 80
Moore, Chuck Hartville, Ohio 80
Grincewicz, Daniel Westlake, Ohio 80
Zbin, Jacob Brookpark, Ohio 80
Williams, Ryan Adrian, Michigan 80
Bujnak, Pete Columbus, Ohio 81
Kloetzer, Shaun Fairlawn, Ohio 81
Kruse, Justin Toledo, Ohio 81
Davis, Anthony Fairview Park, Ohio 82
Prok, Joshua Akron, Ohio 82
Grower, Mason Pittsford, New York 82
Young, David Rocky River, Ohio 82
Gonzalez, Joseph Millersburg, Ohio 84
Diehl, Jeff Avon Lake, Ohio 85
Jhaveri, Saumil Westlake, Ohio 86
Jacklitch, Shawn Parma, Ohio 90
Zarlenga, Joshua Canfield, Ohio WD
Mullen, Nathan Youngstown, Ohio NC
Stykemain, Corbin Defiance, Ohio NC
Cawley, Mike Westlake, Ohio NC
Cebula, Tim Cleveland, Ohio DNF
Richey, Michael Cleveland, Ohio NS
Schram, Eric Philadelphia, Pennsylvania NS