Purdue junior Nicholas Dentino of Carmel, IN earned medalist honors at Cleveland's 2021 U.S. Amateur Qualifying Tournament, shooting 67-69 to finish at 8-under par at The Country Club in Pepper Pike.
Dentino made two bogeys and one double bogey on the day, but offset those three troublesome holes with a whopping 12 birdies. The double bogey came on his 34th hole of the day, but he quickly recovered to finish birdie-birdie and capture the top spot.
Ohio State's Maxwell Moldovan of Uniontown finished one shot back at 7-under par to earn the second qualifying spot that was available to the field of 72 golfers.
Fresh off last week's victory at the Southern Amateur, Moldovan shot 69-68 and made six birdies during his afternoon 18 for a total of 10 birdies on the day. Moldovan had a putt to tie Dentino on his final hole, but just missed.
Ian Bangor of Pittsburgh took the first alternate spot at 4-under par for the 36 holes, while Cooper Collins of Lexington, KY won second alternate in a playoff against Akron's Cade Breitenstine and Scottsdale's Jacob Tarkany.
The qualifiers move onto the 121st U.S. Amateur Championship on August 9-15 at Oakmont Country Club in Oakmont, PA.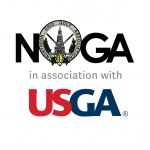 FINAL RESULTS: United States Golf Association
2021 U.S. Amateur Championship Qualifying – Cleveland
The Country Club, Pepper Pike, Ohio
Monday, July 19, 2021

Qualifying Players:
Nicholas Dentino Carmel, IN 67 – 69 = 136
Maxwell Moldovan Uniontown, Ohio 69 – 68 = 137
Alternates:
Bangor, Ian Pittsburgh, PA 67 – 73 = 140 1st Alternate
Collins, Cooper Lexington, KY 67 – 76 = 143 2nd Alternate
Did Not Qualify:
Romano, Andrew Depew, NY 71 – 72 = 143
Tarkany, Jacob Scottsdale, AZ 71 – 72 = 143
Breitenstine, Cade Akron, Ohio 73 – 70 = 143
Okeson, Chris Lyndhurst, Ohio 72 – 72 = 144
Mead, Conor Amherst, Ohio 72 – 72 = 144
Mandry, Zach Solon, Ohio 72 – 73 = 145
Gutowski, Ryan Fairlawn, Ohio 75 – 70 = 145
Hodge, Andrew Oakmont, PA 71 – 75 = 146
Veydt, Steven Wexford, PA 74 – 73 = 147
Brimfield, Jackson Chapel Hill, NC 68 – 79 = 147
Blakely, Jules Westlake, Ohio 76 – 71 = 147
Kaye, Andrew Avon Lake, Ohio 74 – 74 = 148
Nettles, Chuck McMurray, PA 77 – 71 = 148
Raleigh, Tim Bentleyville, Ohio 79 – 70 = 149
Gallo, Marc Canada 73 – 76 = 149
Stineman, Andrew Chicago, IL 75 – 74 = 149
Lawson, Andrew Dallas, Texas 75 – 74 = 149
Ruhling, Evan Pittsburgh, Pennsylvania 74 – 75 = 149
Weinberg, Ian Cleveland Heights, Ohio 74 – 76 = 150
Malik, PJ South Russell, Ohio 77 – 73 = 150
Metzendorf, Daniel Medina, Ohio 75 – 75 = 150
Johnson, Putter Chagrin Falls, Ohio 74 – 76 = 150
Mallette, Jeff North Canton, Ohio 77 – 73 = 150
Monas, Kent Akron, Ohio 75 – 75 = 150
Wilson, Jared Columbiana, Ohio 74 – 77 = 151
Hogan, Ben Wellington, Ohio 72 – 79 = 151
Padgett III, Don Akron, Ohio 75 – 76 = 151
Hudak, Darin Tallmadge, Ohio 76 – 75 = 151
Garswood, Jack Fairview Park, Ohio 79 – 72 = 151
Clay, Josh North Canton, Ohio 71 – 80 = 151
Berlin, Daniel Chagrin Falls, Ohio 78 – 73 = 151
Blechschmidt, Jeffrey Cleveland, Ohio 73 – 79 = 152
Hoops, Collin Bowling Green, Ohio 73 – 79 = 152
Ottaway, Liam Pepper Pike, Ohio 77 – 75 = 152
Snyder, Ethan Dublin, Ohio 78 – 74 = 152
Miller, Jamie Orchard Park, New York 73 – 79 = 152
Daily, Chris Murrells Inlet, South Carolina 77 – 76 = 153
Mastros, PaulSteubenville, Ohio 78 – 75 = 153
Malicki, Connor Avon, Ohio 74 – 80 = 154
Todd, Griffin Canfield, Ohio 77 – 77 = 154
Norkin, Ryan Dublin, Ohio 80 – 74 = 154
Ryan, Jacob Akron, Ohio 79 – 75 = 154
Park, Scott Matthews, North Carolina 79 – 75 = 154
Pethel, Josh Hudson, Ohio 76 – 80 = 156
Berglund, Rich Pittsburgh, Pennsylvania 77 – 80 = 157
Hampel, Ty Atlanta, Georgia 79 – 78 = 157
Reynolds, Gabriel Fairview Park, Ohio 77 – 81 = 158
Gutman, Luke Westerville, Ohio 78 – 80 = 158
Zarlenga, Joshua Canfield, Ohio 82 – 77 = 159
Christie, Braxton Morgantown, Indiana 79 – 81 = 160
Bennett, Simon Orchard Park, New York 82 – 78 = 160
Crone, Eric Dover, Ohio 80 – 81 = 161
Belden, Charles Canton, Ohio 80 – 81 = 161
Fazio, Michael Lakewood, Ohio 87 – 75 = 162
Beck, Brandon Stow, Ohio 82 – 80 = 162
Prok, Joshua Akron, Ohio 81 – 81 = 162
Priore, Thomas Willoughby Hills, Ohio 83 – 80 = 163
Wonkovich, Eric Lakewood, Ohio 82 – 81 = 163
Stover, David Pepper Pike, Ohio 80 – 84 = 164
Coyne, Tommy University Heights, Ohio 85 – 80 = 165
Benzino, Eric Pittsburgh, Pennsylvania 85 – 81 = 166
Vrablic, Tommy Avon, Ohio 82 – 84 = 166
Poe, Brian Hudson, Ohio 86 – 81 = 167
Lewis, Tristan Pepper Pike, Ohio 89 – 78 = 167
Jeffries, Matthew Kent, Ohio 79 – 89 = 168
Rinderle, David Cleveland, Ohio 87 – 82 = 169
Zbin, Jacob Brookpark, Ohio 87 – 83 = 170
Brower, Mark Cuyahoga Falls, Ohio 83 – 88 = 171
Dorff, Ryan Bay Village, Ohio 77 – WD
Mullhaupt, Chris Chagrin Falls, Ohio 79 – WD
Knapp, Jonathon Uniontown, Ohio 80 – WD
Horne, Chris Rocky River, Ohio 84 – WD
Hejna, Tony Cleveland, Ohio WD
Gobezie, Grant Orlando, Florida WD
Koss, Jonathan Pepper Pike, Ohio WD
Lindstrom, Sean Hamburg, New York WD
Shonk, Michael Columbus, Ohio WD
Gilligan, Casey Cincinnati, Ohio WD
Geist, Kyle Rocky River, Ohio WD
Schrader, Casey Chagrin Falls, Ohio WD