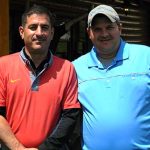 Niko Anagnost + Dave Sotka won the Fall Scramble at The Fairways at Twin Lakes by one shot with a 10-under par score of 60.
Justin Trzebukowski + Matt Frey and Vaughn Snyder + Kyle Jones finished in a tie for second place.
An eagle-2 on the par-4 14th hole earned Steve Blackburn Jr. + Jimmy Wild both a skin in the 18 hole game and in the Double Holes game, good for a tidy $580.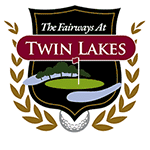 FINAL RESULTS:
2021 Twin Lakes Fall 2-M Scramble
The Fairways at Twin Lakes, Kent
Saturday, September 25, 2021
Niko Anagnost / Dave Sotka 30 – 30 = 60 $450
Justin Trzebukowski / Matt Frey 31 – 30 = 61 $285
Vaughn Snyder / Kyle Jones 31 – 30 = 61 $285
Tim Hepner / Shawn Mills 31 – 31 = 62 $120
Mike Simpson / Rob Wakeling 32 – 30 = 62 $120
Blackburn/Wild 32 – 31 = 63
Smith/Stefnaski 32 – 32 = 64
Gasser/Crone 32 – 32 = 64
Terry/Karic 32 – 33 = 65
Marozzi/Marozzi 32 – 33 = 65
Schneider/Prok 33 – 33 = 66
Coven/Svodva 33 – 34 = 67
Toth/Plute 34 – 34 = 68
Watkins/Trier 34 – 34 = 68
Crane/Ritner 37 – 37 = 74
Welsh/Welsh 38 – 37 = 75
Harbert/Zimmerman 38 – 38 = 76
Cistone/Cistone 39 – 38 = 77
Smith/Cooper 39 – 41 = 80
Boston/Hylton 45 – 42 = 87
Kiehl/O'Brian 47 – 49 = 96
Skins: $160 ea
Snyder/Jones Eagle 3, Hole 3
Wakeling/Simpson Eagle 3, Hole 12
Blackburn/Wild Eagle 2, Hole 14
Smith/Stefanski Birdie 2, Hole 17
Double Hole Skins: $420 ea
Blackburn/Wild 6 on Holes 5,14
Hepner/Mills 6 on Holes 7,16

— courtesy of Bryan Harvey, The Fairway at Twin Lakes