It's hard to say which version of 16-under par 56 was more impressive: the steady, relentless birdie machine that created duplicate sides of eight birdies in nine holes; or the more roller-coaster round that included three par-5 eagles and an inward side of 10-under par 26.
Both versions of that winning total were on display at Rawiga Golf Club in Seville on Saturday, as the NOHIO.GOLF Series played its make-up date for the All-American 3-Am Scramble, rained out on the Friday before Memorial Day. The reschedule decision was a good one, too, as the first Saturday in October was spectacularly sunny and mild.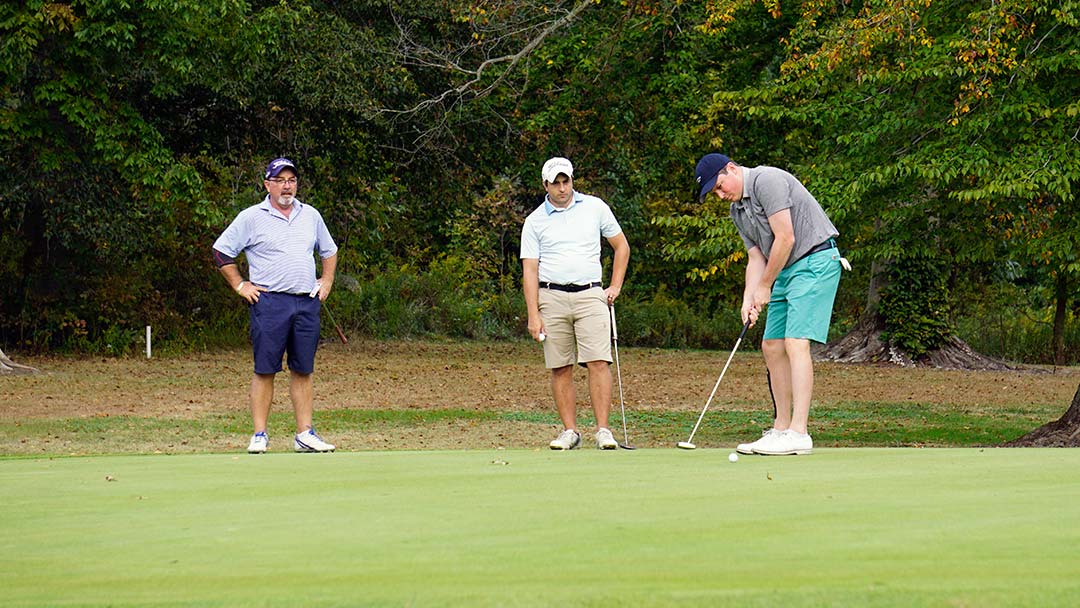 The team of Scott McVey, Jon Lieser and Kyle Jones played a methodical round of birdie-making scramble golf, settling for just one par on each nine (at the par-4 ninth and the par-3 11th). All of the other holes on their Rawiga scorecard were marked with a birdie.
Vaughn Snyder, Dave Oates and Mike Simpson weren't quite as methodical, saving their best work until the end. They began their day slowly, just 1-under par through the first four holes. But they picked up the pace for the rest of the front side, making three birdies and an eagle to turn at 30. The back nine was complete fireworks: eagles on both par-5 holes, one par and six birdies for a scorching finish.
Snyder, Oates and Simpson reached the clubhouse first at 16-under par, forcing McVey, Lieser and Jones to make birdie at the last to tie them. McVey almost did one better than that, nearly holing out his wedge shot for a walk-off win. The ball finished less than six inches away from the hole.
The tie at the top was two shots clear of the two teams that tied for third place: Chance Phifer + Jeff Hetler + Joe Sutter (said Sutter, "we all played pretty bad, but we always had one shot in play and we made a boatload of putts"); and Team Aurora's Larry Lahnan + Fred Miller + Bud Radis.
But the biggest winners on the day were Allen Freeman + Ty Kovach + Justin Trzebuckowski. Freeman holed out a 30-yard pitch on the par-4 17th, allowing the team to grab the only skin won on the day, good for a cool $1,440. Blind pigs and acorns…
FINAL RESULTS:
2021 NOHIO.GOLF All-American 3-Am Scramble
Rawiga Golf Club, Seville
Saturday, October 2, 2021
T1 Dave Oates + Mike Simpson + Vaughn Snyder (Canton, Uniontown, Massillon) 56 ( -16 ) $915.00
T1 Kyle Jones + Jon Lieser + Scott McVey (Canton, Louisville) 56 ( -16 ) $915.00
T3 Chance Phifer + Jeff Hetler + Joe Sutter (Akron, Green) 58 ( -14 ) $367.50
T3 Larry Lahnan + Fred Miller + Bud Radis (Aurora) 58 ( -14 ) $367.50
T5 Eric Coleman + Bobby Harmon + Jonathan Barber (Medina, Cleveland) 59 ( -13 ) $157.50
T5 Max Decheco + Matt Frey + Shaun Kloetzer (Stow, Broadview Heights, Fairlawn) 59 ( -13 ) $157.50
T7 Freeman + Kovach + Trzebuckowski (Brecksville, Medina, Broadview Heights) 60 ( -12 )
T7 Honaker + Inebnit + Adkins (Ashland, Ontario) 60 ( -12 )
T7 Smith + Stefanski + Wild (Amherst, Sagamore Hills) 60 ( -12 )
T10 Karic + Tayler + Terry (Broadview Heights, North Royalton, Brunswick) 62 ( -10 )
T10 Tipton + Frey + Snacki (Brecksville, Hudson, Avon) 62 ( -10 )
T10 Plute + Toth + Trier (Twin Lakes, Akron, Stow) 62 ( -10 )
T13 Cooper + Toddy + Tuleta (North Ridgeville, Wadsworth, North Olmsted) 63 ( -9 )
T13 Jenkins + Jenkins + Ferrara (Canton, Kent) 63 ( -9 )
T15 Blomstrom + Gecewich + Gutowski (Mentor, Chesterland, Painesville) 64 ( -8 )
T15 Malik + Nicol + Jankowski (North Olmsted, Olmsted Falls, Strongsville) 64 ( -8 )
T17 Adams + Hastings + Morone (Parma, Medina, Columbus) 65 ( -7 )
T17 Chinn + Jensen + Prok (Columbus, Cloverdale OR, Akron) 65 ( -7 )
19 Juguilon + Schirripa + Svadba (Brunswick, Seven Hills) 66 ( -6 )
T20 Callihan + Dougherty + Sharpes (Green, Cuyahoga Falls, Barberton) 68 ( -4 )
T20 Albright + Schmidt + Reeder (Wooster, Brook Park) 68 ( -4 )
22 Bradley + Hinkle + Konefal (Copley, Akron, Fairlawn) 69 ( -3 )
23 Hinkle + Hinkle + Hinkle (Akron, Copley) 70 ( -2 )
24 Perry + Perry + Wilde (Columbus, Norwalk) 72 ( E )
SKINS:
Allen Freeman + Ty Kovach + Justin Trzebuckowski – Eagle 2, Hole 17 – $1,440.00