Massillon's Josh Clay put on a scoring clinic at Oberlin Golf Club on Thursday, winning NOGA's Great Lakes Auto Scratch Series Stroke Play #4 with a 6-under par 66.
Clay birdied the third, fourth and sixth holes before giving one back with his sole bogey of the day at the par-5 ninth. Then on the back side, he made birdie on the 10th and 11th holes out of the gate, then sealed the deal with par-5 birdies at 14 and 17.
Lyndhurst's Chris Okeson took second place, two shots behind Clay with a 68. Okeson also made just one bogey on the day at the second hole, then made a birdie at four to turn in even par. He closed with four birdies on the back nine, at 10, 14, 15 and 17.
Fairlawn's Shaun Kloetzer finished in third place with a 2-under par 70.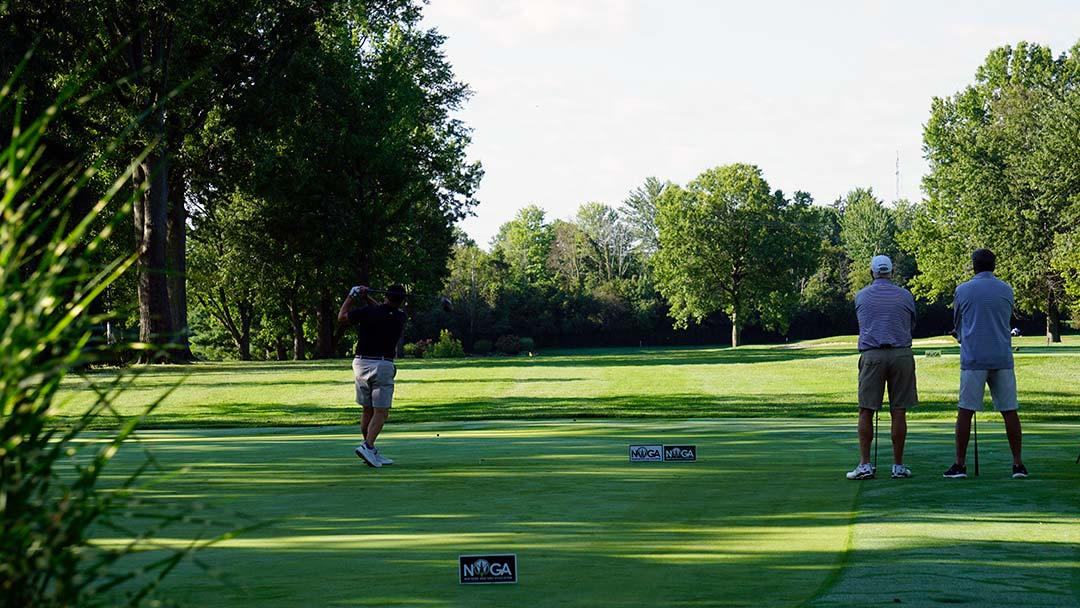 In the Senior Division, Canterbury's Brian Sparrow outpaced the rest of the field as the only player to shoot under par. His 2-under 70 included five birdies at 9, 10, 14, 15 and 18, against bogeys at 2, 11 and 16.
Brecksville's Allen Freeman finished in second place at even par 72. Senior NOGA POY leader Monty Guest finished third with a 73.
In the Super Senior Division, Mike Brady from Sweetbriar Golf Club in Avon Lake won with a 76.
Next up, the Great Lakes Auto NOGA Tour Championship at Firestone Country Club's West and South Courses on September 12 – 13th…

FINAL RESULTS: Northern Ohio Golf Association
2021 Great Lakes Auto Scratch Series #4
Oberlin Golf Club, Oberlin | Par 72
Thursday, September 2, 2021
CHAMPIONSHIP DIVISION
1 Clay, Joshua Shady Hollow Country Club 66 $200.00
2 Okeson, Chris Stonewater Golf Club 68 $160.00
3 Kloetzer, Shaun NOHIO.GOLF Club 70 $140.00
T4 Rowe, Kevin Avon Oaks Country Club 74 $60.00
T4 Spotleson, Suzi Brookside Country Club 74 $60.00
T4 Young, David NOHIO.GOLF Club 74 $60.00
T4 Blechschmidt, Jeff Mayfield Sand Ridge Club 74 $60.00
T4 Smith, Brian Oberlin Golf Club 74 $60.00
9 Vaughn, Shirley Congress Lake Club 75
T10 Hogan, Ben Oberlin Golf Club 76
T10 Glassman, Zach Stonewater Golf Club 76
T10 Miller, Cody Columbia Hills Golf & Swim 76
T13 Coyne, Tommy Shaker Heights Country Club 77
T13 Hardesty, Ian Silver Lake Country Club 77
T13 Snacki, David NOHIO.GOLF Club 77
16 Walker, Chris Grey Hawk Golf Club 78
17 Beebe, Brian Ohio Prestwick Country Club 79
T18 Schustrich, Robert Windmill Lakes Golf Club 80
T18 Burns, Colin NOHIO.GOLF Club 80
20 Garswood, Jack NOHIO.GOLF Club 81
21 Carr, Andy NOHIO.GOLF Club 83
NS Richey, Michael Raccoon Hill Golf Club NS
SKINS: $65 ea
Rowe, Kevin – Birdie on 12
Spotleson, Suzi – Birdie on 8
Clay, Joshua – Birdie on 3
Smith, Brian – Birdie on 13
SENIOR DIVISION
1 Sparrow, Brian Canterbury Golf Club 70 $190.00
2 Freeman, Allen NOHIO.GOLF Club 72 $160.00
3 Guest, Monty Signature of Solon 73 $130.00
4 Crawford, Mike Bob-O-Link Golf Course 74 $90.00
T5 Guadagni, Mark Silver Lake Country Club 75 $30.00
T5 Baugh, Tom Portage Country Club 75 $30.00
7 Weaver, Bob Oberlin Golf Club 77
T8 Timmons, Matt Firestone Country Club 79
T8 Marsinek, Ed Windmill Lakes Golf Club 79
T10 Denk, Joe Pine Hills Golf Club 80
T10 Young, John Cuyahoga-North Coast Golf Association 80
T12 Riedy, James Barrington Golf Club 82
T12 Baker, Tim Chagrin Valley Country Club 82
T12 McNiece, Ray NOHIO.GOLF Club 82
T15 Skidmore, Tom Weymouth & Fox Meadow CC 83
T15 Blaushild, Marc Beechmont Country Club 83
17 Groh, Jim Sharon Golf Club 85
18 Miller, Ron Firestone Country Club 88
SENIOR SKINS: $106.67 ea
Timmons, Matt – Birdie on 6
Crawford, Mike – Eagle on 1
Guest, Monty – Birdie on 11
SUPER SENIOR DIVISION
1 Brady, Mike Sweetbriar Golf Club 76 $140.00
T2 Schaefer, Steve Sleepy Hollow Golf Course 77
T2 Luken, Jeff Pine Hills Golf Club 77
4 Caress, Jack Mayfield Sand Ridge Club 79
SUPER SENIOR SKINS: $8 ea
Caress, Jack (3) – Birdie on 11, Birdie on 14, Birdie on 15
Brady, Mike (3) – Birdie on 2, Par on 5, Birdie on 13
Schaefer, Steve (2) – Birdie on 8, Birdie on 9
Luken, Jeff (2) – Birdie on 10, Birdie on 18