With a net score of 9-under par 63, Ed Knapp and David Achauer (Little Mountain Country Club) and Roy Beres and Michael Beres (Legend Lake Golf Club, Stonewater Golf Club) finished tied at the top in the rescheduled 2021 NOGA Net Four-Ball and Season-Long Match Play Qualifier at Sand Ridge Golf Club.
Achauer had a putt on 18 to win the event, but could not connect.
This tournament was rescheduled after its cancellation on May 10th due to snow and ice on the course, a first in NOGA history.
The final standings set the brackets for the 2021 NOGA Net Four-Ball Match Play Championship…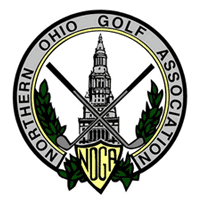 FINAL RESULTS: Northern Ohio Golf Association
2021 Net Four-Ball Championship +
Season-Long Match Play Qualifier
Sand Ridge Club, Chardon, Ohio
Monday, May 24, 2021

T1 Knapp, Ed / Achauer, David – Little Mountain Country Club 63
T1 Beres, Roy / Beres, Michael- Legend Lake Golf Club, Stonewater Golf Club 63
3 Valentine, Kevin / Fartelly, John – Weymouth & Fox Meadow CC, Firestone Country Club 64
T4 Rose, Dan / Mandel, Irwin- Avon Oaks Country Club 66
T4 Dunlap, Craig / Michel, Gabriel – Quail Hollow Country Club, Country Club of Hudson 66
T4 Blauman, Mike / Lohn, Bill – Madison Country Club, Stonewater Golf Club 66
T4 Fritts, Robert / Estadt, Gary – Quail Hollow Country Club 66
T4 Huang, Joey / David, Rob – Country Club of Hudson 66
T9 Sattler, David / Johnston, John – Firestone Country Club, Congress Lake Club 67
T9 Brenner, Michael / Jalbert, Tom – NOHIO.GOLF Club 67
T9 Emmerich, Bob / Reilly, Bill – Avon Oaks Country Club 67
T12 Briggs, Anthony / Donahoe, Matt – Avon Oaks Country Club, Columbia Hills Golf & Swim 68
T12 Galloway, Michael / Allen, Bill – Westfield Country Club 68
T12 Skeen, Randy / Wagner, John – Good Park Golf Course 68
T12 Hirko, Andy / Carpenter, Ken – Rawiga Golf & Swim Club, Weymouth & Fox Meadow CC 68
T16 Leary, Curtis / Gray, Larry – Punderson Golf Course, Quail Hollow Country Club 69
T16 Bruketa, Tony / Didovic, John – Little Mountain Country Club, Mayfield Sand Ridge Club 69
T16 Yurik, John / Mangano, Samuel – Pine Hills Golf Club, Valley of the Eagles 69
T19 Zgrabik, Larry / Zgrabik, Jerry – Sleepy Hollow Golf Course 70
T19 Barnish, Thomas / Treiber, Jim – Ellsworth Meadows Golf Club, Windmill Lakes Golf Club 70
T19 Palchesko, Dave / Dmytriw, John – Gleneagles Golf Club, Legend Lake Golf Club 70
T19 Sedam, Jeffery / Jones, Roy – Avon Oaks Country Club 70
T19 Kirbus, Rich / Leach, Robert – Little Mountain Country Club 70
T24 Parsons, Brian / Blackburn, John – Red Tail Golf Club 71
T24 Lunde, Evan / Bowen, Russ – The Tanglewood Club, Chagrin Valley Country Club 71
T24 Moehring, Chris / Bertemes, William – Weymouth & Fox Meadow CC 71
T24 Johnson, Kyle / Russo, Mr. Phil D – Weymouth & Fox Meadow CC 71
T24 Hird, Roger / Moran, Joe – Country Club of Hudson, Lake Forest Country Club 71
T24 McNiece, Ray / Luken, Jeff – Manakiki Golf Course, Pine Hills Golf Club 71
T30 Willett, Steve / Zapf, William – Sweetbriar Golf Club 72
T30 Phillips, Doug / Mitchen, Tom – NOHIO.GOLF Club 72
T30 Gibbons, Paul / Gary, Mike – Chagrin Valley Country Club 72
T33 Jacklitch, Shawn / Dean, Jay – NOHIO.GOLF Club 73
T33 Juris, Dan / Jablonski, David – Weymouth & Fox Meadow CC 73
T33 Crandall, Jim / Capasso, Jerry – Valley of the Eagles, Big Met Golf Course 73
T33 Mirelli, Jeff / D'Andrea, Dante – Good Park Golf Course 73
T33 Fernandez, Joe / Kobelak, Mike – Lake Forest Country Club, Pine Hills Golf Club 73
T33 Cea, Jim / Cummins, Robert – NOHIO.GOLF Club, Good Park Golf Course 73
T33 Hartman, Doug / Helmick, Greg – Silver Lake Country Club 73
T40 Bailor, Andrew / Ginley, Marty – Oberlin Golf Club 74
T40 Bandura, Joe / Polack, Howard – Weymouth & Fox Meadow CC 74
T40 Marsinek, Ed / Cutlip, Dave – Windmill Lakes Golf Club 74
T43 Shetti, Abhijit / Liberatore, Benjamin – Windmill Lakes Golf Club, Grantwood Golf Club 75
T43 Hauenstein, Doug / Swanda, Timothy – North Olmsted Golf Club 75
T43 Tournoux, Pat / Sterba, Alexander – Sweetbriar Golf Club, NOHIO.GOLF Club 75
46 Campbell, Pat / Brocklehurst, John – Columbia Hills Golf & Swim 76
47 Grasson, Timothy / Gaspar, Shawn – Weymouth & Fox Meadow CC, Signature of Solon 77
NET SKINS: $211.43 ea
Galloway / Allen – Eagle on 5
Sattler / Johnston – Eagle on 10
Rose / Mandel – Eagle on 6
Gibbons / Gary – Eagle on 16
Beres / Beres – Eagle on 11
Palchesko / Dmytriw – Eagle on 17
Huang / David – Eagle on 4