It was a day for birdies as the Northern Golf Association conducted its Great Lakes Auto Stroke Play #2 at Tippecanoe Country Club in Canfield.
In the Open Division, Shaun Kloetzer, Garrett Frank and Doug Barber all finished tied for first place with a 1-under par round of 71.
All three players finished strong at the end, but it was Barber who had the best story.
"I was a couple over on the first nine with back-to-back bogeys on 16 and 17," Barber said. "Played consistent on my second nine and drove it really well and was able to capitalize on the par 5's. Then on the last hole I rolled in a 45-footer for birdie."
Kloetzer had a similar start to Barber. "I started on 10 and had a six-footer for birdie and ran it too hard past and three-putted for bogey," Kloetzer said. "I bogeyed another hole early so was 2-over and was pretty proud of myself the way I was able to rebound from that."
"I got off to a little bit of a slow start," Frank said. "I had a couple of good birdie looks in the beginning and couldn't get any of them to go down and scrambled for pars. I didn't hit it great most of the day but I found my way and made some pars. Made the turn and was feeling pretty good." Frank finished with a clutch birdie on his last hole to match the leaders.
Griffin Todd and Jack Garswood finished tied for fourth place at 1-over par. Current Great Lakes Auto Player of the Year points leader Aaron Crewse finished tied for ninth at 3-over par.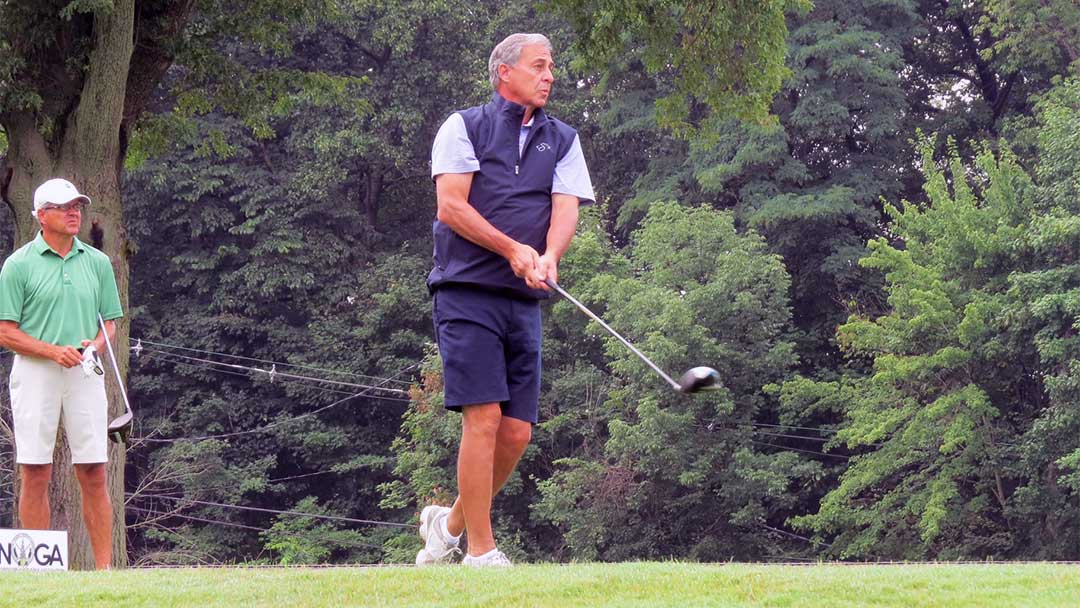 In the Senior Division, Nick Lambos and Monty Guest tied for first place after both finished with an even par round of 72.
"It was a fun day," Guest said. "I always love coming to Tippecanoe to play. It is a great golf course and is always in great condition. It was a little bit wet today and that made it a little bit tougher, but it was a good day. A couple of lip out putts but a pretty solid round and I really enjoyed it."
"I was playing pretty consistent and then some rains came in," Lambos said. "I hit a 7-iron into 16 and had about a 100 foot putt and made a bogey there."
Tom Baugh finished in third place in the Senior Division with a 1-over 73.
In the Super Senior Division, Tom Begley won with a 2-over par 74.
The next Great Lakes Auto Scratch Series event is Stroke Play #3 at Brookside Country Club on August 19.
— story and photos by Justin Golba, NOGA Boatwright Intern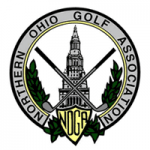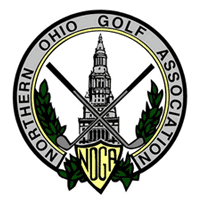 FINAL RESULTS: Northern Ohio Golf Association
2021 Great Lakes Auto Stroke Play #2
Tippecanoe Country Club, Canfield, Ohio
Monday, July 12, 2021
OPEN DIVISION
T1 Barber, Doug NOHIO.GOLF Club 71 $206.67
T1 Kloetzer, Shaun NOHIO.GOLF Club 71 $206.67
T1 Frank, Garrett NOHIO.GOLF Club 71 $206.67
T4 Todd, Griffin Youngstown Country Club 73 $130.00
T4 Garswood, Jack NOHIO.GOLF Club 73 $130.00
T6 Blechschmidt, Jeff Mayfield Sand Ridge Club 74 $80.00
T6 Beebe, Brian Ohio Prestwick Country Club 74 $80.00
T6 Hogan, Ben Oberlin Golf Club 74 $80.00
T9 Cilone, Joey Tippecanoe Country Club 75
T9 Peterson, Kurt Shady Hollow Country Club 75
T9 Okeson, Chris Sandridge 75
T9 Crewse, Aaron NOHIO.GOLF Club 75
13 Rowe, Kevin Avon Oaks Country Club 76
T14 Zgrabik, Andrew Sleepy Hollow Golf Course 77
T14 Stiwald, Jason Oberlin Golf Club 77
T14 Smith, Brian Oberlin Golf Club 77
T14 Loomis, Rob NOHIO.GOLF Club 77
T18 Schustrich, Robert Windmill Lakes Golf Club 78
T18 Ando, Kota Ashland Golf Club 78
T18 Bishop, Shayne Firestone Country Club 78
21 Hach, Mark NOHIO.GOLF Club 79
T22 Richey, Michael Raccoon Hill Golf Club 81
T22 Hardesty, Ian Silver Lake Country Club 81
T24 Venrose, Rob Yankee Run Golf Course 83
T24 Young, David NOHIO.GOLF Club 83
T26 Rohan, George The Lake Club 84
T26 Chuparkoff, Ken Fox Den Golf Course 84
28 Carr, Andy NOHIO.GOLF Club 85
29 Dankovich, Josh Yankee Run Golf Course 86
30 Robison, Benjamin NOHIO.GOLF Club 90
WD Zarlenga, Joshua The Lake Club
WD Bratsch, Logan Pine Hills Golf Club
SKINS: $32.50 ea
Okeson, Chris – Birdie on 2
Loomis, Rob – Birdie on 3
Crewse, Aaron – Birdie on 5
Hogan, Ben – Eagle on 8
Crewse, Aaron – Birdie on 11
Beebe, Brian – Birdie on 13
Garswood, Jack – Birdie on 15
Young, David – Birdie on 16
SENIOR DIVISION
T1 Guest, Monty Signature of Solon 72 $185.00
T1 Lambos, Nick Brookside Country Club 72 $185.00
3 Baugh, Tom Portage Country Club 73 $140.00
4 Cea, Jim NOHIO.GOLF Club 75 $110.00
5 Skidmore, Tom Weymouth & Fox Meadow CC 76 $80.00
T6 Weaver, Bob Oberlin Golf Club 77
T6 Lilley, Britt Oberlin Golf Club 77
T8 Baker, Tim Chagrin Valley Country Club 78
T8 Borlin, Mark Silver Lake Country Club 78
T8 Saari, Scott Bob-O-Link Golf Course 78
11 Toth, John Fox Den Golf Course 79
T12 Freeman, Allen NOHIO.GOLF Club 80
T12 Ciccarello, Mark NOHIO.GOLF Club 80
14 Marlowe, Richard The Lake Club 81
T15 Lagrotteria, Paul Bob-O-Link Golf Course 82
T15 Devault, David Quail Hollow Country Club 82
T17 Groh, Jim Sharon Golf Club 85
T17 Crawford, Mike Bob-O-Link Golf Course 85
SKINS: $75 ea
Baker, Tim – Birdie on 3
Cea, Jim – Birdie on 11
Baugh, Tom – Eagle on 14
Cea, Jim – Par on 17
SUPER SENIOR DIVISION
1 Begley, Tom Firestone Country Club 74 $120.00
T2 Skirpstas, Ron NOHIO.GOLF Club 76 $30.00
T2 Chirumbolo, Bruno Ohio Prestwick Country Club 76 $30.00
4 Downing, William Fairlawn Country Club 78
5 Merrow, Rick NOHIO.GOLF Club 84
SKINS: $12 ea
Begley, Tom – Birdie on 1
Chirumbolo, Bruno – Birdie on 4
Begley, Tom – Par on 5
Skirpstas, Ron – Birdie on 6
Skirpstas, Ron – Birdie on 10