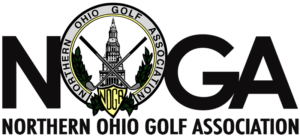 It was a perfect day for golf, on a course that was in perfect tournament condition.
The Northern Ohio Golf Association played its Great Lakes Auto Scratch Series Stroke Play #1 and season-long Match Play Qualifier at Westwood Country Club in Rocky River on Monday.
Jeff Blechschmidt of the Mayfield Sand Ridge Club posted a 1-over par 72, and that number was good enough to take the title.
"I had a rough U.S. Open qualifier a couple weeks ago, but I think it helped relax my mind a little bit," Blechschmidt said. "It was nice to go out there and just have fun.
"Westwood is an awesome course and it was a good pairing with some guys I knew, so it was easy to stay relaxed. I think I only really had one tester for bogey but other than that I kept the course in front of me." On the day, Blechschmidt made three birdies against four bogeys.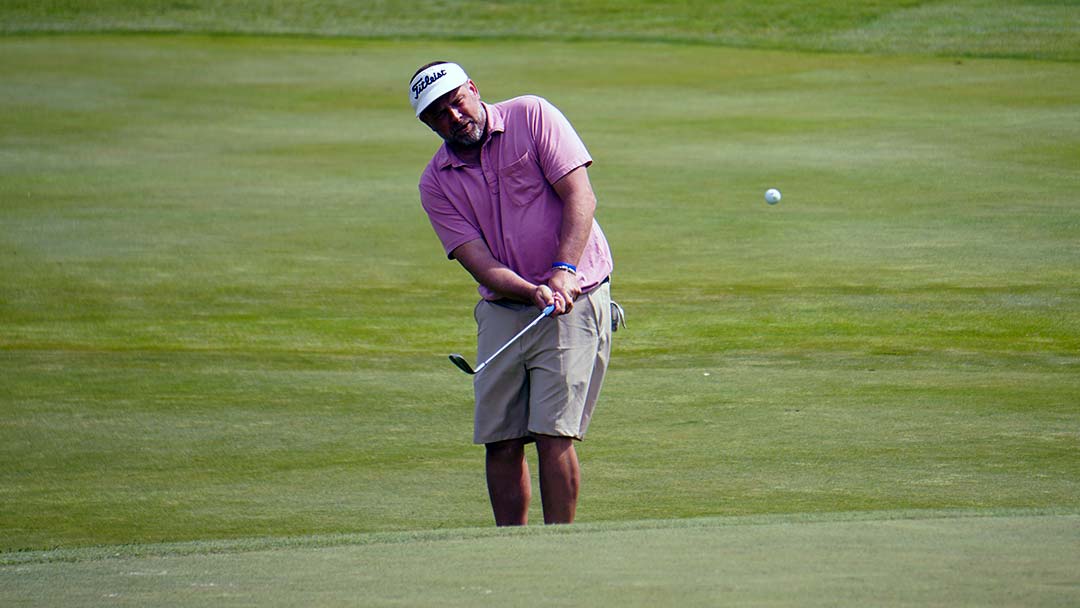 Aaron Crewse from the NOHIO.GOLF Club finished tied for second place with a 2-over par 73 that included a bogey at his final hole of the day, the long par-3 ninth. A birdie there would give him the title outright, a par would earn a share. "I knew what I needed and I choked," Crewse said self-effacingly. Crewse won the NOGA Four-Ball #1 on Thursday at Elyria Country Club with partner Bob Henighan, so he's off to a great start to the NOGA season.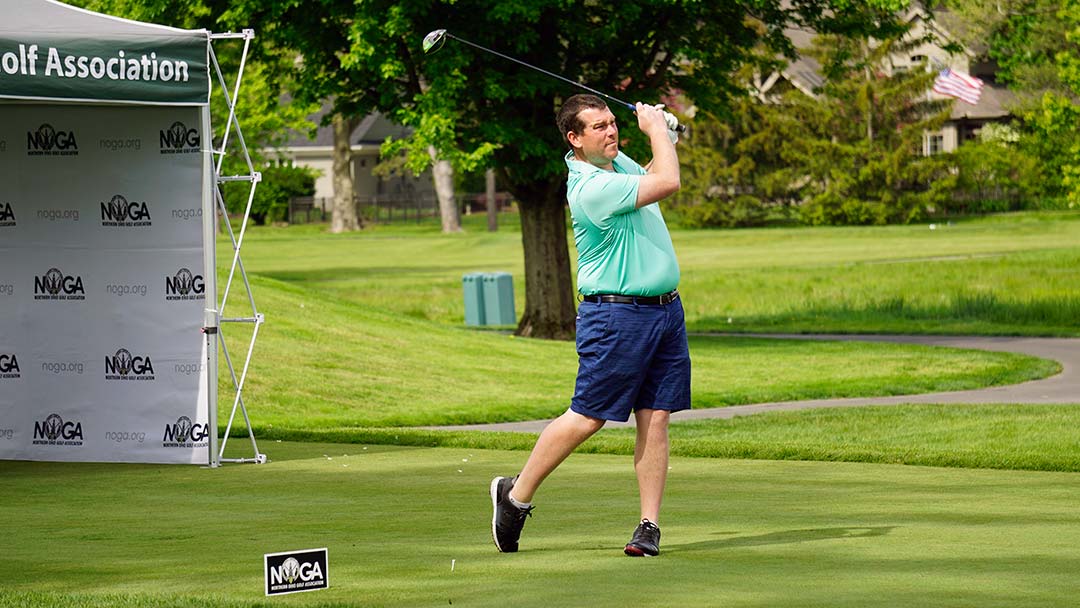 Chris Horne from Elyria Country Club finished tied for second place with Crewse. Horne put together a rollercoaster round that included a hole-out eagle-2 on the par-4 third hole, a double-bogey at the 17th, plus four birdies and six bogeys!
It was a home game for Patrick Rollins of Westwood Country Club, who finished in solo fourth place with a three-over par 74.
Playing along side Crewse, Canterbury Golf Club's Jeff Knox finished in a tie for first place in the Senior Division. After a hot start, Knox was a sizzling 4-under par through 10 holes and sat at 3-under par after 14, but struggled coming home to finish in a first place tie with Tom Laubacher of Club Walden at a 2-over par total of 73.
In the inaugural competition of the Super Senior Division, Rick Merrow of NOHIO.GOLF Club and Joseph Roller from Madison Country Club tied for first place, each shooting a 4-over par 75.
Photo Gallery
[Click any thumbnail to view the gallery in a lightbox.]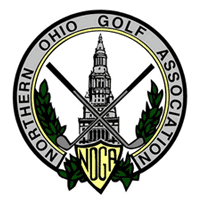 FINAL RESULTS: Northern Ohio Golf Association
2021 Great Lakes Auto Scratch Series Stroke Play #1
& Season-Long Match Play Qualifier
Westwood Country Club, Rocky River, Ohio
Monday, May 17, 2021
Championship Division
1 Blechschmidt, Jeff Mayfield Sand Ridge Club 72 $280.00
T2 Horne, Chris Elyria Country Club 73 $205.00
T2 Crewse, Aaron NOHIO.GOLF Club 73 $205.00
4 Rollins, Patrick Westwood Country Club 74 $160.00
T5 Skufca, Tim Avon Oaks Country Club 75 $112.50
T5 Glassman, Zach Stonewater Golf Club 75 $112.50
T5 Okeson, Chris Stonewater Golf Club 75 $112.50
T5 Garswood, Jack NOHIO.GOLF Club 75 $112.50
T5 Lord, John Pine Hills Golf Club 75 $112.50
T5 Stover, David The Country Club 75 $112.50
T11 Roth, Matthew NOHIO.GOLF Club 76 $27.50
T11 Cohn, Barry Beechmont Country Club 76 $27.50
T11 McElfresh, Mitchell Mayfield Sand Ridge Club – Mayfield 76 $27.50
T11 Eggleton, Chris Portage Country Club 76 $27.50
T15 Hilditch, David Red Tail Golf Club 77
T15 Polick, Brian Weymouth & Fox Meadow CC 77
T15 Jhaveri, Saumil Avon Oaks Country Club 77
T18 Barber, Doug NOHIO.GOLF Club 78
T18 Rowe, Kevin Avon Oaks Country Club 78
T20 Marozzi, Anthony Fox Den Golf Course 79
T20 Smith, Brian Oberlin Golf Club 79
T20 Young, David NOHIO.GOLF Club 79
T20 Snacki, David NOHIO.GOLF Club 79
T20 Frimel, Colin Pine Hills Golf Club 79
T20 Steven, Brad Quail Hollow Country Club 79
T20 Hochschwender, Olivia Portage Country Club 79
T20 Bratsch, Logan Pine Hills Golf Club 79
T28 Schustrich, Robert Windmill Lakes Golf Club 80
T28 Smiltins, George Canterbury Golf Club 80
T30 Beebe, Brian Ohio Prestwick Country Club 81
T30 Bishop, Shayne Firestone Country Club 81
T30 Youngs, Joe NOHIO.GOLF Club 81
T33 Carr, Andy NOHIO.GOLF Club 82
T33 Irvine, Bryn Avon Oaks Country Club 82
T33 Janis, David Signature of Solon 82
T36 Pawlowski, Jeff Stonewater Golf Club 83
T36 Khayat, Tim Chardon Lakes Golf Course 83
T38 Hach, Mark NOHIO.GOLF Club 84
T38 Miceli, David Red Tail Golf Club 84
T40 Robison, Benjamin NOHIO.GOLF Club 85
T40 Zgrabik, Andrew Sleepy Hollow Golf Course 85
T42 Wise, Bradley Lakewood Country Club 86
T42 Walker, Chris Grey Hawk Golf Club 86
44 Baumgartner, Emily Club Walden 88
45 Telerico, Mark Barrington Golf Club 89
T46 Jacklitch, Shawn NOHIO.GOLF Club 92
T46 Stradwick, Shawn Pine Hills Golf Club 92
CHAMPIONSHIP DIVISION SKINS: $77.14 ea
Hilditch, David – Birdie on 15
Young, David – Birdie on 3
Cohn, Barry – Birdie on 13
Jhaveri, Saumil – Birdie on 8
Blechschmidt, Jeff – Birdie on 2
Rowe, Kevin – Birdie on 14
Crewse, Aaron – Birdie on 16
Senior Division
T1 Laubacher, Tom Club Walden 73 $175.00
T1 Knox, Jeffrey Canterbury Golf Club 73 $175.00
3 Lambos, Nick Brookside Country Club 74 $140.00
T4 Guest, Monty Silver Lake Country Club 75 $112.50
T4 Freeman, Allen NOHIO.GOLF Club 75 $112.50
6 Guadagni, Mark Silver Lake Country Club 76 $90.00
7 Borlin, Mark Silver Lake Country Club 77 $75.00
T8 Cea, Jim NOHIO.GOLF Club 78
T8 Saari, Scott Bob-O-Link Golf Course 78
T10 Toth, John Fox Den Golf Course 79
T10 Cassell, Mike Country Club of Hudson 79
12 Durr, Jim Silver Lake Country Club 80
T13 Malloy, Daniel Lakewood Country Club 81
T13 Marsinek, Ed Windmill Lakes Golf Club 81
T13 McNiece, Ray Manakiki Golf Course 81
16 Denk, Joe Pine Hills Golf Club 82
T17 Baugh, Tom Portage Country Club 83
T17 Crawford, Mike Bob-O-Link Golf Course 83
19 Weaver, Bob Oberlin Golf Club 84
20 Baker, Tim Chagrin Valley Country Club 86
T21 Groh, Jim Sharon Golf Club 87
T21 Ciccarello, Mark NOHIO.GOLF Club 87
23 Lagrotteria, Paul Bob-O-Link Golf Course 89
24 Miller, Ron NOHIO.GOLF Club 95
WD Lahnan, Larry Club Walden WD
SENIOR SKINS: $66.66 ea
Groh, Jim – Birdie on 9
Saari, Scott – Birdie on 12
Freeman, Allen – Birdie on 13
Knox, Jeffrey Birdie on 15,
Marsinek, Ed – Birdie on 17
Knox, Jeffrey – Birdie on 18
Super Senior Division
T1 Merrow, Rick NOHIO.GOLF Club 75 $105.00
T1 Roller, Joseph Madison Country Club 75 $105.00
3 Skirpstas, Ron NOHIO.GOLF Club 76
4 Schaefer, Steve Sleepy Hollow Golf Course 77
5 Areddy, Richard Barrington Golf Club 82
6 Luken, Jeff Pine Hills Golf Club 85
SUPER SENIOR SKINS: $11.42 ea
Skirpstas, Ron – Birdie on 2
Roller, Joseph – Birdie on 4
Skirpstas, Ron – Par on 6
Skirpstas, Ron – Par on 7
Skirpstas, Ron – Par on 9
Areddy, Richard – Birdie on 18

— photo and editorial contributions by Justin Golba, NOGA