Even with early times and solid pace of play throughout, play in the NOGA Flighted Series Four-Ball #3 at Wooster Country Club had to be stopped due to a dangerous weather situation at 1:55.
With the course getting almost an inch of rain in a 40 minute time span, the rest of the tournament was canceled.
With all groups completing nine holes and most not finishing before the cancellation, the event was turned into a nine-hole event for scoring.
The next NOGA Flighted Series event will be the Stroke Play #2 at Weymouth Country Club on August 9th.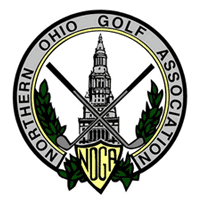 FINAL RESULTS:
Northern Ohio Golf Association
2021 Flighted Series Four-Ball #3
Wooster Country Club, Wooster, OH
Thursday, July 8, 2021
OPEN DIVISION
A Flight
1 Dempsey, Dennis + Skubic, Jeff Quail Hollow Country Club 35 $200.00
T2 Intorcio, Dominic + Bastulli, John Pine Ridge Country Club 37 $34.00
T2 Mcafee, Kevin + Kazan, Aaron Ellsworth Meadows Golf Club 37 $34.00
T2 Hach, Mark + Rothstein, Alan NOHIO.GOLF Club, Signature of Solon 37 $34.00
5 Hauenstein, Doug + Swanda, Tim North Olmsted Golf Club 38
6 Pluto, Keith + Norris, Rick Oberlin Golf Club 39
SKINS: $40 ea
Bastulli, John + Intorcio, Dominic Birdie on 1
Dempsey, Dennis + Skubic, Jeff – Par on 6
Hach, Mark + Rothstein, Alan Birdie on 7
Dempsey, Dennis + Skubic, Jeff – Birdie on 8
B Flight
1 Ferguson, Paul + Allen, Darren Big Met Golf Course, Oberlin Golf Club 36 $150.00
T2 Terens, Rick + Lew, Michael Valley of the Eagles, Avon Oaks Country Club 39 $50.00
T2 Helmick, Greg + Adya, Chuck Silver Lake Country Club 39 $50.00
4 Villao, Fred + Cugini, Dominic Pine Hills Golf Club, Silver Lake Country Club 42
5 Mirelli, Jeff + D'Andrea, Dante Good Park Golf Course 43
SKINS: $40 ea
Adya, Chuck + Helmick, Greg – Birdie on 2
Lew, Michael + Terens, Rick – Par on 6
Cugini, Dominic + Villao, Fred – Birdie on 8
Lew, Michael + Terens, Rick – Par on 9
SENIOR DIVISION
A Flight
1 Barnish, Thomas + Ahern, James Ellsworth Meadows Golf Club, Lake Forest Country Club 34 $150.00
T2 Bedell, Steve + Livak, Frank Sleepy Hollow Golf Course, NOHIO.GOLF Club 35 $50.00
T2 Rezabek, Paul + Tims, Clifford Tamer Win Golf & Country Club 35 $50.00
T4 Edelstein, Robert + King, Donald Beechmont Country Club 37
T4 Van Bolderen, Carl + Melnik, John NOHIO.GOLF Club 37
SKINS: $66.67 ea
Bedell, Steve + Livak, Frank – Birdie on 4
Bedell, Steve + Livak, Frank – Birdie on 5
Rezabek, Paul + Tims, Clifford – Birdie on 9
B Flight
1 Willett, Steve + Zapf, William Bob-O-Link Golf Course, Sweetbriar Golf Club 40 $150.00
2 Westbrook, Fred + Finch, Bob Bob-O-Link Golf Course 41
3 Li, Paul + Lamison, Paul Tanglewood Club 42
SKINS: $40 Pot
Finch, Bob + Westbrook, Fred – Sweep (9)
SUPER SENIOR DIVISION
A Flight
T1 Lohn, Bill + Blauman, Mike Stonewater Golf Club, Madison Country Club 36 $100.00
T1 Hulett, Ron + Pace, Hugh Sleepy Hollow Golf Course, Firestone Country Club 36 $100.00
3 Jones, Roy + Smith, William Avon Oaks Country Club 37
4 Palchesko, Dave + Dmytriw, John Gleneagles Golf Club, Legend Lake Golf Club 39
SKINS: $24 ea
Jones, Roy + Smith, William – Birdie on 1
Blauman, Mike + Lohn, Bill – Birdie on 3
Jones, Roy + Smith, William – Par on 4
Hulett, Ron + Pace, Hugh – Birdie on 8
Jones, Roy + Smith, William – Par on 9
B Flight
1 Vinciquerra, James + Vinciquerra, Richard Little Mountain Country Club, Glenmoor Country Club 37 $150.00
2 Dubois, Fred + Bush, Chuck Columbia Hills Golf & Swim 41
3 Dutt, Mike + Yelsik, John Sleepy Hollow Golf Course 45
SKINS: $16 ea
Bush, Chuck + Dubois, Fred – Par on 2
Dutt, Mike + Yelsik, John – Par on 3
Dutt, Mike + Yelsik, John – Bogey on 4
Bush, Chuck + Dubois, Fred – Par on 7
Bush, Chuck + Dubois, Fred – Par on 9