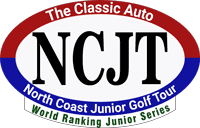 Antonio Bodziony and Thomas Priore finished strong to capture the North Coast Junior Tour's 2021 JB Four-Ball Classic Cup at Quail Hollow on June 24th. Although the final tally showed a three stroke margin of victory, the competition was much tighter than the final score reflects.
Bodziony/Priore bogeyed the first hole of the day while playing partners Tony Milam and Aidan McKito had tap-in birdie, so they started two back after the first hole. From there, they played the remaining 8 holes on the front nine in 3-under par and were tied at 2-under for the lead with Milam/McKito.
On the 10th hole, Bodziony/Priore made bogey to fall one back, but from that point on they dominated as all others faded. They played the last 8 holes in 3-under par and they back-to-back birdies on the last two to seal the 3 stroke victory.
They also tied the tournament record at 34-33–67 (-4).
The only team that played steady all the way to the finish was Victor Prokop and Dominik Cosic with a 35-35—70. Prokop/Cosic had 5 birdies and really had a chance until the final hole, as they were just one stroke behind Bodziony/Priore. But a two shot swing at the last led to a three stroke victory, much closer than the final score shows.
Congratulations to Antonio and Thomas, their names will be added to the JB Four-Ball Classic Cup!

FINAL RESULTS: North Coast Junior Tour
2021 JB Four-Ball Classic
Quail Hollow Country Club, Concord, OH
Wednesday, June 23, 2021
1 A. Bodziony / T. Priore 67
2 V. Prokop / D. Cosic 70
T3 J. O'Neill / R. Giavonette 74
T3 J. Stover / D. Goss 74
T3 O. Hinkle / B. Hinkle 74
T3 T. Milam / A. McKito 74
7 J. Zampedro / O. Zampedro 76
8 M. Blumenthal / W. Riveria 78
9 A. Miller / Q. Garnett 79
T10 B. Caldwell / J. Obrzut 90
T10 G. Nemer / J. Lining 90