The spectators, family, and friends who attended the 16th annual playing of the Canterbury Kiely Cup and had the stamina to walk Canterbury's rolling fairways witnessed a record-breaking performance this past Sunday and Monday by the current state champions, Akron's Archbishop Hoban.
The Hoban Knights, under the tutelage of coach Quinn Parker, have been winning before and since the state tournament held at the OSU Scarlet course last year in Columbus. This Kiely Cup victory was their eighth tournament win overall this fall, and they're not done yet with sectionals, districts, and the 2021 state tournament within sight.
Aiding in their challenging victory was the tournament medalist junior, Nolan Haynes, who posted an opening 3-under par (69) on Sunday and a 1-under (71) on Monday. And, like every round of golf, it coulda-shoulda been better.
Nolan was 4-under standing on the 14th tee box, then proceeded to push his tee shot right. "I tried going Tiger Woods and hit a high hook over the trees for my second shot, but the ball struck a hanging tree branch and fell into high grass." The result was a double bogey. He managed to par 15, 16, and 17 but let a tight chip left of the flag on 18 and a tricky putt coming back to get away.
His two-day total (140) was two strokes shy of the individual record set in 2015 by Zak Supelak of Walsh. Golfing legend Sam Snead once said, "I'd rather face a rattlesnake than a downhill two-footer at Canterbury."
Sunday's perfect weather concluded outside on Canterbury's patio at sunset with a hearty banquet and welcoming remarks by Canterbury's current president, Tim Cercelle. Canterbury's 16-time club champion, Bob Fairchild, followed and reflected on his close personal friendship with Ohio golf legend, the late (great) Bob Lewis, a recent recipient of the distinguished USGA Bob Jones Award.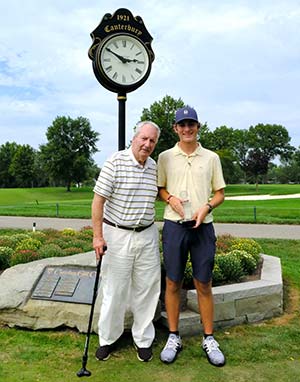 Canterbury's own Mike Kiely, back from hip surgery, offered remarks on his philosophy of life: God, family, and golf treasures. This year's featured speaker, Ohio Golf Hall of Fame member and former Canterbury teaching pro Alan Fadel spoke with unique inside-the-ropes understanding on the game and the distinction between playing professionally and as an amateur. As a touring pro and a highly accomplished amateur, it made Kiely smile broadly when he listened to Alan's passion and love of the game, which began early as a caddy. His hard work, talent, and dedication have resulted in numerous club championships ranging from Inverness, Pine Valley, to Seminole. Along with more wins than I can count, including the Ohio Amateur, Ohio Mid-Amateur, USGA team championships, his efforts and leadership with the Amateur Golf Alliance, George Coleman Invitational at Seminole, and the First Tee in Toledo resonated with the boys. Yes, giving back to the game can be as rewarding as playing.
The second round Monday morning broke clear and slightly humid. Hoban put the pedal to the metal, and the putts dropped. From top to bottom, Quinn Parker's starting five all scored in the 70s for a final one-day total of 296, together with Sunday's opening 300 stroke performance, set a new Kiely Cup tournament record! Their 596 made them the only team since the Kiely Cup became a two-day tourney in 2014 to score under 600 strokes.
However, more important than winning another invitational tournament, or Nolan's remarkable performance, was how teammate Solomon Petrie handled a strict rule infraction on Monday mornings round. Respect for the game -—words uttered by our speakers Sunday evening —- came to light on the third tee box when Solomon realized his golf bag contained an extra club. Given he had played two holes with 15 clubs, he immediately and correctly assessed himself a four-shot penalty, then stepped up and shot a stunning 77 along with 78 for a 155 total. Impressive!
First-time Kiely Cup invitee Newark Catholic may have finished 13th overall however, they're a small D-3 school. According to coach Phil West, with only 87 boys, 57 playing football, it doesn't leave many to develop. It didn't stop Coach West though. Newark Catholic earned their invitation to the Kiely Cup by finishing first at their District III tournament on the rugged Donald Ross Denison University course, then 6th at State last year.
A shout-out goes to two of coach Alex Kepley's Cincinnati St. X bunch, Zach Beard (81-72 153) and Luke Calvert (89-80 169). They solved the speed and slope of Canterbury's smooth greens by shooting nine fewer strokes (each) in Monday's final round. Two-time back-to-back Kiely Cup champs (2016 & 2017) St. Xavier can never be counted out at State.
The St. Ignatius Wildcats, consistently solid and two-time Kiely Cup champs (2006-2011), finished at 614. Runner-up to Hoban at State last year, coach PJ Meyer's boys' have been bridesmaids too often. Look for them to give the state tournament final D-1 field of twelve teams all they can handle. Finally, 3rd place finish went to a first time Kiely Cup invitee, Tim Lambert's William Mason Comets (636). Fifth at State last year, they could surprise those teams fortunate to make it to Columbus.
This year's state tournament promises to be another exciting close finish. I hope the Kiely Cup helped prepare this year's invitees for the challenges the OSU Gray's course presents. I can guarantee those interested spectators, family and, friends who trudged up and down Canterbury's fairways won't have to march up as many hills in Columbus. Best of luck to the teams that make it down south!

— story by Craig Fraser, Chairman, Kiely Cup

FINAL RESULTS: Boys High School Golf
2021 Kiely Cup Invitational
Canterbury Golf Club, Cleveland
September 19 – 20, 2021
​
INDIVIDUAL RESULTS BY TEAM:
​
1. Archbishop Hoban Knights 300-296-596 (new team scoring record)
— Quinn Parker, Head Coach
1. Solomon Petrie, Sr. 78-77 155
2. Nolan Haynes, Jr. 69-71 140 (MEDALIST, new individual scoring record)
3. Jack Vojtko, So. 75-73 148
4. Chris Pollak, Fr. 78-75 15
5. Jake Ryan, Jr. 79-78 157
2. St. Ignatius Wildcats 313-301 614
— P. J. Meyers, Head Coach
1. Nick Piesen, Jr. 80-74 154
2. Topher Reed, Sr. 78-71 149
3. Julian Dugan, So. 80-80 160
4. Bradley Chill, So. 78-76 154
5. Connor Malicki, Jr. 77-80 157
3. Mason Comets 324-312 636
— Tim Lambert, Head Coach
1. AJ Wilhelm, Jr. 76-78 154
2. Daniel Heister,Jr. 84-81 165
3. Nate Vonderhaar, Jr. 84-78 162
4. Timmy Hollenbeck, Jr. 82-76 158
5. Dylan Materni, Sr. 82-80 162
4. Lakota East Thunderhawks 327-310 637
— Jeff Combs Head Coach
1. Joe Wilson, Sr. 81-74 155
2. Tyler Sylla, Sr. 83-74 157
3. Cameron Uhl, Sr. 79-79 158
4. Jake Curry , Sr. 84-88 172
5. Bobby Horseman, So. 84-83 167
5. Dublin Coffman Shamrocks 319-320 639
— Scott Sutherland, Head Coach
1. Ryan Seidensticker, Sr. 74-76 150
2. Klay Redman, Sr. 82-80 162
3. Gabe Guthrie, Sr. 88-88 176
4. Luke Warner, So. 78-83 161
5. Ryan Schiefferle, So. 85-81 166
6. St. Xavier Bombers 327-313 640
— Alex Kepley, Head Coach
1. Zach Beard, Sr. 81-72 153
2. Cole Kendall, Sr. 80-82 162
3. Eric Braun, Jr. 80-82 162
4. Luke Calvert, Jr. 89-80 169
5. Robert Gerwin III, So. 86-79 165
7. Columbus Academy Vikings 321-322 643
— Craig Yakscoe, Head Coach
1. Stephen Ma, Jr. 86-83 169
2. Russell Ahmed, Sr. 79-75 154
3. Aditya Reddy, Sr. 78-82 160
4. Arvind Rajagopalan, Jr. 79-82 161
5. Jake Stouffer, Sr. 85-91 176
8. Olentangy Liberty Patriots 321-323 644
— Ryan Snivley, Head Coach
1. Nick Dickens, Sr. 79-76 155
2. Ethan McGarvey, Sr. 83-88 171
3. Jack O'Donnell, Sr. 83-84 167
4. Noah Wingartm, Sr. 76-86 162
5. Carter Rutherford, So. 83-77 160
9. Hudson Explorers 327-324 651
— Matt Villenauve, Head Coach
1. Coop Pamer, Sr. 78-73 151
2. Andrew Yard, Sr. 81-84 165
3. James Fliss, Jr. 85-86 171
4. Sam Fauver, Fr. 83-81 164
5. Callahan Lawler, So. 93-86 179
10. University School Preppers 323-332 655
— Bill O'Neil, Head Coach
1. Tommy Vrablic, Sr. 82-82 164
2. Chris Bridge, Sr. 81-84 165
3. Sachin Singh, Jr. 79-80 159
4. Adam Sands, Fr. 89-86 175
5. Drew Torzok, So. 81-89 170
11. Medina Battling Bees 333-324 657
— Mike Mozingo, Head Coach
1. Preston Trumpler, Jr. 78-79 157
2. Zach Parker, Sr. 83-82 165
3. Kyle Salamon, Sr. 87-81 168
4. Nic Fartelly, Sr. 85-87 172
5. Tim Caspio, Sr. 91-82 173
12. Walsh Jesuit Warriors 329-332 661
— Bill Reilly, Head Coach
1. Josh Weiner,Jr. 80-78 158
2. Parker Kufel, Sr. 83-82 165
3. Clark Nemer, Sr. 82-87 169
4. Tommy Kadair, Jr. 84-85 169
5. Jack Mercer, Sr. 85-88 173
13. Newark Catholic Green Wave 338-332 670
— Phil West, Head Coach
1. Max Vanoy, So. 83-80 163
2. Brian Luft, So. 77-78 155
3. Nathan Riggleman, So. 94-90 184
4. Jack Rehbeck, Jr. 89-87 176
5. Brogan Sullivan, Fr. 89-87 176
14. Green Bulldogs 327-345 672
— Greg Andrego, Head Coach
1. Matt Stephan, Sr. 83-81 164
2. Kyle Smith. So. 82-86 168
3. Nathan Raymond, Sr. 86-89 175
4. Grant Schlue, Jr. 79-89 168
5. Trez Cobb, So. 83-90 173
15. Gilmour Academy Lancers 345-344 689
— Jamie Polak, Head Coach
1. Alex Swinarski, Sr. 86-89 175
2. Jack Popovich, Sr. 87-85 172
3. Nathan Flaherty, Sr. 85-89 174
4. Eric Anton, Sr. 89-85 174
5. Harry Rogers, Sr. 87-85 172