The Cleveland Metroparks Golf Seneca Stableford was held on a hot August Saturday, with play on the challenging Baldwin and Chippewa nines. This unique points format allows for aggressive play, with bogey being the worst point total per hole, while great holes were rewarded with 3 points for birdies.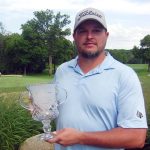 Ryan Stefanski battled through the lengthy Baldwin front 9 and was able to capitalize with two birdies on the back 9 of the Chippewa course to secure a 2-point victory.
Solo second place went to Steve Blackburn Jr., who was able to make two birdies on the front Baldwin 9 that helped him to a four-point total.
A four-way tie rounded out the top payouts as multiple golfers were able to secure two points in the stableford format.
The final Cleveland Metroparks Golf Series event of the 2021 season will be the Barbour Cup at Sleepy Hollow on Saturday, September 11th.

FINAL RESULTS: Cleveland Metroparks Golf
2021 Seneca Stableford Tournament
Seneca Golf Course, Broadview Heights
Saturday, August 21, 2021
Scoring Format: Eagle 5, Birdie 3, Par 0, Bogey+ -1
Ryan Stefanski 6 $275.00
Steve Blackburn Jr. 4 $138.00
Jaren Bell 2 $34.50
Tim Cebula 2 $34.50
Zach Drukenbrod 2 $34.50
Wyatt Suntala 2 $34.50
Out of the Money:
Justin Trzebuckowski 1
Michael Witmer 0
Emilio Noguez -1
Jack Garswood -2
Joe Salvaggi -5
Brant Harbert -6
Thomas Smith -6
Andrew Perpetua -11
Brent Myers -12
Mike Mandela -14
Daniel Terry -14
Lucas Vandenhaute -14