The Seneca Course Championship was contested on wet grounds, which proved to be challenging for some while others were able to attack certain pin locations. For the second year in a row the event was held on the Baldwin / Chippewa combination. The Baldwin course played almost two strokes higher on average, as competitors put forth much effort with the goal to qualify for the Greater Cleveland Amateur Championship.
Jimmy Wild & AJ Borisa turned in impressive rounds of 1-over par (73) respectively. The sudden death playoff set out.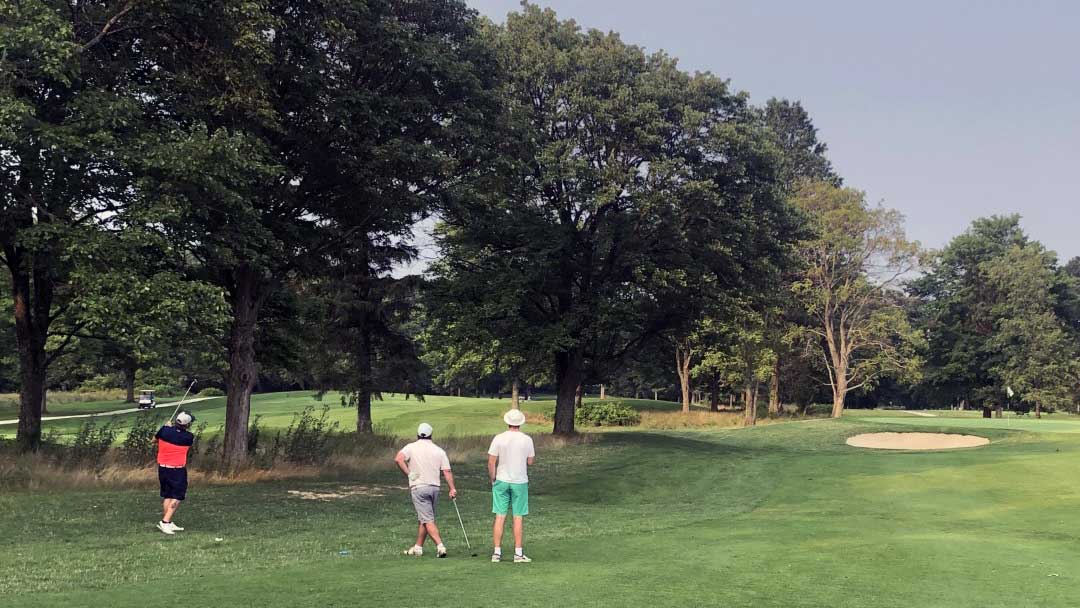 On the first hole of Baldwin, both players struck great drives down the left side and ended up within feet of each other. AJ played first and his 70-yard approach shot was just short of the green but on the top lip of the bunker left of the green. Jimmy was able to capitalize and place his approach five feet past the flag, which stuck on soft greens.
AJ gave his 15-foot chip great effort but saw it miss within inches. Jimmy was able to step up confidently and make his birdie to take the victory.
As the final scores were tallied, 12 non-exempt players were set to make GCAC at Manakiki Golf Course on August 14-15. The final few scorecards that were turned in moved the needle just enough to put the cut at 77. Congrats to all players who were able to qualify for next month's championship.
A large thank you to General Manager Dave Donner and his maintenance team, who were able to get the course in great condition after three inches of rain within the last 24 hours.
Thank you for all that participated in the Seneca Course Championship.
FINAL RESULTS: Cleveland Metroparks Golf
2021 Seneca Course Championship +
Cleveland Amateur Qualifier
Seneca Golf Course, Broadview Hts Ohio
Sunday, July 18, 2021

Qualified for the Cleveland Amateur:
1st Jimmy Wild 73 $340.00 (playoff winner)
2nd Borisa, AJ* 73 $270.00
3rd Suntala, Wyatt 74 $210.00
4th Petite, Steven 75 $160.00
T5th Cebula, Tim 76 $97.00
T5th Kukoleck, Brian 76 $97.00
T5th Mullen, Matthew 76 $97.00
T8th Malkus, Andrew 77 $22.00
T8th Ritner, Ron 77 $22.00
T8th Stover, David 77 $22.00
T8th Tarcy, Scott 77 $22.00
T8th Trzebuckowski, Justin 77 $22.00
T8th Wascak, David 77 $22.00
Did Not Qualify:
DeCheco. Max 78
Jenkins, Austin 78
Juguilon, Brian 78
Korteine, Justin 78
Smith, Brendan 78
Whelan, Shawn 79
Writz, Ryan 79
Carlie, Kyle 80
Dean, Jay 80
Janis, David 80
Priore, Thomas* 80
Ciccarello, Mark 81
Davis, Anthony 81
Haver, Isaac 81
Manuel, Greg 81
McNiece, Ray 81
Porten, Ryan 81
Shin, Roni 81
Svadba, John 81
Winchell, David 81
Burns, Colin* 82
Decaro, Thomas 82
Hallaran, Tom 83
Wise, Bradley 84
Cuba, Matthew 86
Kota, Ando 86
Kreutzer, Nathan 86
Loomis, Rob 86
Kutrubas, Brandon 88
Rush, Eric 88
Terry, Daniel 88
Timmermaw, Dustin 88
O'Boyle, Tom 89
Kazee, Christopher 90
Truelson, Evan 90
Sullivan, Rory 91
Jenkins, Dean 94
Ahlawat, Aryan 95
Bowers, Joe 95
Hazen, Devin 95
Mandela, Michael 96
Jenkins, Dan 99
Michal, Matthew 102
Gill, Gurpreet NC
Mitchell, Shaun NC
Vandenhaute, Kenneth NC
Vandenhaute, Lucas NC
Kullman, Jeffrey WD
Deichert, Rick WD
Richey, Michael WD
* – denotes previously exempt into Cleveland Amateur