The weather cooperated, the course was in great shape, and 48 two player teams teed off in the Cleveland Metroparks Manakiki Two-Player Scramble on Saturday, May 15.
The top 10 teams and ties received part of the event's payout.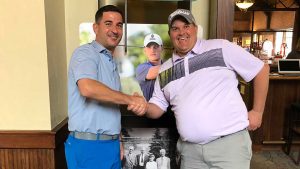 Nick Anagnost and his partner David Sotka led the way with a 9-under par score of 63.
One shot back were a pair of teams: Adam Frey / Andrew Tipton tied with Allen Freeman / Chris Okeson at 64.
Three teams tied with 65, Steve Blackburn Jr. / Jimmy Wild, Colin Burns / Brandon Lambert and Bentley Stover / David Stover.
Sean McHugh / Ryan Wirtz along with Jack Glending / PJ Malik shot 66.
Rounding out the placing teams at 67 were Andrew Murray / Jerrod Vastag, Max DeCheco / Matt Frey, Matt Borlin / Alec Borlin and Joe Blackburn / Walt Robertson.
Gift cards will be available at Manakiki on Monday, or can be forwarded to any Cleveland Metroparks Golf Course later that week.

FINAL RESULTS: Cleveland Metroparks Golf
2021 Two-Player Scramble
Manakiki Golf Course, Willoughby Hills, Ohio
Saturday, May 15, 2021
1st – Nick Anagnost / David Sotka – 63 $490 / player
T2 – Adam Frey / Andrew Tipton – 64 $270 / player
T2 – Allen Freeman / Chris Okeson – 64 $270 / player
T4 – Steve Blackburn Jr. / Jimmy Wild – 65 $174 / player
T4 – Colin Burns / Brandon Lambert – 65 $174 / player
T4 – Bentley Stover / David Stover – 65 $174 / player
T7 – Sean McHugh / Ryan Wirtz – 66 $140 / player
T7 – Jack Glending / PJ Malik – 66 $140 / player
T9 – Andrew Murray / Jerrod Vastag – 67 $58 / player
T9 – Max DeCheco / Matt Frey – 67 $58 / player
T9 – Mark Borlin / Alec Borlin – 67 $58 / player
T9 – Joe Blackburn / Walt Robertson – 67 $58 / player
Mark Foss Steve Blackburn 68
Paul Malkus Bob Wadsworth 68
Brant Harbert Jesse Zimmerman 68
Kevin Jackson Daniel Sederholm 69
Josh Lowe Kyle Strowe 69
Ryan Malkus Andrew Malkus 69
Brian Juguilon Tony Schirripa 69
Jeff Deal Ryan Augustitus 69
Ray McNiece Emilio Noguez 70
Connor McCaulley Tommy Miano 70
Paul Krueger Travis Pollari 70
Justin Trzebuckowski Nate Matthews 70
Ron Ritner Ward Crane 71
Bruce Pucci John Weingart 71
William Sheak Gary Trbovich 71
Matthew Cuba Austin Taylor 72
Dan Finlin Dan Sabo 72
Gary Congin Rick Walters 73
Jordan Evanko Michael Riley 73
Matthew Fussner Matthew Moennich 73
Michael Huebner Lee Longo 74
Tom O'Boyle Mike Johnson 74
Paul Kim John Suh 75
Craig Gubbini Shawn Jacklitch 75
Tyler Klimek Josh Nenadal 76
Christopher Kanuch Noah McGowan 76
Ben Pachla Rick Szumski 76
Dan Gentsch Joe Kneale 76
Jason Lapierre Joe Munici 77
Jason Freeman Dave Janis 78
Cary Slabaugh Grace Slabaugh 79
Sean Biega John Moon 79
Michael Fimiani Michael Fimiani 80
Greg Martin Matt Snow 81
Tyler Maclvor Danny Zillich 86
Nicholas Mills Aaron Perkins 90
SKINS: $413 ea
Kevin Jackson / Daniel Sederholm – Eagle 3, Hole 12
Nick Anagnost / David Sotka – Eagle 3, Hole 13
Mark Borlin / Alec Borlin – Eagle 2, Hole 16